Law & Order Being Revived
Eleven years after it was canceled, the police procedural is being brought back for a 21st season.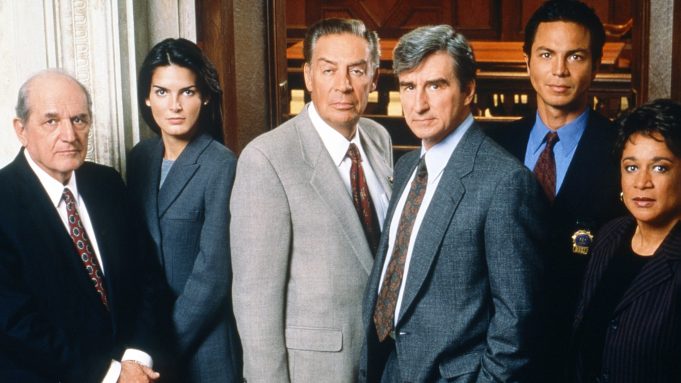 Deadline ("'Law & Order' Revived By NBC For Season 21 From Dick Wolf & Rick Eid"):
Eleven and a half years after NBC abruptly canceled Law & Order, denying its shot at making TV history, the network is bringing back Dick Wolf's Emmy-winning series for a new season, its 21st.

NBC has greenlighted a new installment of Law & Order, from Wolf and writer-showrunner Rick Eid, which will continue the classic bifurcated format and will once again examine "the police who investigate crime and the district attorneys who prosecute the offenders."

There is no cast set but the new season is expected to feature beloved characters from the original series, with Sam Waterson's Jack McCoy believed to be at the top of the wish list. The producers from Universal Television and Wolf Entertainment are expected to reach out to former cast member shortly about coming back. Some Law & Order stars are currently in the Wolf Entertainment/Uni TV fold, including S. Epatha Merkerson on Chicago Med and Alana De La Garza on FBI.

Law & Order, which launched the biggest procedural franchise on TV, was on the cusp of breaking Gunsmoke's record as the longest running primetime drama ever when NBC in May 2010 unceremoniously canceled the series without a proper finale when renewal negotiations fell through.

While Law & Order creator Wolf got to set a new record for the longest-running drama series with spinoff Law & Order: SVU, now in its 23rd season, he always felt he had unfinished business with the mothership series ending the way it did.

"There are very few things in life that are literally dreams come true. This is mine," he said about the Season 21 order.
While I've seen several episodes of the original show in syndication, I was never a huge fan and don't believe I've seen any of the spin-offs. But this was indeed an iconic show and sparked something of a cottage industry.
Despite until relatively recently being viewed as the minor leagues for those aspiring to make movies, television is in many ways a better medium. The episodic nature of the programming makes character development much richer. But it is rare, indeed, for the combination of great writing and chemistry on a given series to last more than five to seven seasons. The creator gets restless and wants to move on, handing the show off to lesser talent. Romantic tensions between the male and female lead get old after a while. Or they get married and the tension that was at the heart of the show goes away. Second bananas get tired of being in the shadows. Stars get restless for something new.
And, yet, we're seeing a proliferation of shows that seem to go on forever like soap operas. Law & Order was at the forefront of this and many of its spin-offs have followed suit. NCIS, itself a spin-off of JAG, has been around since 2003 now and has generated multiple spinoffs of its own. Grey's Anatomy has been on since 2005 and, yes, it, too, has generated spinoffs. I was a regular watcher of both but lost interest a decade ago. (And that's not even counting animated shows like the Simpsons and Family Guy.)