Leave Notorious RBG Alone
Once again, people on the left are complaining that Ruth Bader Ginsburg didn't retire when they wanted her to.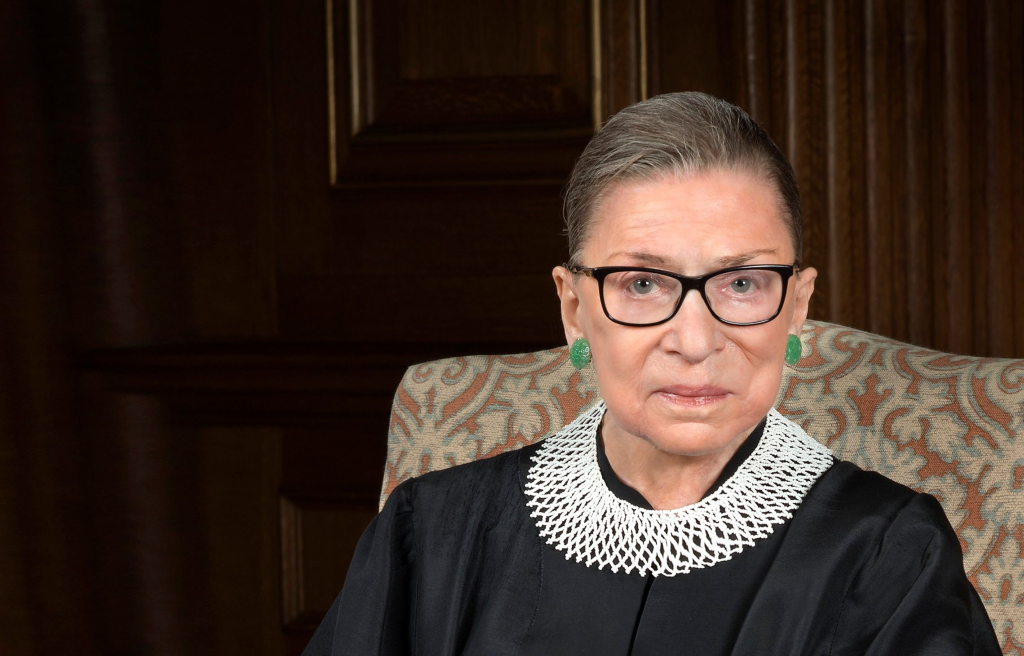 With Republicans holding on to the Senate at least through the end of 2020, it's assured that any Supreme Court nomination that President Trump makes between now then will be easily confirmed. This is causing some on the political left to once again look with consternation at the Court's oldest member, and liberal icon, Ruth Bader Ginsburg:
Some offered to donate their ribs, others recommended cloaking her in bubble wrap.

The reactions following news that Justice Ruth Bader Ginsburg had fractured three ribs in a fall at her office on Nov. 7 may have been made in jest, but some no doubt were rooted in real worry.

At 85, Ginsburg is the oldest member of the Supreme Court, and this month's health scare left many wondering if she'll really serve for five more years as promised.

But she's not the only one in recovery mode.

Washington is slowly recuperating from the bitter battle over Justice Brett Kavanaugh's confirmation. Another vacancy on the bench would surely lead to an explosive fight with liberals trying in vain to prevent President Trump from turning the court into a conservative stronghold with a third nominee.

The repercussions of Trump appointees are why some on the left have criticized Ginsburg and 80-year-old Justice Stephen Breyer — another aging member of the court's liberal wing — for not stepping down when former President Obama was in office.

"Given that she wants her vision of the law to prevail, it was a mistake to hang in there indefinitely," said Daniel Epps, an associate professor of law at the Washington University School of Law. "If she stays for five more years from now, that's 2023. Even if there's a Democratic president elected in 2020, it's quite possible that Republicans might control the Senate in 2023."

Epps said that for now, the future of the court is riding on Ginsburg's health.

"We shouldn't be in this position where the future of certain policies turn on whether this old woman is healthy or not," he said.

Ginsburg initially went home after she fell in her office, but after feeling discomfort during the night she called Supreme Court police to take her to the hospital.

Her injury caused her to miss a day of court, but not one when the justices heard oral arguments.

Supporters say Ginsburg isn't just the court's leading liberal, she's also incredibly resilient.

The justice's personal trainer, Bryant Johnson, told The Hill on Monday that Ginsburg would be resuming her notoriously challenging workouts this week. Johnson said he would adjust Ginsburg's routine, which includes pushups and planks, to help with her recovery.

"I always use the acronym TAN — tough as nails," he said when asked to describe her. "As a matter of fact, I really have to kind of make her rest a little."

After all, ribs heal — a process Ginsburg knows all too well.

She cracked two ribs in 2012 but didn't miss a day in court, according to The Washington Post. Ginsburg has also survived two bouts of cancer.

"I think she has shown she is close to immortal," said Caroline Fredrickson, president of the American Constitution Society. "She has gone through a lot and she always comes back fighting."
Fortunately, it appears that Ginsburg's fall, while it will likely leave her with pain and discomfort for some time going forward — something I can sympathize with given my own experience with a bruised rib injury when I was in my 30s — will not result in any permanent injury. It also doesn't appear as if the fall itself was caused by any other illness or injury. Nonetheless, given her advanced age, anything that happens to Ginsburg is a potential cause for concern. Thus, I suppose it's understandable that people who consider Ginsburg a political hero, a title she would likely reject given her own comments on the relationship between politics and the law, would be worried about her future. The recent fight over the nomination of Justice Kavanaugh was driven as much by the fact that he was replacing someone seen as the lynchpin of the Supreme Court's ideological divide in controversial cases as it was about Kavanaugh's record or the accusations made against him by Christine Blasey Ford and others. Were Ginsburg, or Justice Stephen Breyer, to retire or be forced off the bench while Republicans controlled both the White House and the Senate, the direction of the Court would be even more solidly pushed to the right for the next generation or more.
Because of this, Ginsburg has been the subject of subtle and, sometimes, not-so-subtle urgings for Ginsburg to step aside while former President Obama was in office, something that I wrote about several times during those eight years — see here, here, here, here, here, here and here — from liberal pundits and legal scholars. Ginsburg also hinted at several points during the run-up to the 2016 campaign that she believed, as most of us did, that Hillary Clinton would be elected President. Had that happened, I suspect that we would have seen a retirement by Ginsburg at some point during Clinton's first term, although the timing of that resignation likely would have depended on several factors including Ginsburg's own health and her personal desires, and the question of who would have controlled the Senate in such a hypothetical world. As long as Trump is President, though, it's unlikely that Ginsburg is going to leave the Court voluntarily if she can help it.
Jazz Shaw at Hot Air comes down about the same place I do on this:
[N]o matter whether it's retirement or health concerns, the decision remains between Ruth Bader Ginsburg and God. Epps is wringing his hands over "the future of certain policies" (spoiler alert: he's talking about abortion) and describing it as hanging by a thread based on "whether this old woman is healthy or not." Is it just me, or is that a pretty offensive thing to say about anyone, particularly a Supreme Court Justice?

If you want to change the system and put term limits on the Supreme Court, draft up an amendment and start circulating it around the country. But until that time, there's no point debating the retirement age of the justices or harassing them over it. If Ginsburg wants to serve five or even ten more years, that's up to her. Conversely, if she decides that enough is enough and steps down in January, that's her prerogative as well.
This is basically the same thing I've been saying each time this issue comes up. It's more than a little presumptuous for pundits on the left to call on Ginsburg to step aside for the good of whatever political cause they are concerned with the most. She was confirmed for a position that allows her to serve as long as she's able to and to retire whenever she wishes to. If you don't like that system, and there are admittedly good reasons why it should be debated, then we can have that conversation. However, that's not the system we have right now. Justice Ginsburg will, hopefully, continue to be in good health and continue to serve her country as long as she likes. At some point, she'll probably retire and we'll have the battle over her replacement. Until then, leave her alone, because I have a feeling that every time she reads about one of these calls for her retirement she adds another year on to her plans.