Life During Cultural Wartime
Never waste a tragedy.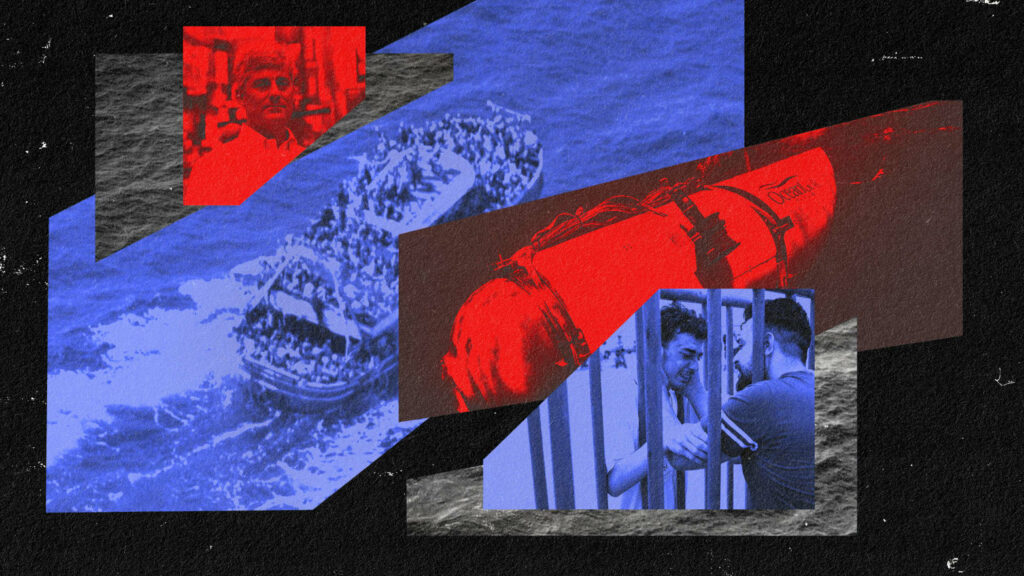 Daily Beast columnist Matt Lewis laments, "The Missing Titanic Sub Is Already a Culture War Battlefield."
Of course the missing Titanic sub discourse devolved into a culture war shit show in under two minutes flat. Everything is part of the culture war now. Why should this be any exception?

In case you missed it, the media is currently obsessed with a missing submersible carrying five people who paid a quarter of a million dollars per person to view remnants of the Titanic.

But that's not enough to keep us busy. This feeding frenzy has spawned a second story, which is outrage over the media being more interested in the Titanic sub than the sinking of a boat carrying hundreds of migrants off the Greek coast.

If you want to get meta, I am now proposing a third story: instead of tragedies being unifying events, as might be the case in a healthy society (the smartest brains in the world rallying to rescue Matt Damon in The Martian is pure fiction), they must now be filtered through the hierarchy of victimhood.

Rather than praying for the potentially lost souls aboard both vessels—or at least sending good vibes into the world that tragedy might be averted—our first instinct is to juxtapose these two potential tragedies, weighing which deserves our sympathy and attention, as viewed through the prism of our political ideology.

Determining the hierarchy of victims requires multiple political debates and considerations, including (from the left) white privilege, income inequality, donations to Republicans, affiliation with Elon Musk, and (from the right) the perils of affirmative action.

That's right, apparently, the OceanGate Titanic CEO told an interviewer he didn't want to hire a bunch of "50-year-old white guys" to operate his subs because they aren't "inspirational." It's wildly premature to speculate on whether this had anything to do with the current predicament, but that hasn't stopped the conjecture.

[…]

In most other circumstances, five human beings trapped in a watery grave would be either cause for sympathy or action. This is true irrespective of whether there are other, simultaneous, tragedies happening that might also demand our sympathy and attention.

Yet, today, the lives of the five are viewed by many as an opportunity to dunk and score partisan political points.

Some of the most repellant voices on Twitter are suggesting that a billionaire's life is less valuable than someone else's because, of course, rich people partaking in dangerous adventures are asking for it.

Many of us might view paying a ton of money to go on an outrageous adventure as excessive and unnecessarily risky. Then again, to someone living in abject poverty, boarding a private jet might seem just as decadent.

Twitter conjecture aside, considerable resources are being spent to find and rescue both the missing submersible tourists and the migrants. That's good news for a virtuous society, even (especially) as hope dwindles.

And while the media's selection bias is an ongoing commentary on ratings (and thus, a commentary on us), the modern habit of turning everything into a culture war is arguably a bigger—and more concerning—commentary on society.
While I fully agree that our penchant for seeing every happening through political lenses speaks poorly of us, it's the very nature of a culture war. The sort who spends a lot of time on social media commenting on the news—which I hasten to remind is a tiny fraction of the country—see themselves in an existential battle for the soul of the country. And both sides think they're losing badly because the other side is much more ruthless and willing to flout the rules.
I'm intentionally consuming less news while on vacation but haven't escaped coverage of the missing submersible. Lewis' column is, alas, the first I've heard of the Greek vessel—which says something about the nature of American news aggregators. Like Lewis, I think we should take reasonable steps to save lives in both situations.
Is there something off about the ultra-rich paying huge sums for weird adventures that come with substantial risk? I suppose. But I'm not sure where one draws the line. Mountain climbing is pretty dangerous in the grand scheme of things but we rescue those who get stranded. Surely, the standard shouldn't be based on whether the activity in question is more expensive than I can afford or riskier than I could justify.