Linda McMahon To Voters: Vote For Me, And Barack Obama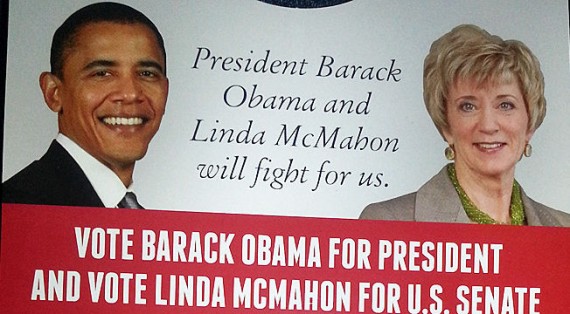 Barack Obama is going to win Connecticut by double digits on Tuesday, which makes things a bit difficult for Republican Senate candidate Linda McMahon, who is currently trailing in the polls. So, her campaign has come up with a rather unique approach to the problem: 
Connecticut Republican Senate nominee Linda McMahon has been telling voters lately that it's okay to vote for President Obama as well as her. Now she's taking it a step further — and getting about as far away from her own party's nominee for president as she can — and actually urging voters to cast their ballots for Obama as well as in the final days of the campaign.

McMahon campaign doorhangers that Democrats say they've discovered in minority neighborhoods this weekend couldn't make it more clear: "Vote Barack Obama For President and Vote Linda McMahon For U.S. Senate," they read. It's a surprising suggestion from a Republican who, along with her husband, has given $150,000 to help make Romney the next president of the United States.
This isn't a new strategy. Just north of McMahon, Scott Brown has been emphasizing his independence in the Senate from the start of the campaign, and most of his campaign literature makes no reference to the fact that he's a Republican. I've seen other candidates in heavily Republican, or Democratic, states do the same thing. However, I must say that I've never seen something quite this blatant, especially considering how much money the McMahons have donated to the Romney campaign and the Republican Party.  In the end, though, I've got to say I don't see many Obama voters voting for Linda McMahon for Senate.
More photos at the link.