Lisa Franchetti to be First Woman Military Service Chief
President Biden has again made history.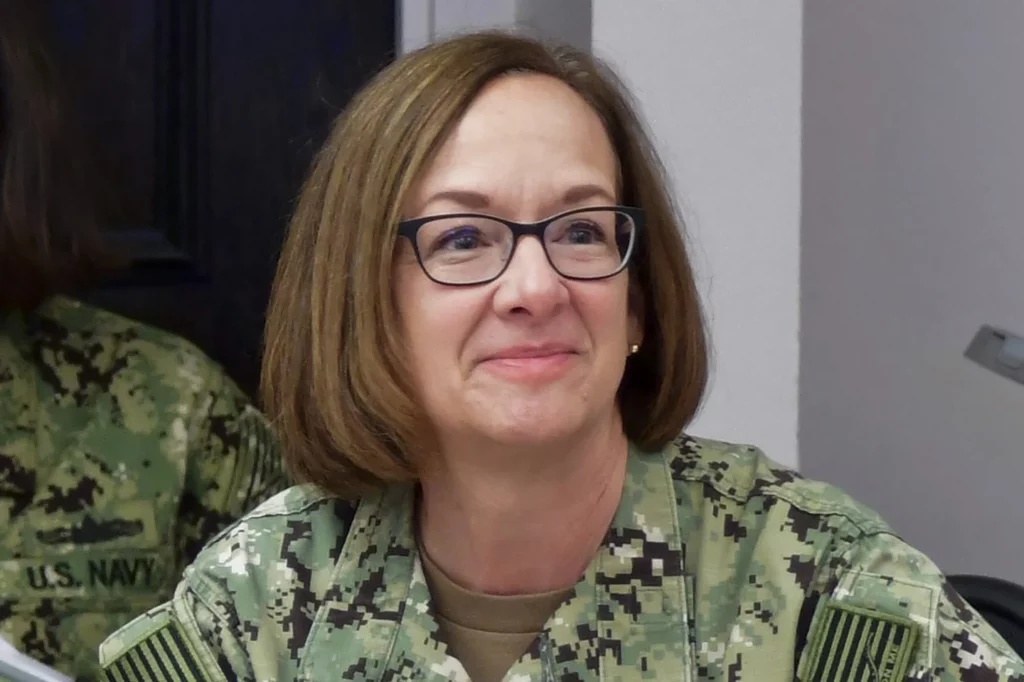 AP ("Biden picks female admiral to lead Navy. She'd be first woman on Joint Chiefs of Staff"):
President Joe Biden has chosen Adm. Lisa Franchetti to lead the Navy, an unprecedented choice that, if she is confirmed, will make her the first woman to be a Pentagon service chief and the first female member of the Joint Chiefs of Staff.

Biden's decision goes against the recommendation of his Pentagon chief. But Franchetti, the current vice chief of operations for the Navy, has broad command and executive experience and was considered by insiders to be the top choice for the job.

In a statement Friday, Biden noted the historical significance of her selection and said "throughout her career, Admiral Franchetti has demonstrated extensive expertise in both the operational and policy arenas."

Defense Secretary Lloyd Austin recommended that Biden select Adm. Samuel Paparo, the current commander of the Navy's Pacific Fleet, several U.S. officials said last month. But instead, Biden is nominating Paparo to lead U.S. Indo-Pacific Command.

A senior administration official said Biden chose Franchetti based on the broad scope of her experience at sea and ashore, including a number of high-level policy and administrative jobs that give her deep knowledge in budgeting and running the department.

At the same time, the official acknowledged that Biden understands the historical nature of the nomination and believes that Franchetti will be an inspiration to sailors, both men and women. The official spoke earlier on condition of anonymity because the nomination had not been made public.
At this level, there are simply more extraordinarily qualified candidates than there are slots. Franchetti was probably chosen because she's a woman. But she's no token hire. She is currently in the #2 post in the Navy:
Her operational tours include auxiliaries officer and first division officer on USS Shenandoah (AD 44); navigator and jumboization coordinator onboard USS Monongahela (AO 178); operations officer on USS Moosbrugger (DD 980); combat systems officer and chief staff officer for Destroyer Squadron (DESRON) 2; executive officer of USS Stout (DDG 55); and assistant surface operations officer on USS George Washington Strike Group. She commanded USS Ross (DDG 71) and DESRON-21, embarked on USS John C. Stennis (CVN 74). She also served as commander of Pacific Partnership 2010, embarked on USNS Mercy (T-AH 19).

Ashore, Franchetti's assignments include commander, Naval Reserve Center Central Point, Oregon; aide to the Vice Chief of Naval Operations; protocol officer for the commander, U.S. Atlantic Fleet; 4th Battalion officer at the U.S. Naval Academy; division chief, Joint Concept Development and Experimentation, on the Joint Staff, J7; deputy director of International Engagement and executive assistant to N3/N5 on the Navy staff; and military assistant to the Secretary of the Navy.

Her flag assignments include commander, U.S. Naval Forces Korea; commander, Carrier Strike Group 9; commander, Carrier Strike Group 15; chief of staff, Strategy, Plans and Policy (J-5) Joint Staff; commander, U.S. 6th Fleet, Naval Striking and Support Forces NATO; deputy commander, U.S. Naval Forces Europe; deputy commander, U.S. Naval Forces Africa; Joint Force Maritime Component Commander; deputy Chief of Naval Operations for Warfighting Development, N7; and director for Strategy, Plans and Policy (J-5), Joint Staff. Franchetti assumed the duties as Vice Chief of Naval Operations Sept. 2, 2022.
Still, there's no doubting the historical nature of the appointment:
Several women have served as military service secretaries as political appointees, but never as their top uniformed officer. A woman, Adm. Linda L. Fagan, is currently the commandant of the Coast Guard. She, however, is not a member of the Joint Staff. The Coast Guard is part of the Department of Homeland Security, not the Pentagon.
The Coast Guard is both a uniformed service and an armed service; it is not a military service.
Biden has already made history with the first Black Secretary of Defense and has appointed the second Black Chairman, General CQ Brown, who himself was the first Black service secretary. Both Brown and Franchetti will have to wait, along with Marine Commandant nominee Eric Smith, for the Senate to get past the months-long hold Alabama Senator Tommy Tuberville has on high-level military appointments.
As an aside, Paparo has been nominated instead to head Indo-Pacific Command, the most prestigious and important operational command post in the military under the current strategy. He'll be just fine.