List Of School Shootings In The United States By Death Toll
Our current forms of collective action on guns have failed us.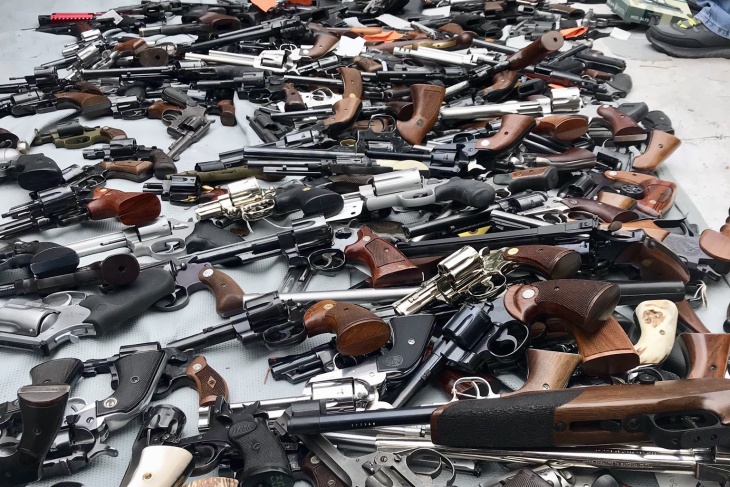 That is the title and content of an actual Wikipedia page. We have suffered enough school shootings in the United States that we can rank them by the number of dead children and teachers. Of course, those mass shootings are merely a subset of mass shootings, which itself is a small subset of murders by bullet, which are a subset of death by guns.
At the moment that Monday's murders in Boulder, Colorado occurred, many Americans were already beyond sick and tired of mass shootings. We already left long behind us the outrage against empty expressions of thoughts and prayers. Our tank of outrage is running very low, in the face of repeatedly failed efforts of the federal government to pass the most basic constraints on guns, even in the face of large public support for these restrictions. Only a few days after the murders in Atlanta and Boulder, it is possible for someone in Atlanta to walk in a store, armed with a shotgun, an AR-15, four pistols, and a knife, and not necessarily having committed any crime until the moment that he kills someone with one of these weapons. We also live in a country with absurd definitions of deadly weapons that classify the firearm that the Boulder murderer used to kill 10 people, with no one left wounded, as a pistol, not a rifle, therefore making it easier for someone like him to acquire it. Even if the weapon had been classified as an assault rifle, a Colorado court struck down Boulder's ban on those weapons within its jurisdiction just 10 days before the King Soopers massacre.
We have passed into a realm of helplessness, and not just about guns. We already feel helpless in the face of a pandemic, rising authoritarianism, racism, and the continued inability of government to do many of its most basic tasks, such as tending to the infrastructure on which we all depend. But guns concentrate some of the most powerful feelings of helplessness. What can we do? Who is blocking our ability to prevent the murder of more children in their classrooms, more immigrant women going through their work day, more people on a brief errand to the grocery store, more people whom we have collectively failed to protect?
We know who, but it is worth noting the absurdity of letting them continue to block any change. Today, we are helpless to fix something that does happen, death by guns, including mass shootings, because our efforts are hostage to something that rarely happen, the "good guy with a gun" who stops a would-be mass murderer, and something that never happens, a tyrannical government that can only be fought by force of arms. Not only has the black helicopters and FEMA concentration camps not materialized, but even if those ridiculous fantasies ever became fact, the combined military and police forces of the United States would easily dispatch any motely collection of gun enthusiasts. We are hostage to juvenile fantasies, purveyed by the same people who spread and consume equally juvenile fantasies. Masks are a "personal choice," not a necessary mechanism to curb a deadly virus. Shadowy forces are trying to cancel Christmas (which is the very plot of movies made for children). The rest of the world only respects force, so the United States needs to bomb someone on occasion, just to prove our virility and ruthlessness. Democracy is an apocalyptic choice between Manichean alternatives. Politics is a pose, an excuse for trolling, not a duty to accomplish things. And so on.
This is the worldview of thirteen year olds, not serious adults. In fact, many thirteen year olds have a more realistic, pragmatic outlook than exhibited by the people I am describing. And yet, we remain hostage to overgrown adolescents who, in the case of the fetishization of guns, are dedicated to the preservation of the things that do not happen, in spite of the high death toll of the things that do.
This is what makes the current diseases of American democracy — anti-majoritarianism, polarization, and yes, let's be honest with ourselves, some sincere disdain for the very the concept of democracy among a lot of Americans — as important as they are to overcome. We use polite language, such as "reforms," to describe the most essential steps needed to remove the weight of helplessness and despair from our hearts.
In the case of guns in particular, there is no alternative path to resolution, at least in the short term. There is no collective action, outside of government, to deal with the problem. We can support charities that help the needy, organize food drives, help homeless and jobless people get on their feet again through private efforts. There is no private path to limiting the threat of firearms. We cannot disarm our neighbors, or require them to practice better gun safety.
Individually, all we can do, beyond supporting particular groups or politicians who have yet to solve this problem, is make the juvenile fantasies on which our current gun laws look as ridiculous as they are. In my work, as well as outside it, I occasionally develop "serious games," ways of educating people through a simulated experience about important topics in public affairs. For the last couple of years, I've toyed with an idea for a game that would put the whole notion of "a good guy with a gun" to the test, and show it for how unlikely a scenario it really is. Unfortunately, upheaval in personal life and the demands of having a day job have made it difficult to pursue. Still, I may get to work on it again soon.
However, as with many other people in my situation — outraged at the death toll of gun violence, looking for something to do that's more than sending money to an advocacy group — it is hard to do it alone. That is why we need some new formula for collective action on gun violence, beyond what has repeatedly failed to prevent what happened in Boulder earlier this week. Other countries have taken effective action, so we should wear our shame around our necks until we can make some significant progress here.
I do not have an answer for what form that collective action should take. However, we need to make juvenile fantasies more unacceptable than they are today. These are not questions of differing opinions of policy, such as what the unintended consequences of what might happen if we limit clip sizes or ammunition purchases. This is a question of how to deal with unwavering adherence to dangerous myths. Just as we once made bigotry against women, minorities, LGBTQ citizens, Catholics, atheists, and other groups less acceptable, so too do we need to make indifference and inaction less tolerable, in the face of preventable murders. We cannot keep living fearing who will die next, such as the 10 people dead just a 30 minutes drive from my own home. Not only must this change of heart happen, but we must be able to express it through our institutions of collective action. Alone, we are helpless.