Louisiana Congressman's Family Values Include Kissing Young Female Staffers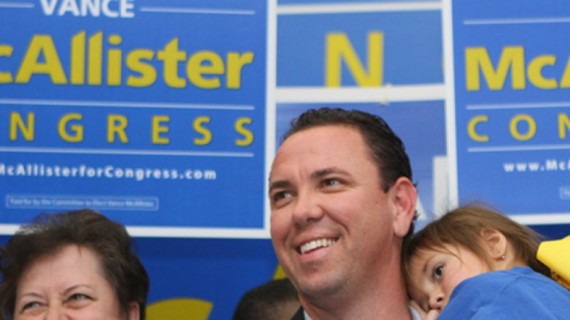 Louisiana Congressman Vance McAllister found himself in a bit of trouble yesterday:
Freshman GOP Rep. Vance McAllister of Louisiana — who ran for office as a principled conservative Christian — has been caught on video in a romantic encounter with a woman believed to be on his congressional staff just before Christmas.

The Ouachita Citizen, a newspaper based in West Monroe, La., posted a Dec. 23 surveillance video purportedly from inside McAllister's district office in Monroe.

The video shows McAllister kissing a woman identified by the newspaper as a congressional staffer for the first-term lawmaker. Federal payroll records show she is a part-time aide who began working for McAllister the day after he won his seat last year.

McAllister won a special election on Nov. 16 to replace Rep. Rodney Alexander (R-La.). McAllister won in the heavily Republican district by playing up his conservative credentials, including his Christian faith and his 16-year marriage.
The video was apparently taken on December 23, 2012, less than a month after McAllister was elected in a Special Election.  By the end of the day McAllister had issued the standard heartfelt apologia:
Rep. Vance McAllister (R-La.) asked for forgiveness Monday afternoon after a video purporting to show the congressman kissing a female staffer in his congressional office in Louisiana surfaced.

McAllister, who was just elected in a November special election, has been married for 16 years and has five children.

"There's no doubt I've fallen short and I'm asking for forgiveness. I'm asking for forgiveness from God, my wife, my kids, my staff, and my constituents who elected me to serve," he said in a statement issued from his office. "Trust is something I know has to be earned whether you're a husband, a father, or a congressman. I promise to do everything I can to earn back the trust of everyone I've disappointed."

He said he  was "very sorry" and did not want to make a political statement about the video's release.

"From day one, I've always tried to be an honest man," he said. "I ran for Congress to make a difference and not to just be another politician. I don't want to make a political statement on this, I would just simply like to say that I'm very sorry for what I've done. While I realize I serve the public, I would appreciate the privacy given to my children as we get through this."
As is typical with these cases, the issue isn't so much McAllister's infidelity, which has been part of Washington politics, and human life, forever. It's the hypocrisy of someone who campaigned for office citing his marriage and his commitment to "family values" as the reasons voters should elect him. Since it's rather hard to believe that this relationship began suddenly in December 2013, it seems obvious that McAllister was being a typical hypocrite.
Update: According to reports, the female staffer has apparently been dismissed. McAllister, of course, remains in office.