Vance McAllister Should Ignore The Calls Of His Fellow Republicans To Resign
Unlike David Vitter, he didn't break the law.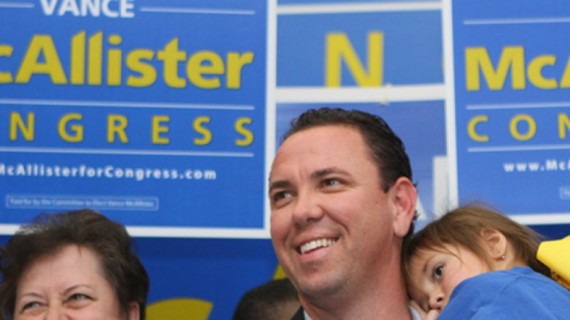 Vance McAllister, the Louisiana Congressman who was caught on video last week kissing a married staffer, is facing calls from fellow Republicans to resign from office:
WEST MONROE, La. — As she handed out garbage bags on Saturday as part of an anti-litter drive, Patsy Edmondson drew a parallel to Louisiana's history of tawdry politics.

"If we grow up in litter, we accept it," she said. "If we grow up with this kind of politician, we accept it." Rolling her eyes, she said both were learned behaviors. "We're trying to teach our children it costs us money to be dirty."

Ms. Edmondson's congressman, Representative Vance McAllister, is the latest Louisiana official facing demands for his resignation, after a leaked video last week showed him passionately kissing a woman who was not his wife.

After winning an election pledging to "defend our Christian way of life," Mr. McAllister now faces accusations of hypocrisy as thick as spring mosquitoes on the bayou. Gov. Bobby Jindal, a fellow Republican, has called on him to step down, and the state Republican chairman labeled him "an example of why ordinary people are fed up with politics."

As Mr. McAllister, an outsider in his first term, dropped from sight and hunkered down, presumably in his home near here in northeast Louisiana, he has resisted the calls to quit and told a local newspaper that he would let voters decide his fate in November.

Even as it is unclear if he can survive so long, the texture of Mr. McAllister's unusual political story has grown more piquant, revealing an estrangement from the Republican establishment, the racial politics of a poor district and voters who feel caught between deep disappointment and an impulse to forgive.

A number of voters here identified a double standard in the Republican state leadership for denouncing Mr. McAllister but issuing no such rebuke to Senator David Vitter during a 2007 prostitution scandal. Mr. Vitter apologized for "a very serious sin in my past" and said he had asked for and received forgiveness from his wife and from God. He was re-elected to the Senate in 2010 and is considered as a favorite to succeed Mr. Jindal in the 2015 governor's race.

Ms. Edmondson said the place to judge Mr. McAllister would be at the ballot box. "If Jindal is going to ask him to resign, why is it not right for David Vitter to resign?" she said.
The difference, of course, lies in the fact that when the Vitter scandal was made public the summer of 2007, Louisiana still had a Democratic Governor who would have had the power to name a replacement who would serve prior to the General Election. By the time Bobby Jindal was in office as Louisiana's Governor nearly a year later, the scandal had largely blown over and, in 2010 Vitter was reelected by a margin of nearly 250,000 votes.  If Vitter had resigned the Senate in 2007 when the D.C. Madam scandal broke, his seat would have gone to a Democrat at least temporarily, and quite possibly for longer depending on how a Special Election went. With McAllister, though, Republicans face no such risks. The seat will stay in Republican hands in any case, and getting McAllister out of way would  save the national party a lot of grief heading into November,
As a broader point, though, it's not at all clear to me that McAllister is under any obligation to resign. Unlike David Vitter, he didn't break the law. There's not allegation that he misused his position of power or benefited financially on matters he was voting on. The relationship with the female staffer appears to have been entirely consensual on both their parts. So, what, exactly, is it that McAllister has done that mandates he step aside? Yes, he's a hypocrite, but that's true of more people on Capitol Hill than one can possibly count. Certainly, he's an embarrassment to the part as a whole, but if they were able to somehow get over the embarrassment of a Senator who regularly did business with prostitutes, why couldn't they learn to accept a guy who was caught making out with a staffer on video? And, finally, isn't it up to the voters of Louisiana's 5th Congressional District to decide if they want him to continue as their Congressman? They'll have a chance to do that later this year after all. Given all of that, I see no reason why McAllister should heed the calls of his embarrassed fellow Republicans. Stay in office, run for re-election if you want to. After all, if a guy like David Vitter can not only be re-elected after his scandal, but now be considered the frontrunner for the GOP nomination for Governor in 2015, anything is possible.