Major Step Forward for Colombian Peace Process
Peace between the FARC and the Colombian state appears nigh.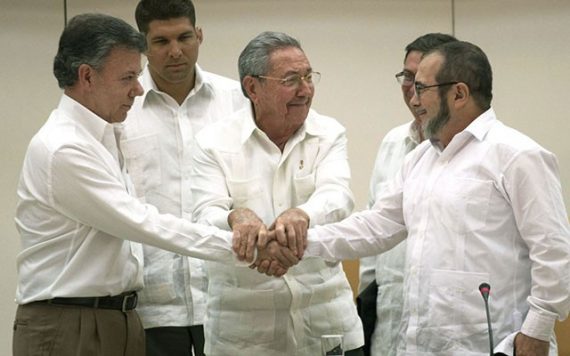 Late last week there was a major step forward in the negotiations between the Colombian government a the Revolutionary Armed Forces of Colombia (FARC).  The two sides have been engaged in a long-term negotiation process in Havana, Cuba to bring to close a conflict that has been ongoing for just over half a century.  Talks started in late 2012 and had a six part agenda:
1. Land Reform

2. Political participation

3. End of the conflict

4. Illegal drugs

5. Transitional Justice

6. Implementation
Agreements had been reached on land reform, political participation, and illegal drugs.  However, the issue of how to deal with crimes and human rights abuses by all sides (guerrillas, paramilitary groups, and the military) had been elusive–until this week.  As the Economist put it:
This deadlock came close to causing the talks to collapse earlier this year. In April the FARC broke its own unilateral ceasefire when one of its units in the southern department of Cauca killed 11 soldiers, triggering national outrage and tit-for-tat attacks. In early July Colombia's president, Juan Manuel Santos, called the FARC's bluff. He demanded that the talks speed up, saying that he would evaluate in November whether or not they were worth continuing.

The gambit worked. On September 23rd Mr Santos flew to Havana and together with Timoleón Jiménez, the FARC's top commander, announced an agreement on justice. The pair said they hoped to sign a final peace accord within six months.
The basics:
While the rank-and-file of the FARC's fighters will receive amnesties, leaders charged with "the most serious and representative" crimes will face a special tribunal, containing a minority of foreign judges. Those who confess and collaborate with a truth commission will benefit from alternative penalties: between five and eight years of community work "with effective restriction of liberty", though not in prison conditions. Those who do not collaborate will go to jail for up to 20 years. Similar procedures will apply to the armed forces and those found guilty of financing right-wing paramilitary vigilantes.
A more complete summary can be found here via WOLA's Colombia Peace page:  English Summary of the September 23 Government-FARC Communiqué on the Transitional Justice Accord.  See, also, the BBC:  Colombia peace deal with Farc rebels 'within six months'.
This was the most complicated issue to be settled in this negotiation and was the linchpin of the entire affair.  With this issues seemingly settled (to quote the late Yogi Bera:  "It ain't over till it's over"), there is reason to believe, as both sides have announced, that a final peace accord can be signed in six months.
The significance of these events is hard to understate.  Again, the FARC have been active since 1964 and there have been several attempts (obviously all failed) to find an negotiated end to the conflict (and the origins of the organization go well earlier than that).   While the FARC were not the only active guerrilla groups during the last half century (and still is not the only active one in Colombia, as the National Liberation Army, ELN, remains active still), it has been the most significant counter-state actors in Colombia over the last twenty years.
This deal will not solve all of Colombia's political violence problems, but is a watershed of major significance.
More, no doubt, on this as I further digest the event.