Marines Roll Sleeves; Soldiers Roll Eyes
Rolling up your sleeves is hard if you're a Marine.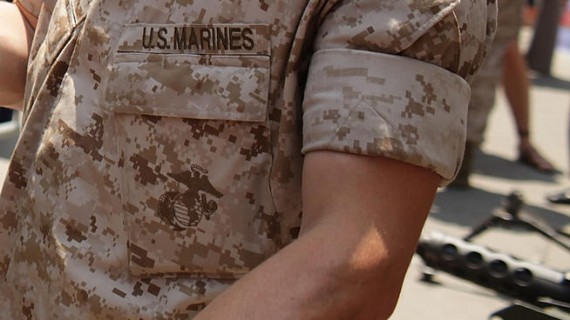 The Commandant of the Marine Corps has reversed his own orders that Marines had to keep the sleeves of their combat utility uniform unrolled. The following is from the Jacksonville Daily News, not The Onion:
In reaction to an announcement made by Marine Gen. James Amos, the Commandant of the Marine Corps, Camp Lejeune Marines on Wednesday expressed elation, ambivalence and a sense of concern when discussing the reversal of an order preventing them from rolling the sleeves of their desert utilities — a uniform regulation approved by Amos in 2011.

Within the Marine Administrative Message published Tuesday by Headquarters Marine Corps, Amos states the transition will take effect on March 9 when the Corps transitions to summer uniforms. By rolling sleeves, Amos said in his letter to Marines, that doing so "clearly and visually sets us apart."

[…]

Some Marines like Lance Cpl. Andrew West, 21, of Pawnee, Ill. have never rolled sleeves because they joined the Corps after the reversal took place.

West said he'd like to see the Corps focus more on the quality of gear provided rather than changing uniform regulations.

"I like my job and I like going into work every day, but I think we need to focus on the little stuff like gear and equipment issues," said West, a Marine with 2nd Medical Battalion. "As an operator in motor transport, I feel like we need better tools and equipment. That's something that needs to be addressed."

Once news broke of the latest change West was amazed at how excited Marines got about rolling their sleeves, he said. Within his shop, he added that there are many Marines who rolled sleeves previously in their careers and that they are excited about the new order.

"Since I've been in the Marine Corps I have never been taught how to roll sleeves so I don't know where to begin," West said. "From what I hear it's a little bit of a process to make them look good and look professional but I'm ready. We strive every day to look professional regardless of whether we are sleeves up or sleeves down so this shouldn't be a problem."

The move gives Staff Sgt. Jeffrey Potter, 31, of Hubert, the opportunity to mentor his Marines about the new uniform regulation and teach them the proper way to roll their sleeves — something he said he is "very excited" about.

"Teaching Marines how to roll sleeves isn't going to be that big of a deal because it's only going to take a few minutes to cover," said Potter, an instructor at Marine Combat Training Battalion aboard Camp Geiger. "It's all about mentoring your Marines and taking the time to educate them on changes in the Marine Corps. It's what we should be doing as staff non-commissioned officers every day."
As a former officer in the Army, a service that has been rolling the sleeves of its combat uniforms for decades without interruption, I find the whole thing rather comical. Most notably, the notion that figuring out how to roll up your sleeves is so difficult that it's going to require substantial training from NCOs is just hilarious. After all, soldiers actually have to roll their sleeves such that the camouflage pattern is on the outside, which is slightly more challenging than simply rolling them up as Marines do.
For the uninitiated, here's the process of rolling ones sleeves the Marine way:  Fold the cuff upwards. Repeat until sleeves are desired length.