Mark Zuckerberg Didn't Tip in Rome Restaurant, Following Custom
Mark Zuckerberg left at least two Italian restaurants without tipping. Apparently, he read his guide books.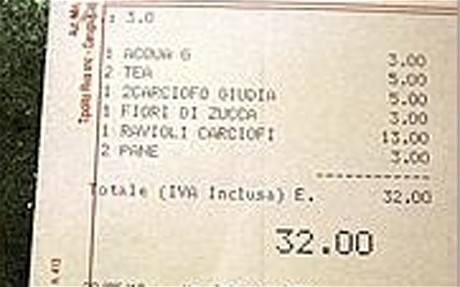 The Telegraph is getting serious traction with a story headlined "Facebook founder Mark Zuckerberg left no tip after Rome lunch," with the catty subhed "He may be worth $20 billion, but when Facebook founder Mark Zuckerberg took his new wife to lunch during their secret honeymoon in Rome he spent just 32 euros (£26) – and did not leave a tip."
The owners of the kosher restaurant in Rome's Jewish Ghetto – a historic quarter in the centre of the city – were surprised when Mr Zuckerberg and Priscilla Chan walked away without leaving a gratuity.
Their bill came to just 32 euros after a lunch consisting of deep-fried artichokes – a Roman Jewish speciality – fried pumpkin flowers and ravioli stuffed with sea bass and artichokes.

Instead of wine or beer they opted for a bottle of water and a pot of tea.

Waiters at Nonna Betta, which specialises in Roman Jewish cuisine, were amazed by Mr Zuckerberg's parsimony, not just because of his huge wealth but because of Americans' reputation for tipping generously, as is expected of them at home.

It was not a case of not enjoying the meal, said the owner of the restaurant. "I asked him 'how was it?' and he said 'very good'", the owner, identified only as Umberto, told Corriere della Sera newspaper. "I had gone up to him and said 'Are you …?' and he said 'Yes'."

It was not the first time that the multi-billionaire chose not to tip – he reportedly did the same thing the night before at Pierluigi, a historic trattoria near Campo de' Fiori, a pizza in the heart of Rome.
Apparently, Zuckerberg is up on local customs. While Americans typically leave generous tips while dining in Europe, following the expectation at home, Europeans do not. Quite often, a service charge is built in. Regardless, Europe requires restaurateurs to pay wait staff a decent salary. The custom, therefore, is to round up the bill to the next whole Euro or leave no tip at all. Given a 32 Euro bill, then, Zuckerberg did exactly as he was supposed to.