Mark Zuckerberg Loses $7 Billion
An ad boycott has the Facebook co-founder down to his last $82.3 billion.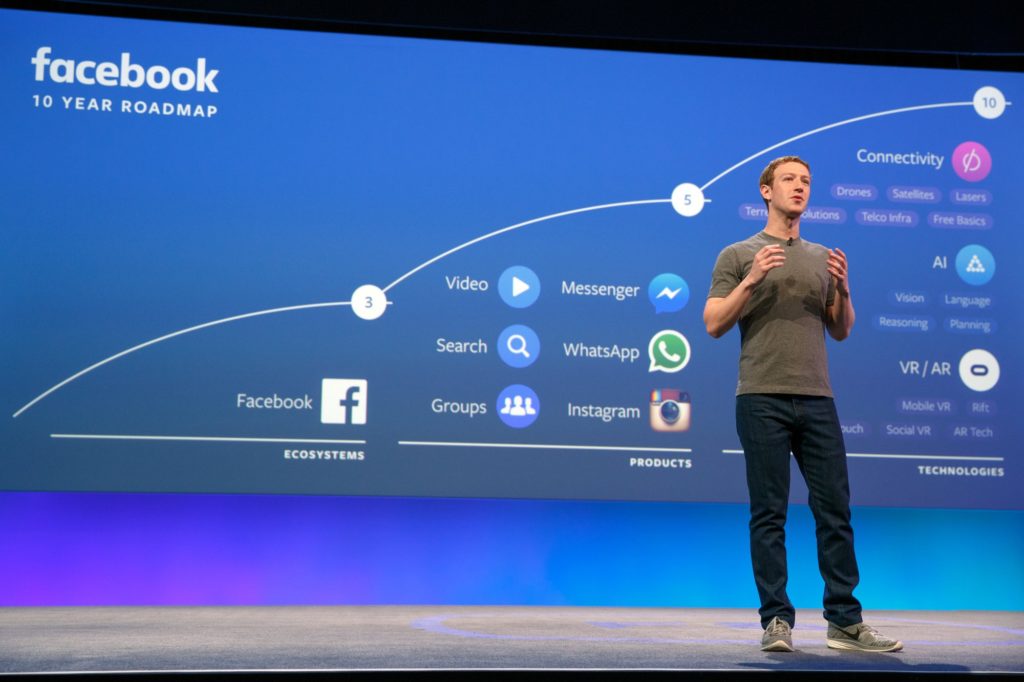 Longtime Senator Everett Dirksen famously joked about federal spending, "A billion here, a billion there, and pretty soon you're talking real money." A #BlackLivesMatter-inspired boycott is starting to add up for the largest social media company and its most visible founder.
Bloomberg ("Zuckerberg Loses $7 Billion as Firms Boycott Facebook Ads"):
Mark Zuckerberg just became $7.2 billion poorer after a flurry of companies pulled advertising from Facebook Inc.'s network.

Shares of the social media company fell 8.3% on Friday, the most in three months, after Unilever, one of the world's largest advertisers, joined other brands in boycotting ads on the social network. Unilever said it would stop spending money with Facebook's properties this year.

The share-price drop eliminated $56 billion from Facebook's market value and pushed Zuckerberg's net worth down to $82.3 billion, according to the Bloomberg Billionaires Index. That also moved the Facebook chief executive officer down one notch to fourth place, overtaken by Louis Vuitton boss Bernard Arnault, who was elevated to one of the world's three richest people along with Jeff Bezos and Bill Gates.
That a company started by college kids the month after I launched OTB has lost $56 billion is staggering. That it's still worth $216.08 billion, even more so.
I was briefly distracted by news that Louis Vuitton was worth even more than that but a bit of research told me that, no, that's not right. Even though I've never heard of Arnault, he has briefly been the richest man in the world when there have been seismic shifts in tech stocks, but it's because he inherited two massive companies and grew them. "Louis Vuitton boss" is a weird way to describe him.
But I digress.
Companies from Verizon Communications Inc. to Hershey Co. have also stopped social media ads after critics said that Facebook has failed to sufficiently police hate speech and disinformation on the platform. Coca-Cola Co. said it would pause all paid advertising on all social media platforms for at least 30 days.

Zuckerberg responded Friday to the growing criticism about misinformation on the site, announcing the company would label all voting-related posts with a link encouraging users to look at its new voter information hub. Facebook also expanded its definition of prohibited hate speech, adding a clause saying no ads will be allowed if they label another demographic as dangerous.

"There are no exceptions for politicians in any of the policies I'm announcing here today," Zuckerberg said.
Last Monday's episode of the NYT podcast The Daily, "How Facebook Is Undermining 'Black Lives Matter'," was an excellent primer on the issue, contrasting the companies position on policing content with that of Twitter. Essentially, while both companies have liberal bosses and even more liberal employees, Twitter's customer base is much younger and more progressive while Facebook's is older and more conservative.
Ironically, while Republicans on Facebook think the platform is left-wing and constantly suppressing conservative voices, the opposite is true. Indeed, the most-shared stories on any given day are going to be overwhelmingly pro-Trump.
While Twitter actively—but not actively enough for many—takes down hate speech and misinformation, Facebook has been relatively laissez faire.
NYT reporter Kevin Roose argued in the episode that both companies could do more:
Well, there's plenty of things that they could do to kind of take down the temperature of the overall conversation on their platforms. They could change the way that their systems rank information. So instead of showing you the stuff that is most engaging, they could more heavily curate the information that comes onto people's feeds.

They could put a cap on like how viral posts can go to sort of keep bad actors from hijacking these conversations and undermining these movements. There's a lot that they could tweak about the basic structures of their platforms. But that could cut pretty deeply into their business models.

And ultimately, like, I think the bigger thing that they're realizing is that they have to pick a side. There is no such thing as a neutral platform. And all these decisions that they make about how their tools are designed, how they're used, what policies they have, they are all pushing in one direction or the other. And in this moment, this national moment of reckoning, of activism, of people speaking out against injustice, they have to decide whether that's something that they want to support or whether they want to stand on the sidelines.
He notes, for example, that on the same day "Zuckerberg came out with this long, heartfelt Facebook post about how he supported Black Lives Matter, how Facebook was going to donate millions of dollars to racial justice causes, how he stood with Facebook's black employees and with the movement for racial justice" the most viral video on the site featured Candace Owens claiming Black Lives Matter was a hoax.
So in my opinion, George Floyd was a criminal. He was a criminal. And just because he was a criminal doesn't mean he deserved to die at the knee of a police officer. But it does mean that I am not going to play a part of the broken black culture that always wants to martyr criminals.

And there's certainly no excuse to accept the democrat narrative, OK, that black people are being disproportionately hunted down by police officers because of the color of their skin.

Police brutality, racially-motivated police brutality is a myth.
It's not just big companies who feel like they have to make a stand here under the pressure of these protests. Facebook is losing employees. So, Zuckerberg had to make some changes.
But I question how big those changes will be.
And, frankly, I'm not sure how long the companies in question will refrain from advertising on Facebook and Instagram (which Facebook owns).
Beyond that, I'm sympathetic to Zuckerberg's position.
No, I don't much care that he lost $7 billion. It's absurd that he has that much money, let alone that he can lose that much money (the net worth of the 240th richest person on the planet!) and still be worth $82 billion. Indeed, to the extent that he's losing money made spreading propaganda and falsehood, hooray.
And I'm sure not upset that he's catching grief for being indifferent to malevolent foreign actors manipulating Facebook's algorithms to sway American elections.
Still, it's a bizarre notion, indeed, that it's up to the executives at Facebook and Twitter to determine whether the words of the President of the United States should be allowed to appear on their platform and be shared by their users.
Beyond that, given the quasi-monopolistic status those companies have, I'm uncomfortable with their executives (much less their algorithms) being the arbiters of what constitutes truth. It's one thing for the platform to prominently label a political advertisement as a political advertisement. It's quite another for them to reject advertisements on the basis that they express points of view they deem impermissible.
So, for example, the clips from Candace Owens cited above are problematic. The degree to which "black people are being disproportionately hunted down by police officers because of the color of their skin" is a legitimate topic for debate. Indeed, the scholarly research on this question is mixed, owing to poor data availability and confounding variables. Yet, there's simply no question that black and Hispanic communities feel threatened by police. Or that black and Hispanic men are much, much more likely to have interactions with police (itself a confounding variable). Or that there are a lot of racist cops patrolling our streets with a license to kill.
At the same time, Roose is right: neutrality isn't really possible.
Anecdotally, my Twitter and Facebook experiences are wildly different. But, largely, that's because of how I used the platforms. Twitter is among my go-to sources for news, particularly in the national security space, and I mostly follow scholars and practitioners in that space along with quite a few journalists. I started using Facebook to promote OTB posts but it evolved to mostly where I keep up with high school and Army friends as well as how I keep my late (first) wife's family and friends up to date on what's happening with the kids. So, my views are skewed by who I follow.
Still, while there's plenty of viral nonsense on Twitter, I mostly see it getting smacked down by well-informed people, often legitimate experts in the field. By contrast, I see so much crap on Facebook that's obvious bullshit but get tired of trying to debunk it because the people sharing it live in a fact-free zone.
With rare and obvious exceptions, I don't think Zuckerberg should be in the business of deciding what ideas are allowed to be shared by his platform's users. But I'd prefer if his business model wasn't geared toward feeding people who enjoy right-wing bullshit more of it.