Mary Landrieu: Against Medical Marijuana, In Favor Of Keg Stands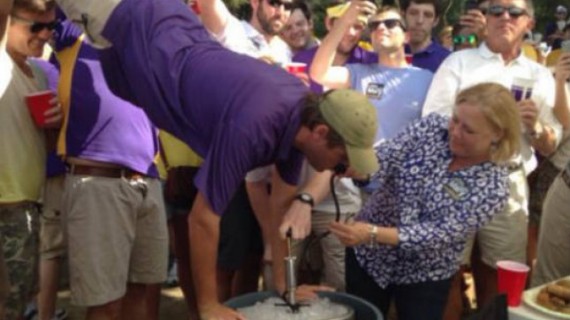 During last night's Louisiana Senate debate, Senator Mary Landrieu came out against legalizing marijuana for medical purposes, while her chief Republican opponent, Congressman Bill Cassidy, who is an M.D., said he favors it:
Yet in a surprising moment later in the debate, Cassidy said he would support the legalization of marijuana for medical treatment, while Landrieu and Maness said they were opposed to medicinal marijuana legalization.
I'd like to ask Senator Landrieu how she reconciles that position with her apparent position in favor of keg stands at Louisiana State University football games:
Sen. Mary Landrieu (D-La.) was spotted helping a man do a keg stand at a Louisiana State University tailgating event on Saturday.

A photo from the event appears to show Landrieu—one of the most vulnerable Democratic incumbents this year— holding the keg's spigot while a young man dressed in the Tigers' purple and gold does a handstand on the keg and other participants hold his legs. A crowd of onlookers cheers him on.

A source close to the campaign said the man was in his late 20s and was enjoying a tailgate with his friends and family. The source also said his father was at the tailgating party with him.

Keg stands are common events at college campuses. The goal of doing one is to drink as much as possible while doing the hand stand.
Binge drinking? Cool. Marijuana for people in pain? Heck no.