McCain Op-Ed Rejected by New York Times (Updated)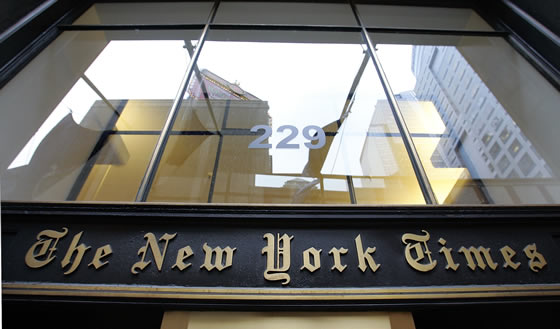 The NYT has declined to run an op-ed piece by John McCain in response to last week's by Barack Obama, CNN reports, instead giving what's known in academic circles as a "revise and resubmit."
In an e-mail to the McCain campaign, Opinion Page Editor David Shipley said he could not accept the piece as written, but would be "pleased, though, to look at another draft."

"Let me suggest an approach," he wrote. "The Obama piece worked for me because it offered new information (it appeared before his speech); while Senator Obama discussed Senator McCain, he also went into detail about his own plans. It would be terrific to have an article from Senator McCain that mirrors Senator Obama's piece."

McCain's rejected op-ed had been a lengthy critique of Obama's positions on Iraq policy, particularly his view of the surge. "Senator Obama seems to have learned nothing from recent history," wrote McCain, criticizing Obama's call for an early withdrawal timeline. "I find it ironic that he is emulating the worst mistake of the Bush administration by waving the 'Mission Accomplished' banner prematurely."
CNN published the piece in its entirety, presumably an indication McCain does not plan to give Shipley another try.
Andrew Rosenthal, who runs the editorial page, says that "It is standard procedure on our Op-Ed page, and that of other newspapers, to go back and forth with an author on his or her submission" and observes, "The New York Times endorsed Senator McCain as the Republican candidate in the presidential primaries. We take his views very seriously."
Daniel Finkelstein, Chief Leader Writer of the Times of London, says he'd have rejected the piece, too.
[P]olitical pieces by elected officials or candidates can often be very boring – safe, unrevealing and tediously partisan. In general I required such pieces to jump over a pretty high importance barrier before I ran them.

Obama's piece vaulted that hurdle. It outlined his views, pretty much avoided point scoring, and dealt with the issue.

McCain's piece, on the other hand, knocked the hurdle over. It wasn't about Iraq. It was about Obama. If I received it I would have done exactly what the NYT did – send it back and ask them to redraft it so that it was about Iraq and was more, well, interesting.
I'm not persuaded, frankly, that either piece crossed the hurdle. Informed readers didn't learn anything new reading either of them. Moreover, it strikes me that the two presumptive major party nominees have enough avenues for publicizing their views that they shouldn't be given major paper op-ed space at all. Those venues are quite valuable and should be reserved as platforms to air ideas that truly provoke thought from people not in the limelight on a daily basis.
Update (Dave Schuler)
Marc Danziger detects a Monty Python tie-in to the kerfuffle which he illustrates with quotes from Monty Python and the Holy Grail. Have you noticed how much of modern life has an absurdist comedy tie-in?