Megan Welter: Iraq War Vet, NFL Cheerleader
Megan Welter served as a Signal Corps officer in the Iraq War. Now, she's an Arizona Cardinals cheerleader.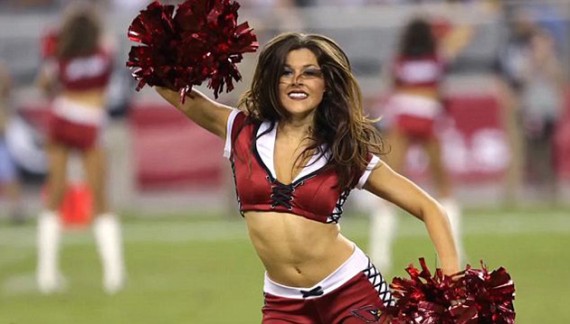 Megan Welter served as a Signal Corps officer in the Iraq War. Now, she's an Arizona Cardinals cheerleader.
NESN ("Cheerleader Megan Welter Goes From Army Lieutenant Fighting in Iraq to NFL Sidelines "):
While NFL teams will sometimes use military and battle metaphors to describe their trade, few of their cheerleading squads turn to such lingo. One member of the Arizona Cardinals' cheerleaders, however, knows firsthand what being disciplined and battle-tested really looks like.

Megan Welter has joined the Cardinals' cheerleading squad at 28 years old, but what is perhaps most interesting about the cheerleader's try at the team is not how long it took her to join the squad, but rather the path that led her there.

Welter was involved in ballet and dance from her youth all the way into college, but when she graduated in 2007, she went looking for a higher calling. She spent the last few years about as far away from dance or cheerleading that someone could get, instead serving as a platoon leader in Iraq with the U.S. Army.

"The war was going on at the time when I graduated college," she told ABC15. "I wanted to take a job that was going to be meaningful, so I decided to join the Army." Welter entered Officer Training School, even though she knew that rising in the ranks would mean she'd see action in Iraq. She was stationed north of Baghdad and, at 23 years old, ran the communications network for the base, the largest of its kind in Iraq. "It was definitely a sink-or-swim type of experience," she said of the 16-month tour.

It was that experience that gave Welter both the interest in trying out cheerleading as well as the grit to see it through. While in Iraq, a squad from another NFL team visited, and she did some fact-finding. The idea stuck in her head, and three seasons after she returned home, she tried out for the Cardinals' squad.

By the time she made the finals, "I was determined and driven to make this team," she said. She's one of the oldest members of the squad but doesn't seem to mind.

"It's just been such an amazing experience, and to be at this age and still be able to do this, and to do it … taking such a long break, it's been really exciting," she said.
Given their quarterback situation, this may be a harder job than she had in Iraq.
The reporting, though, appears to be wrong as to Welter's path to her Army commission. The Yahoo video shows her wearing cammies with the Leadership-Excellence patch of the Army's cadet command. That means she was in ROTC.