Merkel: Europe Can No Longer Count On The United States
President Trump's decision to violate the terms of the nuclear deal with Iran could be a turning point in relations between the United States and its most important allies, and not in a good way.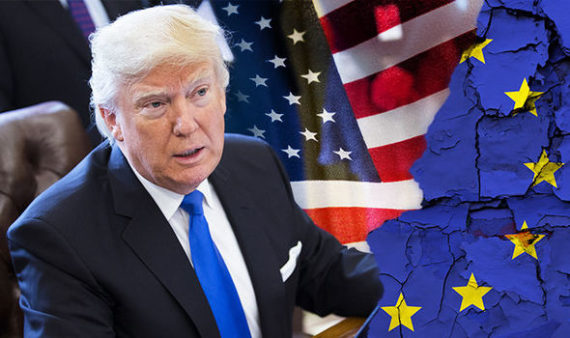 German Chancellor Angela Merkel has some harsh words on the state of the relationship between the United States and Europe in the age of Trump:
German Chancellor Angela Merkel said Europe can no longer count on the U.S. for military protection and must "take its destiny into its own hands."

Merkel's comments on Thursday reprise a theme she first sounded last year in response to U.S. President Donald Trump's "America First" foreign policy and his hectoring of European NATO allies for allegedly spending too little on defense. It's her latest retort to Trump, who this week withdrew the U.S. from a nuclear accord with Iran that European powers say they will uphold.

"It's no longer the case that the United States will simply just protect us," Merkel said to applause in a speech honoring French President Emmanuel Macron, who sat behind her at a prize ceremony in Aachen, Germany. "Rather, Europe needs to take its fate into its own hands. That's the task for the future."

Many major global conflicts are happening "at Europe's doorstep," said Merkel, who expressed concern about the risk of war between Israel and Iran over Syria. While European Union countries have made progress on defense cooperation, the effort remains "in its infancy," she said.
These comments, of course, come just days after the President took his latest action to stick a thumb in the eye of our European allies with his decision to pull the United States out of the Joint Comprehensive Plan of Action (JCPOA). This action occurred notwithstanding the fact that our top allies had urged the President to reconsider what seemed like an inevitable decision on Trump's part. Earlier this year, Merkel, along with British Prime Minister Theresa May and French President Emmanuel Macron had issued a statement of support for the JCPOA. made clear that they did not support the position taken by the Trump Administration regarding the nuclear deal with Iran. As a result, the three leaders continued to rebuff American efforts to renegotiate the deal while at the same time at least trying to negotiate in good faith the terms of a side agreement that would make Trump happy but keep the core of the JCPOA intact.  As the time worse down to the May 12th deadline that the Administration had set before announcing the President's intentions, both Macron and Merkel both came to the United States for the express purpose of trying to convince Trump to keep the United States in the deal. Additionally, British Foreign Secretary Boris Johnson, who has said in the past that he agrees with some of Trump's criticisms of the deal, wrote an Op-Ed in The New York Times arguing that the United States should stay in the agreement. Those arguments fell on deaf ears, though, a fact seemingly acknowledged by President Macron at the end of his visit last month when he said that Trump was likely to pull out of the deal for "domestic reasons." In the meantime, Macron and Merkel, along with British Prime Minister Theresa May continued to work behind the scenes to try to find a way to save the JCPOA, but those efforts were clearly in vain. Now that Trump has made his decision, the Europeans find themselves left to pick up the pieces.
Writing in The New York Times, Steven Erlanger notes that, once again, Europe finds itself being used as Trump's doormat:
It is by now a familiar, humiliating pattern. European leaders cajole, argue and beg, trying to persuade President Trump to change his mind on a vital issue for the trans-Atlantic alliance. Mr. Trump appears to enjoy the show, dangling them, before ultimately choosing not to listen.

Instead, he demands compliance, seemingly bent on providing just the split with powerful and important allies that China, Iran and Russia would like to exploit.

Such is the case with the efforts to preserve the 2015 Iran nuclear pact. Both the French president, Emmanuel Macron, and the German chancellor, Angela Merkel, made the pilgrimage to Washington to urge Mr. Trump not to scrap the agreement. Their failure is very similar to what happened with the Paris climate accord, and to what is happening now with unilateral American sanctions imposed on steel and aluminum imports, and to Mr. Trump's decision to move the United States Embassy in Israel to Jerusalem.

And with each breach, it becomes clearer that trans-Atlantic relations are in trouble, and that the options are not good for the United States' closest European allies.

However angry and humiliated, those allies do not seem ready to confront Mr. Trump, wishing to believe that he and his aides can be influenced over time. To some, it is reminiscent of what Samuel Johnson said of second marriages: a triumph of hope over experience.

But there are signs that patience is wearing thin, and that many are searching for solutions as Mr. Trump, in the name of "America First," creates a vacuum of trans-Atlantic leadership that the Europeans have so far seemed incapable or unwilling to fill.

"The allies are certainly sick of this but don't seem to have an alternative," said Jeremy Shapiro, a former career State Department official now at the European Council on Foreign Relations.

"The Europeans are invested down a path of trying to please the president, not out of belief but more hope against hope that they will convince him," he added. "And they only pursue this at such a level of embarrassment because they don't have an alternative."
As Erlanger goes on to note, the President's decision to attempt to undo the JCPOA may be the impetus that causes the Europeans to take action to go down a road that can only tend to draw it further away from the United States, at least as long as Donald Trump is in the White House. Even before the President made his announcement on Tuesday, Macron, Merkel, and May have been in contact with Iranian officials, either directly or their respective foreign policy teams, in an effort to keep the situation calm, reassure Tehran that Europe remained committed to abiding by the JCPOA, and ensure that Iran itself doesn't react to the American decision by deciding to pull out of the agreement itself as some Iranian hardliners have advocated. Based on the immediate reaction from Tehran, and notwithstanding some of the more radical statements that have emanated from there obviously meant for propaganda purposes, those efforts appear to be succeeding at least in the short term.
Regarding the broader implications of Trump's actions not only regarding the JCPOA but regarding the whole panoply of actions Trump has taken, Steve Simon and Jonathan Stevenson suggest that Europe does have an option:
What can Europe do to get Mr. Trump's attention? President Hassan Rouhani of Iran has indicated that his country will continue to adhere to the terms of the deal for the time being and deal with other parties to it in hopes of securing its benefits. This confers on the European Union, Britain and France — all of which are parties — some leverage. Acknowledging Iran's compliance and continuing to do business with Iran without imposing sanctions would mitigate the effect of the White House's sanctions and make it easier for advocates of the deal in Tehran to make their case.

The administration's challenge — the American ambassador to Germany has already said that German companies doing business in Iran should wind down operations now — might prompt Europe to go further. The European Union could, for instance, announce the withdrawal of member-states' ambassadors from the United States. Isn't this what states do when diplomatic partners breach solemn agreements, expose them to security risks and threaten to wreak havoc on their economies? That is, after all, what the administration is threatening to do by courting the risk of a Middle Eastern war and applying secondary sanctions to European companies. Depending on the American response, European capitals might even follow up with expulsion of American ambassadors.

It would be hard to fault these moves as irresponsible, given that they would not impair vital security functions like intelligence-sharing and law enforcement coordination. They would, however, symbolize a stark diplomatic breach that could extend to other areas in which the Trump administration needs allied support. Thus, the White House would face the first hard choice in this whole process: a full-blown crisis in trans-Atlantic relations. If the administration's next move were to impose secondary sanctions on Europe, the Europeans could slap its own penalties on American multinational corporations, which in turn would place additional pressure on the White House.

For the European Union to target the United States commercially for attempting to adversely affect legitimate trade relationships would be radical. But it would arise in response to correspondingly egregious American behavior. By virtue of the 1944 Bretton Woods Agreement, European allies conferred economic leadership on the United States. Now the United States, in breaching the Iran deal and reimposing sanctions, has turned the very weapon that those allies bestowed on it against them.

(…)

Europe is at odds with the United States on an agreement to which it is a party, concerning a matter of wide-ranging strategic and regional importance. If this doesn't end the European Union's doormat foreign policy, we might as well start referring to it as the 28 colonies ruled from across the ocean. This is not an outcome the United States should welcome. As Britain learned in 1939, it's a lot better to have allies than colonies.
What Simon and Stevenson propose would indeed be a radical step by Europe, and it would require a degree of unity of action and rhetoric that we haven't typically seen from a European Union that at times seems to exist in name only. At the same time, though, there are plenty of arguments against this course of action and several reasons why European leaders might feel dissuaded from confronting Trump in this aggressive a manner. Perhaps if there weren't so many pots boiling around the world, from Ukraine to Syria to the Korean Peninsula, they might feel freer to act. With all that on the plate, though, and President Trump headed for one of the most potentially consequential summit meetings since the end of the Cold War, it's unclear that the Europeans would be willing to hit the panic button in such an obvious manner.
Additionally, there's no telling how Trump may react to actions such as these. As Simon and Stevenson admit, it's unlikely that he is going to reverse himself on the JCPOA, for example, and poking a stick in his eye could end with Trump taking similar retaliatory action against the E.U., thus further poisoning an already strained relationship. It also seems clear that actions such as those recommended here would most likely help Trump on the domestic front here in the United States. Trump's hardcore supporters, for example, aren't likely to be dissuaded in that support by Europe confronting their President like this. It's also likely that it would cause even reluctant Republican and Independent voters who have supported Trump in the past to rally to his side due to the fact that he, and the United States, are arguably being attacked by those darn foreigners. Thanks to that likely increase in domestic support, Trump is likely to think he's doing the right thing even as he continues to engage in policies that further isolate the United States from its traditional allies and makes it harder for us to rally the world the next time it becomes necessary, which could be sooner rather than later.