Miami Valedictorian Could Be Deported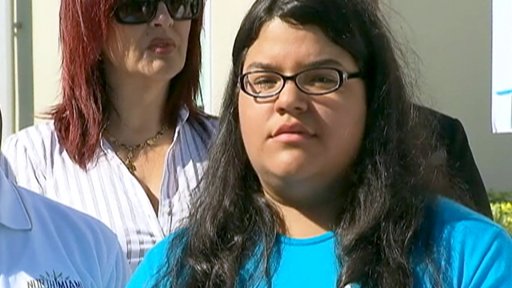 From the Annals of How Screwed Up Is Our Immigration System?
ABC News ("Miami Valedictorian Could Be Deported"):
North Miami High School senior Daniela Palaez has a 6.7 GPA, the valedictory nod from her classmates, a brother in the U.S. Army and deportation papers to Colombia.

In a hearing on Monday a federal immigration judge ordered the 18-year-old Palaez, in the U.S. since she was 4 years old, to voluntarily leave the the country for her native Colombia by the end of the month after her request for a green card was denied.

"Everything I've worked for, it's, like going down the drain in a matter of days," says the aspiring surgeon who has already applied to a number of Ivy League colleges. "I consider myself an American. [Deportation] would mean I'd leave a country and go back to a country that I don't remember, a country [where] I don't feel at home, and I don't even graduate high school."

[…]

Palaez was 4 years old when she arrived in the U.S. with her family from Columbia on a tourist visa. Her residency application was denied in 2010. Her mother returned traveled to Columbia five years ago to get treatment for colon cancer and now can't return to the U.S. Palaez's brother is in the U.S Army and just returned from a tour in Afghanistan. Her father received permanent residency through Palaez's brother, but she is stuck.

Her departure is not imminent, and her attorney is planning to file an appeal that would prevent her removal from the U.S. Right now, Palaez is trying to get a pre-approved student visa, but congressional support is needed to expedite such a request. She has gained the strong support of three Florida members of Congress, at least two of who plan to write to the U.S Immigration and Customs Enforcement on her behalf.
Palaez's attorney, Jack Wallace, says it may be years before she is actually deported.
Answer to the opening question: This is so screwed up that I'm going to refrain from worrying about how she managed to get a 6.7 GPA.