Michele Bachmann Running for President
They say anyone can grow up to be president. Michele Bachmann is apparently taking them at their word.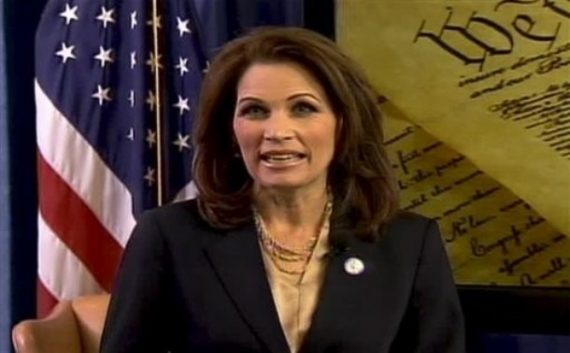 They say anyone can grow up to be president. Michele Bachmann is apparently taking them at their word.
CNN ("CNN Exclusive: Bachmann to form exploratory committee in June, possibly earlier"):
CNN has exclusively learned that Rep. Michele Bachmann will form a presidential exploratory committee. The Minnesota Republican plans to file papers for the committee in early June, with an announcement likely around that same time.

But a source close to the congresswoman said that Bachmann could form the exploratory committee even earlier than June so that she could participate in early Republican presidential debates.

"She's been telling everyone early summer," the source told CNN regarding Bachmann's planned June filing and announcement. But the source said that nothing is static.

"If you [debate sponsors] come to us and say, 'To be in our debates, you have to have an exploratory committee,' then we'll say, 'Okay, fine…I'll go file the forms.'"
ABC ("Palin 2.0? Bachmann Tells ABC News, 'I'm In!'"):
Just over ten months before next February's Iowa caucuses Sarah Palin is returning from a recent trip to Israel. But Tea Party darling Rep. Michele Bachmann is already hitting the Hawkeye state capital.

Unlike Palin, all signs point to Bachmann running for the Republican presidential nomination later this year. In an Iowa version of ABC News' "Subway Series" shot on the Des Moines city trolley, the Minnesota Republican told ABC's Jonathan Karl, "I'm in."

Well, sort of.

"I'm in for 2012 in that I want to be a part of the conversation in making sure that President Obama only serves one term, not two, because I want to make sure that we get someone who's going to be making the country work again. That's what I'm in for," Bachmann said.

"But I haven't made a decision yet to announce, obviously, if I'm a candidate or not, but I'm in for the conversation."

She said the feedback she has gotten thus far about a possible White House run has been "encouraging." And she thinks the president is beatable.
I don't know which is funnier: That Bachmann thinks she's presidential material or that she's convinced ABC and CNN that they have an exclusive.