Michelle Obama "Linked" to Pedestrian Deaths
Pedestrian fatalities are up. Experts blame Michelle Obama.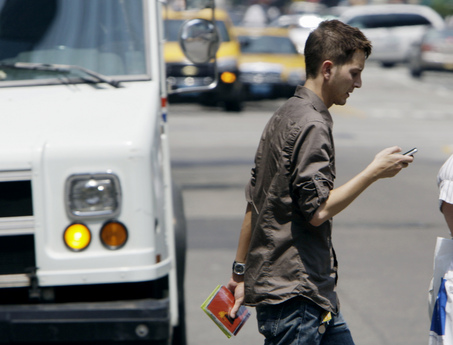 From DC's AM630 WMAL commits blood libel:
The Governors Highway Safety Association says pedestrian deaths increased in the first half of 2010 and the First Lady's program to get Americans to be more active could be partly responsible.

Governors Highway Safety Administration spokesman Jonathan Adkins told 630 WMAL that Michelle Obama is "trying to get us to walk to work and exercise a little bit more. While that's good, it also increases our exposure to risk."

After four straight years of steady declines, pedestrian deaths were up during the first six months of 2010, the latest figures available to be studied.

Other factors include distracted drivers, distracted pedestrians and what Adkins calls "aggressive pedestrians."

"People who are not crossing where they are supposed to. They're running in front of cars. We've even had examples of pedestrians getting out on the interstate," said Adkins.

Alcohol is also factor in increased pedestrian deaths.   "We've done a good job of getting people, after a night out of partying, to leave their keys behind. But just because you are walking does not mean you are not at risk," said Adkins.

Pedestrians are also increasingly distracted by iPods and smart phones. It is not uncommon to see people crossing streets while fiddling with an electronic device and not watching where they are walking. Hospital emergency rooms have reported an upsurge of people injured in a fall because they were distracted by electronics.
Where to start?
Well, first off, there are no figures provided.  Via Dr. Google, I see "The Governors Highway Safety Association says in the report that 1,891 pedestrians were killed in the first six months of 2010, up from 1,884 in the same period in 2009 — a 0.4 percent increase. "  Now, I don't know the historical variation in these things, but I'd say offhand that this is a statistically insignificant swing.   Regardless, a variety of factors — alcohol, technology, and road design among them  — seem to be considered possible explanations for the slight reversal in trend.
Second, while I don't pay much attention to the social campaigns of First Ladies, I don't recall Mrs. Obama telling people that they should get drunk, strap on an iPod, and go wandering around the streets reading their BlackBerries.  She's advising people to get some exercise, not to go wander around in traffic.  Yes, that's technically a form of exercise.  There are others.
Third, anecdotally at least, I have indeed seen an increase in pedestrians distracted by electronic devices, whether it be texting while walking or grooving to whatever's piping through their little white earbuds.  Then again, I've seen the same thing among people operating automobiles — and traffic deaths are down 8 percent during the same period.
Update (Doug Mataconis): It turns out that the Governors Highway Safety Association never said there was any link between the pedestrian deaths and the First Lady's campaign. That appears to be a conclusion that WMAL and The Daily Caller came to all on their own.
Hat tip:  Teresa Kopec. Photo:  AP/Cleveland.com