Pedestrian Safety: Preventable Deaths?
Thousands of pedestrians are killed in America each year. Are we doing enough about it?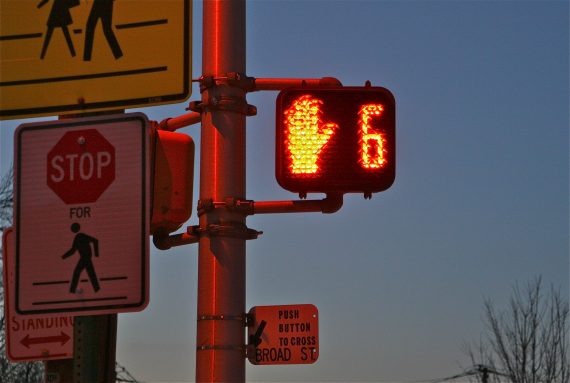 Matt Yglesias asks "How Big a Deal Is Pedestrian Safety?" He offers the following chart as a conversation starter: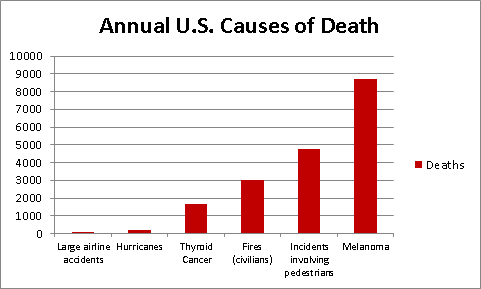 While acknowledging "this is hardly the biggest public health problem the nation faces," he observes that "pedestrian accidents absolutely dwarf such newsworthy occurrences as plane crashes and hurricanes. These kind of drip drip drip problems are exactly the sort of thing we under-invest in dealing with."
My first reaction was that newsworthiness is a poor indicator, in that things make the news precisely because they're novel. "Random 87-year-old Dies"  is unlikely to survive the pitch meeting for the front page, after all.  Additionally, the victims of airliner crashes and hurricanes are much more powerless than the average pedestrian, who can take such precautions as  using crosswalks and looking where the hell they're going.
But I actually took a peek at the Transportation for America report that Matt links and think he's got a valid point on under-investment.
[I]t's shockingly easy to pick out the busy arterial roads where fatalities are strung out in a tidy little line following the path of the road. Nationally speaking, the majority of these deaths occurred along these "arterial" roadways that are dangerous by design — streets engineered for speeding traffic with little or no provision for people on foot, in wheelchairs or on bicycles.

Our federal tax dollars actually go to build these streets that are designed to be perilous to children, older adults and everyone else. And yet, right now, some in Congress are considering the total elimination of funding for projects to make it safer to walk and bicycle.

The highways-only lobby insists that pedestrian safety is a "frill" and a local responsibility. But 67 percent of these fatalities over the last 10 years occurred on federal-aid roads — roads eligible to receive federal funding or with federal guidelines or oversight for their design.

That's right: Federal programs have encouraged state departments of transportation to prioritize speeding traffic over the safety of people in our neighborhoods and shopping districts. Shouldn't our tax dollars be used to build streets that are safe for all users, and not deadly for those on foot?

The irony is that fixing these conditions is relatively cheap: Existing funds for that purpose — now targeted for elimination — amount to less than 1.5 percent of the current federal transportation outlay. A policy of giving federal support only to "complete streets" that are designed for the safety of people on foot or bicycle as well as in cars would cost next to nothing.
I happen to live just off such a road, Route 1 or Richmond Highway in Alexandria, Virginia.  Poor people who live in nearby apartments are constantly getting killed crossing the road. Partly, it's because they seem to have an aversion to crossing at lights, often seeming to go out of their way to cross in the middle of the street even when there's an intersection governed by a traffic light within 100 feet. But the fact of the matter is that the Route 1 corridor simply isn't designed for pedestrians and bikers; it's just assumed that you have a car.
So, what do they have in mind at T4America?
Traffic calming and street design. Traffic calming includes a host of engineering techniques used to physically alter road design for the purpose of slowing traffic and improving safety for bicyclists and pedestrians. Beyond simply installing sidewalks, these improvements enhance safety through a focus on intersections with features such as pedestrian refuge medians, better road geometry, and signals that give pedestrians a "head start" when crossing roads. Depending on the type of measure implemented and speed reductions achieved, traffic calming has reduced collisions by 20 to 70 percent.

Complete streets. Where traffic calming seeks to improve safety by reducing traffic speeds, Complete Streets policies ensure that future road projects consistently take into account the needs of all users, of all ages and abilities, particularly pedestrians and bicyclists. Complete Streets designs vary from place to place, but they might feature sidewalks, bicycle paths, comfortable bus stops, median islands, frequent crosswalks and pedestrian signals. Both the American Academy of Pediatrics and the Centers for Disease Control and Prevention recently endorsed the adoption of local and statewide Complete Streets policies as a strategy for improving safety and increasing physical activity among children and adults.

Safe Routes to School programs. Safe Routes to School programs take a comprehensive approach to improving safety around schools for children walking and bicycling. The program funds engineering upgrades like sidewalks and crosswalks, improved traffic enforcement and bicycle and pedestrian safety education. The intent is to address parental concerns about traffic dangers and get more children walking and bicycling to school, which improves their physical fitness and health. From a handful of pilot efforts across the country, Safe Routes to School has grown into a federally-funded program providing more than $600 million over five years for thousands of projects nationwide.

Walkable neighborhoods. Walkable communities are safe and inviting for walking and bicycling, while also featuring compact development and a variety of destinations, such as parks and public space and nearby schools, workplaces and other amenities like restaurants and retail facilities. The tools to increase community livability by improving walkability go beyond investing in pedestrian infrastructure, giving residents and visitors convenient destinations they can walk to.
Now, much of this would be unworkable in the case of the Route 1 corridor, which is a major artery and packed to the gills with traffic. But, certainly, they could paint crosswalks and incorporate pedestrian lights at the existing intersections.
The other thing I seldom see domestically that was commonplace in Germany–including on American military bases–when I was a kid is overhead walkways that allow pedestrians to cross above and thus segregated from automobile traffic. Presumably, they're expensive. But they make make sense in places where apartment complexes are across a major arterial road from bus stops, strip malls, and other place where high concentrations of pedestrians are likely to travel.
At the same time, pedestrians themselves have primary responsibility for their own safety. I'm constantly shocked by how reckless the most vulnerable people on the road, bicyclists and pedestrians, are in the face of multi-ton vehicles traveling at high speed. T4America uses this horror story to illustrate their case:
Altamesa Walker led her four young children across a major five-lane thoroughfare in suburban Atlanta early morning on November 17. The family had missed its bus and was attempting to reach the bus stop on the opposite side in hopes of catching an alternate route. There was no crosswalk between the two bus stops, and both are located several hundred feet from the nearest intersection with crosswalks. They stopped midway across the road, in a turning lane they hoped would offer the protection of a (nonexistent) median. Resuming their crossing, and assuming safety, Walker's four-year-old daughter was fatally struck by a car.
Should there have been a light and crosswalk connecting these bus stops? Quite possibly. But there wasn't. I'm sorry but "several hundred feet" isn't that far to walk to avoid dragging four small children across five lanes of vehicular traffic. Drivers are trained to expect pedestrians, bicyclists, and other slow movers at intersections and to keep moving otherwise. When we're not at an intersection, we're looking to see whether there's space to change lanes, not whether someone's bringing their kids across the highway. Walker took a stupid risk that cost her daughter her life and herself a life of grief and guilt. Indeed, Walker was charged with involuntary manslaughter and reckless conduct; I've not been able to find the disposition of the case.*
The driver was not cited. But he'll have to live with this child's death the rest of his life.
UPDATE: T4America's Steve Davis points me to this interesting video about a portion of Route 1 a few miles south of me in Woodbridge, Virginia and the problem of "Careless Interference With Traffic."
In many cases, the narrator rightly points out, it's simply unrealistic to expect people to walk to the nearest crosswalk because of how inconvenient we've made it in these sorts of places.
______________
*Yes, this seems heartless under the circumstances.