Bike Lane Backlash?
As bicycle advocates have been getting new lanes and other concessions in major cities across the country, a minor backlash has formed in reaction.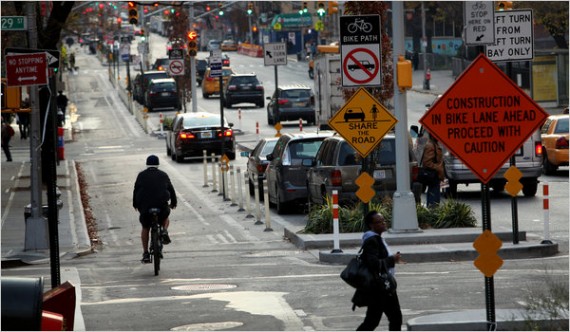 As bicycle advocates have been getting new lanes and other concessions in major cities across the country, a minor backlash has formed in reaction. Scott Goodman, reporting for the NYT:
Bowing to vocal opposition from drivers and elected officials, the city last week began removing a 2.35-mile painted bike lane along Father Capodanno Boulevard on Staten Island. In Manhattan, a community board held a special hearing this month for business owners to vent about problems posed by a new protected bicycle lane on Columbus Avenue — in particular, the removal of parking spaces and the difficulty of getting truck deliveries.

In Brooklyn, new bicycle lanes have led to unusual scenes of friction. Along Prospect Park West, opponents protested last month alongside supporters of the lanes. And last year, painted paths along Bedford and Kent Avenues in Williamsburg caused disagreement between cyclists and Hasidim. The lane on Bedford Avenue was later removed.

So far, the opposition to the city's agenda on bicycles has far less organization and passion than the bicycling advocates, but it is gaining increased attention.

[…]

Surging bike ridership has created a simmering cultural conflict between competing notions of urban transportation. Many New Yorkers object to bicycle lanes as sudden, drastic changes to their coveted concrete front yards.

[…]

Outside the city, bikes have begun creeping into political battles this year. The Republican nominee for governor of Colorado, Dan Maes, wondered during the primary whether bicycles were part of a plot to ruin cities. Mayor Adrian M. Fenty, who lost his bid for re-election in Washington, found himself painted as out of touch with residents, in part because of his connection to new bike paths.
Now, my sense is that this "backlash" is commensurate the one we're seeing over the new airport screening procedures, with growing expressions of outrage coinciding with polls showing overwhelming quiet support. Whether either will grow into something more remains to be seen.
Still, this is a natural and entirely predictable fight.  Despite the "share the road" mantra, the fact of the matter is that cars and bicycles are diametrically opposed transportation cultures that have extreme difficulty co-existing in the same space — at least in areas with serious traffic.  (Which is to say:  a tiny number of cities across the country.)   Cars are heavy and fast moving and a constant danger to bicycles, which in addition to being vulnerable are also more difficult to see.  Bicycles are a nuisance, blocking a coveted traffic lane by moving much slower than the speed limit.  Moreover, they operate under conflicting sets of rules.   Motorists more or less obey road signs and traffic signals, while bicyclists view them as merely advisory.
Adding to the complication is the issue of pedestrian traffic which, again, is a serious issue in the handful of major cities where the car-bicycle conflict exists at any meaningful level.   Pedestrians take their lives into their hands, fearful of being struck by impatient motorists or lawless bicyclists.  (And then there are the pedestrians who dart out into traffic, oblivious to the rules.)  Gaggles of pedestrians lollygagging across an intersection frustrate motorists trying to make turn while backing up traffic behind said motorists.  Meanwhile, bicyclists create their own lanes — passing motorists anxious to gun it at the first sign of a break in the pedestrian action or decide to become fast-moving pedestrians and drive on the sidewalk.  Neither of these are helpful.
The hope, as a related piece from WSJ's Tom Perrotta implies, is that people will adapt to the new ecosystem and adopt customs that will allow all to interact reasonably well. Some cities have undertaken campaigns to educate drivers and bikers on the rules.  He quotes Manhattan Borough President Scott Stringer, who observes, "Paris does it, Copenhagen does it. There's a way for all of us to get things right."