Military Less Republican Than You Think
The popular notion that the United States military is monolithically Republican is mistaken.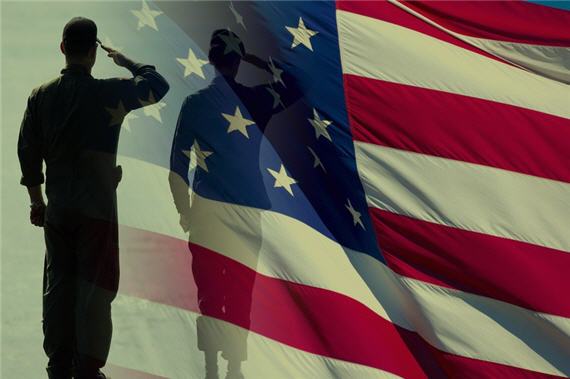 In response to a reader query wondering if Rick Santorum's strong showing in El Paso County in last week's Colorado Caucus demonstrated a "military problem" for Mitt Romney that could come into play on Super Tuesday, Andrew Gelman points to some research by political scientists Jason Dempsey and Bob Shapiro from several years back showing a bifurcation within the military ranks.
It is true that the upper echelons of the military tilt right. My own research confirmed that about two-thirds of majors and higher-ranking officers identify as conservative, as previous studies found. But that tilt becomes far less pronounced when you expand the pool of respondents. That is because only 32 percent of the Army's enlisted soldiers consider themselves conservative, while 23 percent identify as liberal and the remaining 45 percent are self-described moderates. These numbers closely mirror the ideological predilections of the civilian population. . . .

The political differences between officers and enlisted personnel can be partly explained by a demographic divide. Whereas officers are predominantly white, have at least a bachelor's degree, and draw incomes that place them in the middle or upper-middle class, the enlisted ranks have a higher proportion of minorities, make less money than officers, and typically enter service with only a high school diploma. Nevertheless, even when controlling for factors like race and gender, officers are significantly more likely than soldiers to identify as conservative. . . .

In addition to its ideological moderation, the Army is not as partisan as popularly portrayed. Whereas 65 percent of Americans think of themselves as either Republican or Democrat, according to the Annenberg survey, my study shows that only 43 percent of the military identifies with one of the two major political parties. Two out of three officers consider themselves either Republican or Democrat, but only 37 percent of enlisted personnel do so.

Officers tend to be not only more partisan, but also more Republican, with GOP affinity strongest among the highest ranks. While I [Dempsey] was unable to fully parse the reason for this, the evidence strongly suggests the pattern is generational. Today's senior officers entered the Army during the late 1970s and 1980s, a time when the Republican Party had a strong advantage on issues of national defense and the Democratic Party was seen as antiwar if not anti-military. By contrast, junior officers who joined the Army after 2001 are almost as likely to be Democrats as they are Republicans, foreshadowing a possible shift in officer attitudes.
Joshua Tucker posts a note from Major Jim Golby, a Stanford PhD and West Point instructor.
To my knowledge, there are no current polls about military preferences for the GOPcandidates. There are a few unscientific polls done by a newspaper, The Military Times, that measure military approval of the president, but that is it. They show approval for president Obama within the military at around 25%.

I have done some research in this field, however [paper available here]. One of the main take-aways from my research is that Republican officers in the military and elite veterans are no different, on average, than Republican civilian elites once we control for demographic factors. Although my work focuses on senior officers and veterans, Jason Dempsey's book,Our Army, and Jeremy Tiegen's paper support this general claim for soldiers and veterans, respectively.

[…]

[T]here is no evidence suggesting that any GOP nominee would have trouble winning the 'military vote' since there really is no such thing. There are not many Democrats in the military and there are even fewer liberals in the ranks; in general, most Democrats in the military are moderate or conservative Democrats (especially in the higher ranks).
In the comments, our own Chris Lawrence observes,
I'd caution against conflating officers and enlisted personnel; officers do tend to be overwhelmingly Republican, but NCOs and lower enlisted are much more mixed in partisanship and ideology, although also much less likely to vote, particularly in the E-1-4 ranks, probably in large part due to age. As Jim suggests probably a large part of the differences between the military and the public at large are due to ethnicity, SES, and region (the officer corps of the Army and Air Force, at least, tend to be substantially more southern than the public at large).

As far as the "military vote" might go, given the relatively small size of the officer corps and their lack of political organization or geographic concentration (military people, including their spouses and other dependents, tend to retain residency in their hometowns rather than registering to vote locally when reassigned, so even "military towns" will have few active-duty military/dependent voters), I doubt it could ever be all that influential even if their turnout was much higher.
There's a lot to unpack here but the takeaways would seem to be:
1. The military, and especially its senior officers, are more Republican and conservative than the country as a whole. But the extent of this is grossly exaggerated, because the media naturally focuses on the attitudes of the officer corps, particularly more senior officers.
2. These differences are almost entirely explainable by the demographic makeup of the military, which is self-selected.
3. As with the rest of the country, the younger cohorts of the military–including its officer corps–are less Republican and less conservative. See, for example, the enormous swings in attitudes on gays in the military over the last 20 years.
4. The notion that the "military vote" plays a major role in choosing our presidents is vastly overstated. In addition to the issues Lawrence notes, a third of the states essentially disenfranchise military personnel by mailing absentee ballots too late. The caveat is that, because a disproportionate number of military personnel claim Florida as their home of record in order to avoid paying state income taxes, they could potentially serve as a decisive swing vote in an incredibly close contest along the lines of the 2000 election. Those are, of course, quite uncommon.