Military Retirees May Lose Double Dip Retirement
The Pentagon is considering making military retirees ineligible for civil service pensions.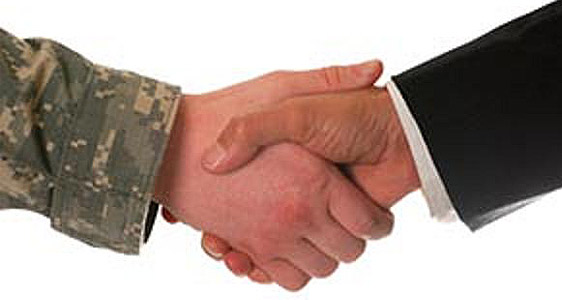 The Pentagon is considering making military retirees ineligible for civil service pensions.
Federal Times ("An End To Civilian Pensions For Military Retirees?"):
To address long-term sequester cuts, the Defense Department is mulling numerous reductions that will affect civilian employees, including doing away with civilian employee pensions for military retirees who go back to work for the government as civilian employees.

The savings could be almost $100 billion over 10 years when combined with a halt to commissary subsidies and restrictions on the availability of unemployment benefits, Defense Secretary Chuck Hagel told reporters last week in summarizing the recommendations of the newly completed "Strategic Choices and Management Review."

[…]

As of March, more than 134,000 military retirees held civilian jobs at DoD, according to the Office of Personnel Management. For the Pentagon, axing civilian pensions would save money by reducing the amount it has to contribute into the Federal Employees Retirement System and the Civil Service Retirement System, said Larry Korb, who oversaw manpower issues as an assistant Defense secretary during the Reagan administration.

While Korb does not take the idea seriously, he sees it as an attempt by DoD to draw attention to a pension program that often lets soldiers, sailors and airmen retire from the military after 20 years, then return to DoD as civilian employees making more money for doing the same job.

Hagel did not say how aggressively DoD would seek to implement such a step or how much it could save. A Pentagon spokesman later declined to provide additional detail.

But the head of the National Active and Retired Federal Employees Association (NARFE) blasted the idea as "ill-conceived and completely unfair."

"No civilian employee should receive lower total compensation because they served in the military, ever," NARFE President Joseph Beaudoin said in a statement. "This proposal should be rejected completely as an option, even under the worst budget scenarios."
Once upon a time, military officers who retired at pay grade O-4 and above (major/lieutenant commander) were ineligible to be hired into the civil service unless they waived their pensions. We got rid of that restriction because it was not only unfair (essentially penalizing people for two decades of service) but stupid (depriving the government of proven, experienced leaders).
Regardless, there has always been a tension between military retirees and others in the civil service. My dad was a retired senior NCO and thus not subject to the restriction but always felt like he was discriminated against. At least in those days (circa 1986) retirees were not eligible for the 5 point hiring preference given to ordinary veterans (such as myself) or the 10 point preference given to disabled veterans (such as him). Additionally, whereas military service time counted towards one's time in government services for retirement, vacation, and other benefits if you were an ordinary veteran, it didn't if you were drawing a retirement pension.
On the civilian side, though, the civil servants who had little or no military background resented former military coming in well into the grade structure and often having outsized influence because of their military experience and/or network. Additionally, there was an extra dose of resentment reserved for those drawing a generous military pension in addition to their civilian salary, especially from civil servants who had just as much service time.
Ultimately, though, the "double dip" argument was always silly. That one can put in twenty years of service in the military and retire with a nice pension is hardly a state secret. Nor is it particularly onerous to qualify to enter into that path, especially if you're healthy. Nor is it obvious why it's problematic for someone who is going to get a pension regardless of whether or where he works after "retirement" to be allowed to compete for vacancies in the civil service. Yes, they're getting two paychecks from the government. But they're going to get one regardless and only get the second because they've taken a second job.
There is, of course, the issue of cronyism. When a retiring colonel winds up being selected as the "best available candidate" for a civil service position that just so happens to have a job description which exactly matches his last active duty position, there's a natural suspicion that the fix is in. But there are ways to minimize this problem–and it's really tangential to cost savings.
The bottom line, though, is that there's no legitimate argument to be had for denying a second pension to someone who legitimately earns his first pension in uniform and then legitimately earns a second one after twenty or twenty five more years of service in civvies. That's especially true since, nowadays, the civil service retirement system amounts to a 401k rather than a military-style pension.