No, Andrew McCabe Is Not Losing His Pension, At Least Not Completely
The fact that Andrew McCabe was fired before he could retire means that he will lose out on some significant pension benefits, but. contrary to some media reporting, he won't lose his pension completely.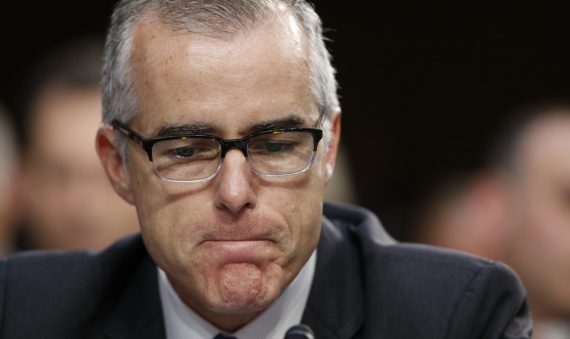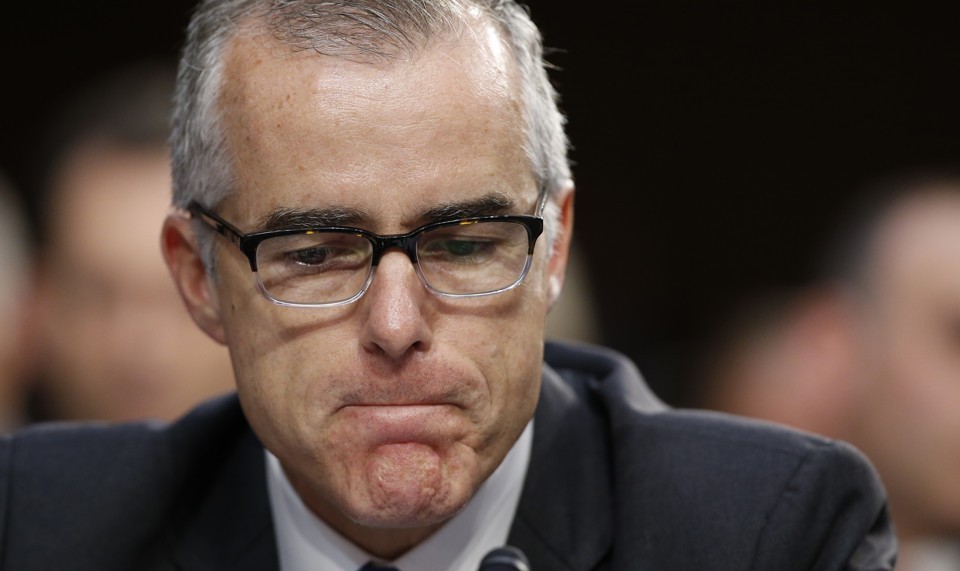 Much is being made about the late Friday night firing of former F.B.I. Deputy Director Andrew McCabe, who was summarily dismissed by Attorney General Jeff Sessions after months of being directly attacked by the President of the United States and, indeed, there is much about the circumstances that led to his dismissal that is questionable at best. However, there is one point that has been repeated throughout the media and elsewhere that has been used to make it seem as though McCabe is being unjustly punished because, by firing him before his retirement became effective today, Sessions guaranteed that he would not receive his pension. One Democratic Member of Congress has even offered to hire McCabe for a day or two so that he would get the number of days of Federal service that he needs to get his pension. As Elizabeth Bauer notes at Forbes, though, the claim that McCabe is losing his pension is not entirely true:
Pensions — public as well as private — are required to meet certain vesting requirements, and, in fact, the FERS (Federal Employees Retirement System) benefits vest at 5 years, meaning that benefit accruals cannot be taken away.

In fact, McCabe is all of 49 years old, likely 50 by the time readers see this, and what he lost out on was, as CNN much more calmly recounts, the ability to take his benefits at age 50, rather than somewhere between age 57 and age 62, and he lost his eligibility to a special top-up in benefit formula.  These are, admittedly, tangible financial losses, but it is grossly misleading that various news outlets are giving the general public the impression that he has lost his pension entirely.

But the existence of these special perks, benefits that we in the private sector can barely comprehend in the year 2018, points to a fundamental disconnect between the private and public sector.  Why shouldn't someone whose benefits consist of 401(k) account accruals believe that government pensions work so differently as to punish someone arbitrarily by removing their benefits?  Add to this the fact that retirement at age 50 is well-nigh incomprehensible for the average working American, except perhaps in the case of high-risk, health-sapping occupations, which surely likewise added to the impression that actual pensions, rather than generous ancillary provisions, were being lost.

Yes, the rationale for these generous pension benefits is that these civil servants accept significantly lower salaries than they would be able to earn in the private sector.  But this exchange of "low salaries now, rich retirement benefits later" is a matter of "robbing Peter to pay Paul" that isn't wise in the long term, either.4
To be fair, not everyone in the media was characterizing McCabe's fate as one where Sessions decision means that McCabe would never get the pension that he would otherwise be legally entitled to. In a report that was posted before McCabe was dismissed, CNN reported the story more accurately:
As a law enforcement officer covered by the Federal Employees Retirement System, known as FERS, McCabe is set to receive an annual pension payout calculated at a special "enhanced" rate and available at the early age of 50.

"He put his life on the line," said Kimberly Berry, a federal employment lawyer in Virginia. "The enhanced coverage is enhanced, because by its nature, it's more rigorous: the career he had."

Considering McCabe's number of years at the agency and estimations of his high-level pay grade, formulas published by the US Office of Personnel Management for law enforcement officers show that his yearly payout could hit in the area of $60,000 each year, if McCabe were to retire after his birthday on Sunday.

If he were to be fired before Sunday, it appears likely McCabe could be docked his pension until he hits another, later age milestone.

Experts disagree — and caution that predicting payouts is complicated given the complex federal system and each individual's personal career particularities — but, per federal rules, McCabe may not be able to draw an annuity until a date ranging just shy of his 57th birthday, and as late as his 62nd. That could put the value of his uncollected pension in the realm of a half-million dollars.

On top of that, McCabe could also lose his law enforcement boost.

"What he would lose — and this is a lot of money — he would lose the enhanced benefits that law enforcement officers get," said George Chuzi, an attorney who represents federal employees.

Under the rules of FERS, that means he could be left with the standard multiplier of 1% on top of his years of service, down from the 1.7% enhanced rate for law enforcement.
To be fair to McCabe, of course, losing close to half a million dollars in pension benefits is no small thing. Additionally it may also be the case that being fired means that McCabe will lose out on medical insurance benefits for himself and his family, something that would require him to either obtain insurance coverage on the open market, seek new employment that includes insurance coverage, or rely on whatever coverage his wife may have through her employer. That being said, he will still be able to draw on a Federal pension of some kind at some point in the future — depending on who you listen to that would be either around the time he turns 57 or when he turns 62 — so it's not entirely accurate to say that he is losing out on his pension. Finally, it seems likely that, much like former F.B.I. Director James Comey, McCabe will at some point be offered a book deal that could prove to be even more valuable than whatever pension he would have received had he been permitted to retire as planned.
To be fair, most of the print reporting on the circumstances of McCabe's dismissal has made it clear that he wouldn't be entirely cut off from access to his pension benefits, merely that he wouldn't be eligible to take advantage of the quirk in the law that allows Federal law enforcement officials to retire as young as 50 years old and receive a pension that could last for another thirty years or more. As noted above, the report on CNN's website also makes that clear. Unfortunately, much of the reporting I've seen on CNN and MSNBC regarding the circumstances of McCabe's dismissal has made it seem as though firing him means he loses out entirely on any pension at all. This has also been true of the small amount of coverage regarding McCabe's dismissal that I've seen on the broadcast network's newscasts yesterday and this morning. While it is true that McCabe stands to lose a lot of money because of what seems for all the world like a vindictive decision prompted by pressure from the President of the United States, it would be helpful if the media were to be just a little more accurate in reporting what his dismissal actually means.
On a final note, there is a possibility that this issue is not over quite yet. McCabe could decide to pursue litigation or other legal avenues protesting the manner and circumstances of his dismissal. If that happens the primary remedy he would likely be seeking is a ruling that he would be entitled to his pension as if the dismissal had not taken place and he had been permitted to retire as planned. I'm no expert in Federal employment law, so I can't really comment on what the merits of such a claim might be or what the odds of such a claim being successful might be. Nonetheless, such a lawsuit would be interesting because it could mean that we would learn a lot more about the circumstances that led to McCabe's dismissal and what, if any, pressure the White House may have applied beyond the rants that the President had sent McCabe's way via his Twitter feed.