'Militia' Takes Over Federal Wildlife Refuge
A group led by Ammon Bundy, son of Clive Bundy, has taken over the Malheur Wildlife Refuge near Burns, Oregon to protest somethingorother.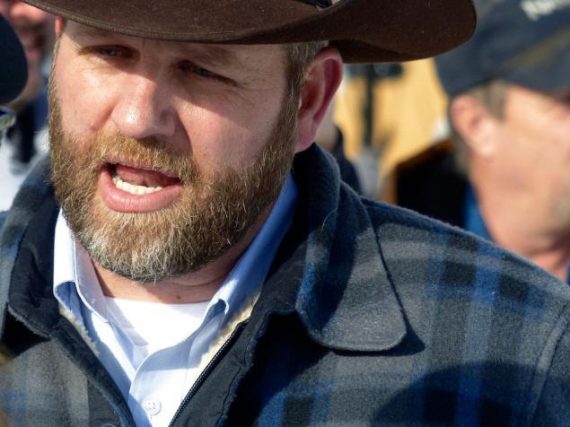 A group led by Ammon Bundy, son of Clive Bundy, has taken over the Malheur Wildlife Refuge near Burns, Oregon to protest somethingorother.
Les Zaitz reporting for The Oregonian:
The Bundy family of Nevada joined with hard-core militiamen Saturday to take over the headquarters of the Malheur National Wildlife Refuge, vowing to occupy the remote federal outpost 30 miles southeast of Burns for years.

The occupation came shortly after an estimated 300 marchers — militia and local citizens both — paraded through Burns to protest the prosecution of two Harney County ranchers, Dwight Hammond Jr. and Steven Hammond, who are to report to prison on Monday.

Among the occupiers is Ammon Bundy, son of Nevada rancher Cliven Bundy, and two of his brothers. Militia members at the refuge claimed they had as many as 100 supporters with them. The refuge, federal property managed by the U.S. Fish and Wildlife Service, was closed and unoccupied for the holiday weekend.

In phone interviews from inside the occupied building Saturday night, Ammon Bundy and his brother, Ryan Bundy, said they are not looking to hurt anyone. But they would not rule out violence if police tried to remove them, they said.

"The facility has been the tool to do all the tyranny that has been placed upon the Hammonds," Ammon Bundy said.

"We're planning on staying here for years, absolutely," he added. "This is not a decision we've made at the last minute."
Given that the Refuge is an incredibly remote location and no civilian lives would appear to be in danger, the authorities are quite rightly treating the situation calmly.
Statement from Harney County Sheriff Dave Ward: "After the peaceful rally was completed today, a group of outside militants drove to the Malheur Wildlife Refuge, where they seized and occupied the refuge headquarters. A collective effort from multiple agencies is currently working on a solution. For the time being please stay away from that area. More information will be provided as it becomes available. Please maintain a peaceful and united front and allow us to work through this situation."
This is the first I've heard of the Hammonds. According to the DOJ:
Dwight Lincoln Hammond, Jr., 73, and his son, Steven Dwight Hammond, 46, both residents of Diamond, Oregon in Harney County, were sentenced to five years in prison by Chief U.S. District Judge Ann Aiken for arsons they committed on federal lands.

A jury sitting in Pendleton, Oregon found the Hammonds guilty of the arsons after a two-week trial in June 2012.  The trial involved allegations that the Hammonds, owners of Hammond Ranches, Inc., ignited a series of fires on lands managed by the U.S. Bureau of Land Management (BLM), on which the Hammonds had grazing rights leased to them for their cattle operation.

The jury convicted both of the Hammonds of using fire to destroy federal property for a 2001 arson known as the Hardie-Hammond Fire, located in the Steens Mountain Cooperative Management and Protection Area.  Witnesses at trial, including a relative of the Hammonds, testified the arson occurred shortly after Steven Hammond and his hunting party illegally slaughtered several deer on BLM property.  Jurors were told that Steven Hammond handed out "Strike Anywhere" matches with instructions that they be lit and dropped on the ground because they were going to "light up the whole country on fire."  One witness testified that he barely escaped the eight to ten foot high flames caused by the arson.  The fire consumed 139 acres of public land and destroyed all evidence of the game violations.  After committing the arson, Steven Hammond called the BLM office in Burns, Oregon and claimed the fire was started on Hammond property to burn off invasive species and had inadvertently burned onto public lands.  Dwight and Steven Hammond told one of their relatives to keep his mouth shut and that nobody needed to know about the fire.
This, offhand, does not strike me as tyranny. Indeed, offhand, the Hammonds strike me as psychopaths who ought to have been in a federal prison long ago. Why they're not in jail now—the conviction occurred in October—baffles me.
I'm more libertarian than the next guy but don't understand the fascination around such as the Hammonds and Bundys, who apparently think the entire country is some sort of commons for them to use as they please. We've had federal parks, wildlife refuges, and the like going back to the days of Teddy Roosevelt; how that has diminished our freedom of Americans is not clear.
Irrespective of the grounds for their grievances, insurrection is an unacceptable solution. They have to be brought to justice. But, again, there appears to be no reason to be in a hurry about it given that they're holed up in a remote location with little ability to harm others. We don't need another Waco situation on our hands.
Some on my social media feeds have been rather over-the-top in their reaction to this.
This isn't "treason." As defined in Article III, Section 3 of the Constitution, "Treason against the United States, shall consist only in levying War against them, or in adhering to their Enemies, giving them Aid and Comfort." Storming federal property, holding it by force of arms, and issuing threats of violence are all felonies. They're not treason.
Nor is it "terrorism" in any meaningful sense. While it technically meets the federal law definition of  "domestic terrorism" in that they've take "acts dangerous to human life that are a violation of the criminal laws of the United States" that "appear to be intended . . . to influence the policy of a government by intimidation or coercion," the charge would rightly be laughed out of court absent significantly more violence than has happened to this date.
Nor is it analogous to the tragic and all-to-common situations in which police officers overreact and shoot unarmed blacks. We can be rightly outraged by the killing of children brandishing toy guns or the use of disproportionate force against those resisting arrest while still acknowledging that split-second decisions made under stress are different than planned responses to an in-progress incident. Police would be reacting the same way if this were the New Black Panthers or Black Lives Matter.