The Sagebrush Rebellion, the Bundys, and American Vigalantism
A look at the history behind the ideology driving the standoff in Oregon.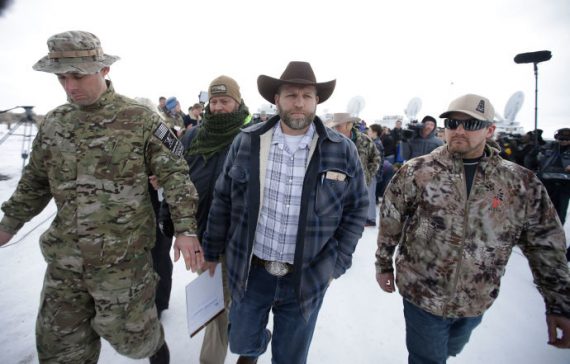 Jedediah Purdy's "The Bundys and the Irony of American Vigilantism" provides a useful backgrounder on the ideology driving the standoff in Oregon. Here's a key excerpt:
From Independence until the late nineteenth century, the major function of federal law was to convert public land, which had recently been indigenous land, into private property for white settlers. The usual trade was ownership for occupation. In the nineteenth century, it was possible to acquire land by clearing forest, planting trees on grassland, draining wetlands, irrigating dry land, mining precious minerals, and gathering stone. Until 1934, much of Harney County could be homesteaded in ranching tracts that were as large as six hundred and forty acres. Although President Franklin Roosevelt ended active homesteading in response to the Dust Bowl, he did so by executive action, and the laws permitting homesteading remained on the books, poised for possible revival, until Congress repealed them, in 1976.

The Bundys' side of these fights is rooted in the radical idea that the federal government was never supposed to hold Western lands permanently, but instead should have ceded them to the states or granted them directly to private owners. It is possible to piece together this argument from the text of the Constitution, but courts have never accepted it. It is not really a legal theory but a political wish that history ended in 1891, when the federal government began to create national forests, or even back in 1872, when Congress made Yellowstone the country's first national park.

County governments throughout the West have passed (unenforceable) ordinances asserting their jurisdiction over federal lands, and some Utah counties have sent road crews onto federal land to bulldoze trails, disqualifying the land from federal-wilderness status. Utah senator Mike Lee has said that he believes federal lands belong to the states, and Utah's state legislature agreed in 2012. Montana's house of representatives has voted to nullify the Endangered Species Act within the state.

Sometimes called the County Sovereignty movement, this wave of Western localism largely continues what is known as the Sagebrush Rebellion, which was mounted against federal environmental management in the nineteen-seventies. (Ronald Reagan called himself a "sagebrush rebel" while campaigning in Salt Lake City, in 1980, when six Western states had asserted sovereignty over federal land.). Although it has ebbed and flowed, this strand of Western politics has never really disappeared since 1878, when settlers resisted the first limits on timbering public lands, and their congressional representatives rose to compare federal regulators to King George and to accuse Washington of "robbing the poor" and "depopulating" Western lands. Ammon Bundy would have been at home in that floor debate.
While I've always thought of the Homestead Act as ancient history,  1934 is within living memory. While I don't support their ideological position—and certainly not their armed occupation and threats of violence in support of their cause—the notion that these lands ought to be available for grazing lifestock and the like by the locals rather than being preserved for the occasional tourist is hardly indefensible.
This context is also useful:
Created by President Theodore Roosevelt, in 1908, to protect egrets and other birds from hunters who sold their plumes to clothing manufacturers, [the Malheur National Wildlife Refuge] is centered on wetlands in a region that is mainly high desert. At more than ten thousand square miles, Harney County is bigger than nine states, including Maryland and New Jersey, and about the size of Rwanda or Haiti. About seventy-seven hundred people live there; more than ninety per cent of them are white and the rest are nearly all Native American or Latino. Three-quarters of the county consists of federal land, which is owned and directly administered by the United States government.
As part of our Evolving National Security Concepts and Operations course, we're in the midst of studying conflict analysis. In his introductory lecture yesterday morning, my colleague Mike Lewis asserted that most conflicts result from tensions between agency, which he defined as "the capacity of individuals (or groups) to act independently and to make their own free choices," and structure, "those factors of influence (such as social class, religion, gender, ethnicity, customs, etc.) that determine or limit an agent and his or her decisions." For the Occupy movement, the structure was the set of rules, whether it be student loans or the tax code, that promote the concentration of wealth and make it difficult for the young, in particular, to make inroads in the modern economy. For the Civil Rights movement, it was Jim Crow and the public enforcement of discrimination on private property. Here, it's about who should benefit from the vast tracts of land in the largely unpopulated West.
In terms of both sympathy for the underlying cause and support for the methods employed, the  County Sovereignty movement ranks a distant third in my book. But there's some legitimacy to their grievance. A way of life that's largely alien to me but has been part of American culture since the beginning is threatened by actions of the government. To those who consider it their birthright, outrage is an understandable reaction.
The standoff, and the calls for some people I respect for the use of violence to bring it to a rapid end, puts me very much in mind of the Ruby Ridge and Branch Davidian nightmares of the 1990s that I would very much like to avoid reliving. And remind me of a quip from that period by the humorist P. J. O'Rourke. "The Clinton administration launched an attack on people in Texas because those people were religious nuts with guns. Hell, this country was founded by religious nuts with guns."
Ammon Bundy and company are minimally more dangerous than Koresh and the boys, since the former have issued threats of violence. But the Bundy gang are surrounded even further from innocent civilians than were the Davidians. We can afford to wait them out and avoid turning them into martyrs.