Cliven Bundy Doesn't Know When To Shut Up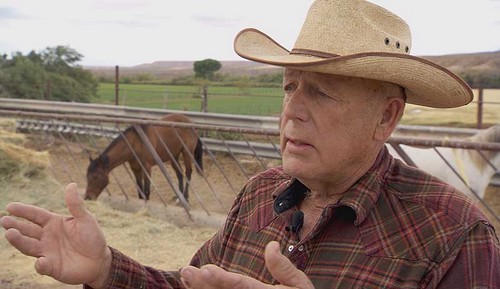 Nevada rancher Cliven Bundy appeared on CNN this morning and, well, dug the hole he was in just a little bit deeper:
When asked about his remarks on slavery Friday morning on CNN, Nevada rancher Cliven Bundy said, "If I say 'negro' or 'black boy' or 'slave' … if those people cannot take those kind of words and not be offensive then Martin Luther King didn't do his job."

Earlier in the interview, conducted by "New Day" anchor Chris Cuomo, Bundy took his boot off and waved it in front of the screen, saying he didn't want it on if he were about to put his foot in his mouth.

Bundy's remarks about Martin Luther King stemmed from his belief that people were being prejudiced against him and his First Amendment rights. "Maybe I sinned and maybe I need to ask forgiveness … but you know when you talk about prejudice, we're talking about not being able to exercise what we think and are feeling."

Cuomo asked Bundy, "Are you a racist?" Bundy responded, "No, I am not a racist," but that he "did wonder" if blacks had been better off as slaves. He went on to discuss Rosa Parks, saying, "I want her to be able to sit anywhere in the bus and I want to be able to sit by her anywhere in that bus."
Like many conservatives (*cough* Sarah Palin *cough), Bundy  seems to think that freedom of speech means the freedom to say things without being questioned or criticized. Of course Bevin has a right to say what he said, but that doesn't mean that he also has a right not to be judged a racist and an idiot by others because of what he said. As for the Rosa Parks thing, I just wonder what Ms. Parks would say about Mr. Bundy's inquiry if life for African-Americans was better under slavery.