Mitt Romney Confirms What We've Suspected For Years!
The rare case where a clickbait headline is actually appropriate.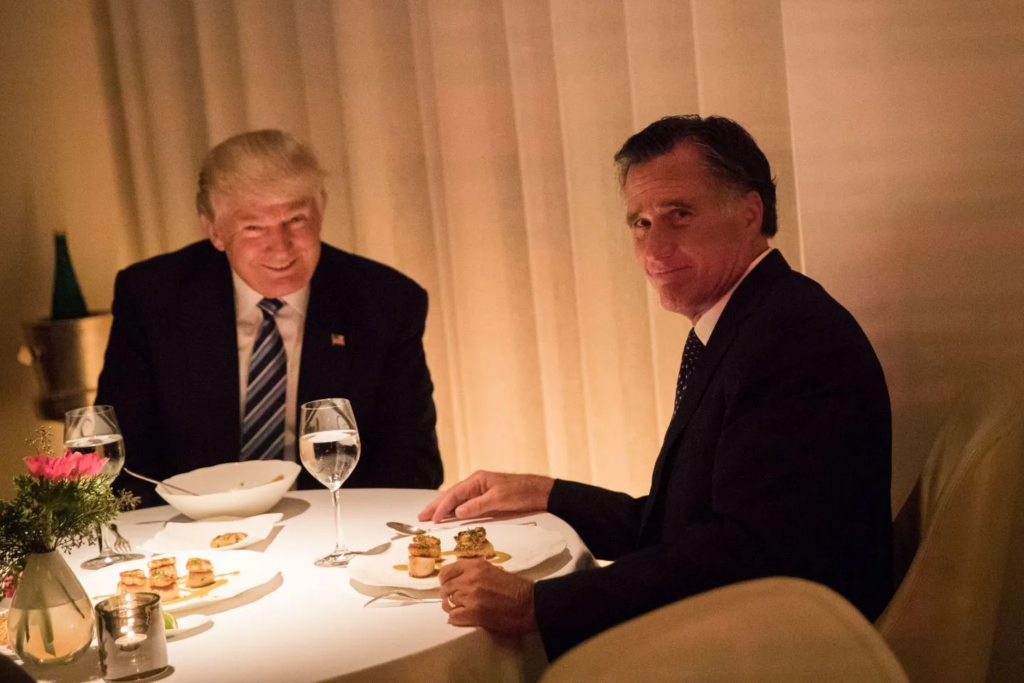 Mitt Romney is getting ready to retire after his term is done in the Senate. Judging by his recent behavior, it's clear that at some point in the recent past, he looked into his bag of ducks* and realized he was all out of ducks to give. This behavior was last on display during a press conference he held around his retirement where he bluntly shared his views on everything from the MAGA wing of the Republican Party ("the Trump wing of the party talks about resentments of various kinds and getting even and settling scores and revisiting the 2020 election") to his thoughts on recently elected colleagues ("I don't know that I can disrespect someone more than J.D. Vance").
Based on his upcoming authorized biography, it appears that Romney will continue not to give any ducks for the foreseeable future. Politico just published a summary of some of Romney's thoughts of fellow Republicans that appear in the biography:
We've already learned, via the Atlantic's recent excerpt, about Romney's now-infamous take on the junior senator from Ohio ("I don't know that I can disrespect someone more than J. D. VANCE") and his unvarnished view of his party's last vice president ("No one had been more loyal, more willing to smile when he saw absurdities, more willing to ascribe God's will to things that were ungodly, than MIKE PENCE").

Well, it turns out Coppins recorded a lot more Romneyisms, and we got our hands on an exclusive preview:

Mitt on RON DeSANTIS: "There's just no warmth at all." On DeSantis posing for selfies with Iowa voters: "He looks like he's got a toothache." More: "He's much smarter than Trump … You might point out, 'Mitt, DeSantis is real smart — do you want an authoritarian who's smart or one who's not smart?' … I realize there's a peril to having someone who's smart and pulling in a direction that's dangerous."

On NEWT GINGRICH: "A smug know-it-all, smarmy, and too pleased with himself" … TED CRUZ: "Frightening," "scary," "a demagogue" … MIKE HUCKABEE: A "huckster," a "caricature of a for-profit preacher" … BOBBY JINDAL: A "twit" … RICK SANTORUM: "Sanctimonious, severe and strange" … RICK PERRY: "Republicans must realize that we have to have someone who can complete a sentence." … JOHN KASICH: "Lack of thoughtfulness, lack of attentiveness, ego. No wonder he and CHRIS [CHRISTIE] spark."

https://www.politico.com/newsletters/playbook/2023/10/19/why-the-mchenry-bubble-might-pop-00122410?nname=playbook&nid=0000014f-1646-d88f-a1cf-5f46b7bd0000&nrid=69177621-c36f-406f-835d-8eb3c717bb55&nlid=630318
As the clickbait title suggests, I think we suspected… nay… KNOWN most of these things for years. But serious, who expected the Mittster to have that much beef with John Kasich?
Given Mitt's decision to start ducking shoot up as he prepares to leave office, we are all left wondering what other surprises he has in store for us in the future.
---
* – Long time readers may be concerned that I was suffering a stroke as I was composing this post. No, I don't smell toast (and that's a myth anyways). I am simply doing my best by Golly, in honor of Mitt's faith, to avoid using profanity.