More Sinema
Continuing and expanding on thoughts from the previous post.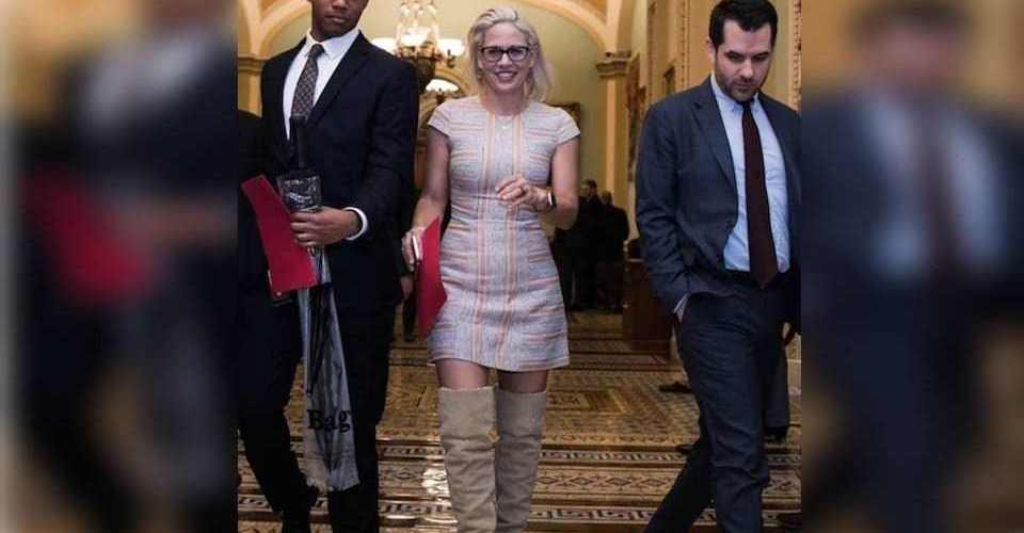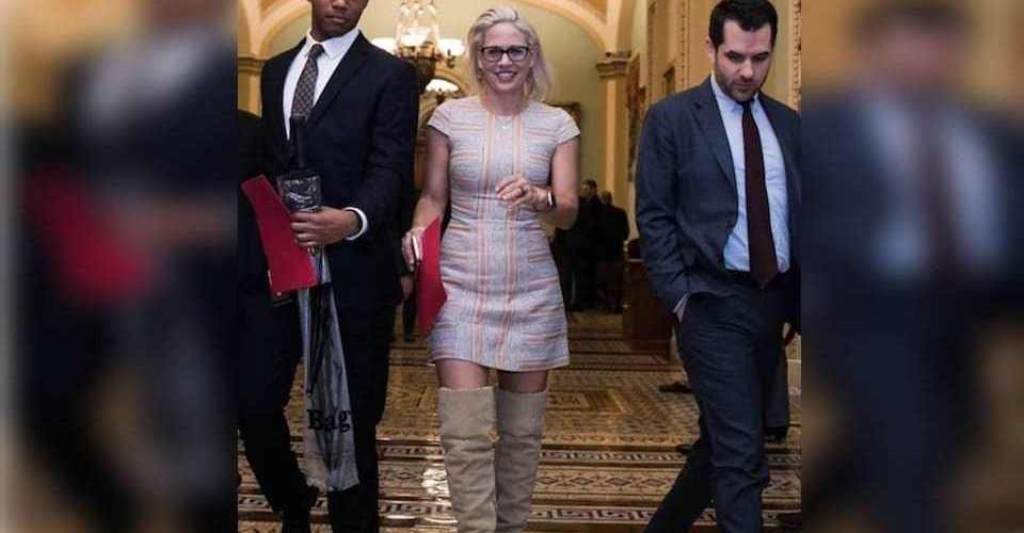 I started to comment on James Joyner's post on Senator Krysten Sinema's (D-AZ) fashion choice for when she presided over the Senate this week. This post is not about that, but I will make two comments. The first is that much of the ire about her clothing choice is really about her voting record, not her fashion sense. Most of her left-leaning critics of her fashion choice would be praising her courage for being unconventional if she was voting the way they wanted her to vote. And second is a turn to the frivolous and to note that when I saw the photos on Twitter of her outfit, I immediately thought of the denim vest guy from the Festivus episode of Seinfeld (but James is correct, the Aaron Neville comparison was remarkably spot-on).
On one level, I find it highly unfortunate that we, as a country, find ourselves talking about a female's clothing choices. Moreover, when she was elected, I thought her quirkiness was refreshing, given the staid nature of the Senate. And even now, her violation of decorum itself does not bother me as an issue in and of itself.
What bothers me (as James' headline correctly notes) is that this is all the trolling. It is "Hey! Look at me!!" for no other purpose than personal attention. I think she just like attention, which is all well and good to a point, I suppose, but that seems to be her endgame. "Look at me" is an irresponsible way to behave in such an important job.
I keep coming back to this in my mind:
And especially this in the aftermath of the above:
The permformativeness of all of this, especially the Instagram photo, is just glaring. Look, is Sinema allowed to oppose a $15 minimum wage? Sure, but there is a certain weirdness for a Democratic Senator to take such relish is shooting it down. One could argue that she is trying to channel John McCain here, but McCain gave a thumbs down to save health care for poor people. Sinema gave a curtsy and thumbs down to stop poor people from getting a few more bucks. That is a bit of a contrast.
The second photo is post-curtsy. The pose and clothing are again performative, and the ring says "Fuck Off." It is hard to play all of this off as whimsy given her public rejection of minimum wage policy.
Some may argue (indeed, have argued in the comment section of this blog) that her behavior is at least in part because she is from a purple state and she feels the need to placate moderates. I fully expect Senators to take into consideration re-election calculations in their voting behavior. But a minimum wage hike does is not something that was likely to be the kind of issue that she would need to protect herself over.
Consider that in 2016 the citizens of the state of Arizona voted 58.33% to 41.67% to increase the state's minimum wage to $12.00, to include automatic cost of living increases. The current minimum wage in the state is $12.80. Given that the $15 minimum wage proposal was slated to be phased in over a number of years to hit $15 by 2025, it seems impossible that Sinema was facing backlash from Arizona voters if she had voted yes on the minimum wage hike. Indeed, by 2025 the AZ state minimum wage may be near, or over $15/hour.
As such, I cannot imagine there is a core of swing voters who might vote for Sinema because of the minimum wage vote. It makes no sense (unless the goal was to maximize attention on Sinema, at which point it makes perfect sense). To be blunt: five years ago a solid majority of the state voted to move the minimum wage to $12 with a provision in the law that guarantees at some point it will hit, and surpass $15. That same state has gotten slightly more Democratic since 2016 and appears to be trending in that direction. What logical assessment of that state's electorate would suggest that voting for a federal minimum wage of $15/hour would be a problem for Sinema's re-election?
Keep in mind, the Senate colleague who faces re-election next year is not behaving the way Sinema is, which suggests that he is not seeing some pathway to success by being a maverick or a moderate in some sense (granted, his calculations may be off).
Another part of her behavior that is a problem if we are assuming that electoral considerations are driving her behavior is that she does have to be re-nominated. Since her "Fuck Off" message is clearly aimed at Democratic critics, it is worth underscoring that those are the people who are going to vote in the 2024 primary.
Yesterday's installment of The Daily podcast was entitled The Story of Senator Kyrsten Sinema. It is worth a listen, as it does provide some background and suggests some answers, although I don't think anybody save Sinema herself knows the full story.
I think, as the conclusion of James' post notes, this is about the attention itself. And, hence, none of it is about re-election. It is about some post-politics career and, quite simply, that she likes the attention in ways that are, unfortunately, consequential to the lives of a lot of people. Look, politicians are egotistical by definition. Anyone who says "I should be one of two US Senators from my state," thinks highly of themselves and likes public adoration to some significant degree. But raging narcissists who either don't understand how to be reelected or don't care if they are can be quite dangerous.
If I could discern a re-elected related motivation for her behavior, I would be less disturbed by it. I understand why Joe Machin behaves as he does (at least to a point) given his own political record and the state from which he hails. Sinema's own history, and details about her state, do not line up with her current political choices.
(Side note: this connects to anti-term limit arguments, as politicians who have no re-election pressures can behave however they want, which can be unpredictable and certainly can be consequential).