Mount Everest Crowded, Littered with Corpses
Fifty years after Edmund Hillary's historic ascent, Everest is crowded with guided tours and littered with the corpses of inexperienced climbers.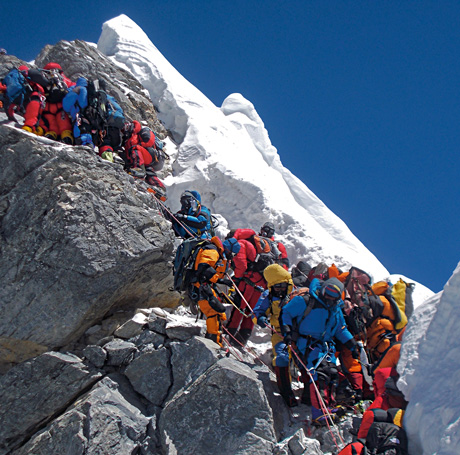 Edmund Hillary made history when he scaled Mount Everest fifty years ago. Now, it's crowded with guided tours and littered with the corpses of inexperienced climbers.
National Geographic ("Maxed Out on Everest – How to fix the mess at the top of the world"):
An hour above high camp on the Southeast Ridge of Everest, Panuru Sherpa and I passed the first body. The dead climber was on his side, as if napping in the snow, his head half covered by the hood of his parka, goose down blowing from holes torn in his insulated pants. Ten minutes later we stepped around another body, her torso shrouded in a Canadian flag, an abandoned oxygen bottle holding down the flapping fabric.

Trudging nose to butt up the ropes that had been fixed to the steep slope, Panuru and I were wedged between strangers above us and below us. The day before, at Camp III, our team had been part of a small group. But when we woke up this morning, we were stunned to see an endless line of climbers passing near our tents.

Now, bumper to bumper at 27,000 feet, we were forced to move at exactly the same speed as everyone else, regardless of strength or ability. In the swirling darkness before midnight, I gazed up at the string of lights, climbers' headlamps, rising into the black sky. Above me were more than a hundred slow-moving climbers. In one rocky section at least 20 people were attached to a single ratty rope anchored by a single badly bent picket pounded into the ice. If the picket popped, the rope or carabiner would instantly snap from the weight of two dozen falling climbers, and they would all cartwheel down the face to their death.

Panuru, the lead Sherpa of our team, and I unclipped from the lines, swerved out into open ice, and began soloing—for experienced mountaineers, a safer option. Twenty minutes later, another corpse. Still attached to the line of ropes, he was sitting in the snow, frozen solid as stone, his face black, his eyes wide open.

Several hours later, before the Hillary Step, a 40-foot wall of rock and the last obstacle before the summit, we passed yet another corpse. His stubbly face was gray, his mouth open as if moaning from the pain of death.
How did this happen?
Everest has always been a trophy, but now that almost 4,000 people have reached its summit, some more than once, the feat means less than it did a half century ago. Today roughly 90 percent of the climbers on Everest are guided clients, many without basic climbing skills. Having paid $30,000 to $120,000 to be on the mountain, too many callowly expect to reach the summit. A significant number do, but under appalling conditions. The two standard routes, the Northeast Ridge and the Southeast Ridge, are not only dangerously crowded but also disgustingly polluted, with garbage leaking out of the glaciers and pyramids of human excrement befouling the high camps. And then there are the deaths. Besides the four climbers who perished on the Southeast Ridge, six others lost their lives in 2012, including three Sherpas.

[…]

There are other factors at work. One, ironically, is improved weather forecasting. Lack of information once led expeditions to attempt the summit whenever their team members were ready. Today, with hyper-accurate satellite forecasts, all teams know exactly when a weather window will open up, and they often go for the top on the same days.

Another factor: Low-budget outfitters don't always have the staff, knowledge, or proper equipment to keep their clients safe if something goes wrong. The cheaper operators often employ fewer Sherpas, and those they do hire sometimes lack experience. "All of the clients who died on Everest this past year went with low-budget, less experienced operators," says Willie Benegas, 44, an Argentine-American high-altitude guide and co-owner, with his brother Damian, of Benegas Brothers Expeditions, which has led 11 trips to Everest. Besides holding Nepalese outfitters to the same standards as international ones, the brothers say, Nepal's Ministry of Culture, Tourism and Civil Aviation, which regulates climbing on Everest, should promote better education for Sherpas so they can perform their duties as well as international guides.
The prospects of this happening are dismal. Nepal is a poor country and the government took in over $3 million in permit fees last year and climbers brought an estimated $12 million into the local economy. The corrupt, incompetent government diverts the money it brings in, re-investing very little in safety and cleanup of Everest.