Avalanche Brings Single Deadliest Day Ever On Mt. Everest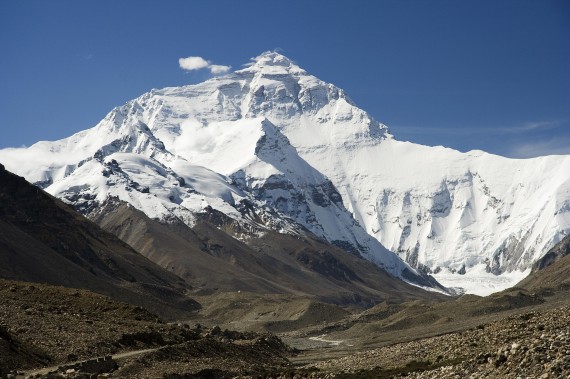 An avalanche on the world's highest mountain has resulted in the deaths of at least twelve Nepalese Sherpas:
KATMANDU, Nepal — An avalanche swept down a climbing route on Mount Everest early Friday, killing at least 12 Nepalese guides and leaving four missing in the deadliest disaster on the world's highest peak. Several more were injured.

The Sherpa guides had gone to fix ropes for other climbers when the avalanche struck an area known as the "popcorn field" for its bulging chunks of ice at about 6:30 a.m., Nepal Tourism Ministry official Krishna Lamsal said from the base camp, where he was monitoring rescue efforts.

An injured survivor told his relatives the path up the mountain was unstable just before the avalanche struck at an elevation just below 21,000 feet (6,400 meters). As soon as the avalanche hit, rescuers, guides and climbers rushed to help.

Rescue workers pulled out 12 bodies from under mounds of snow and ice and were searching for the four missing guides, Lamsal said. Officials had earlier said three were missing.

Four survivors were injured badly enough to require airlifting to a hospital in Katmandu. One arrived during the day, and three taken to the foothill town of Lukla could be evacuated Saturday. Others with less serious injuries were being treated at base camp.

The avalanche struck ahead of the peak climbing season, when hundreds of climbers, guides and support crews were at Everest's base camp preparing to climb to the summit when weather conditions are at their most favorable early next month. They had been setting up camps at higher altitudes, and guides were fixing routes and ropes on the slopes above.

The wall of snow and ice hit just below Camp 2, which sits at an elevation of 21,000 feet on the 29,036-foot mountain, said Ang Tshering of the Nepal Mountaineering Association.
These are not the first deaths on the mountain, of course. Indeed, Everest is littered with the corpses of many who have tried to conquer it.