Mubarak Staying
While earlier in the day the indications were that Mubarak was on his way out, Mubarak himself had different plans it would seem. The question becomes: now what?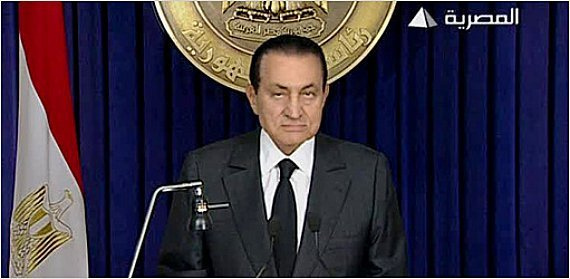 While the rumors earlier in the day, as well as a statement from the military, seemed to indicate that Egyptian President Hosni Mubarak was prepared to acquiesce to the main demand of the protesters and step down.
However, he only announced a vague transfer of some powers to the Vice President and otherwise reiterated that he was staying until September.
Via CNN:  Egypt unrest: Protesters erupt in anger after Mubarak signals he will not resign.
The crowd in Tahrir Square had gathered to hear what they thought was going to be a resignation speech, but instead that heard just the opposite.  The real question now is what the protesters will do tomorrow.  I heard some of the participants interviewed on the BBC calling for a march on the presidential palace tomorrow.  The degree to which this is a widely held sentiment is unclear.  What is clear is that there is widespread anger and disappointment on the streets of Egypt at the moment.
One of the elements of Mubarak's speech that I found amusing/underscores the fig leaf of legitimacy that he is hiding behind:
Mubarak said he has delegated powers to the vice president "in accordance with the constitution."
Given that Mubarak only saw fit to name a vice president (a constitutional office) as a result of the protests (after failing to do so for three decades) makes appeals to doing things "in accordance with the constitution" vis-a-vis said VP hardly makes one think that Mubarak's main concerns are appropriate institutional procedures.
As has been the case from the beginning, this issue is likely to be settled by the disposition of the military.  To date the armed forces have been able to avoid making a definitive more for the regime or against the populace.  The test is going to be if the protests move to another level and the military is forced to make a choice.   If the protests moves to the presidential palace, such a choice my have to be made.
See also Mubarak Refuses To Step Down, Crowds In Cairo Furious from Doug Mataconis