Musk, Twitter, and "Legal Speech"
A brief obeservation.

So, in all this brouhaha about Musk playing at (I am not sure if he is serious or not) taking over Twitter, I note that he is casting it all as some kind of free speech move. He had a Twitter poll up, for example, as to whether free speech was necessary for democracy (check "yes" or "no")–it was up when I started typing this, but appears to be done (Musk does seem to have far too much time on his hands playing with Twitter given that he is supposed to be revolutionizing the future, or something).
At any rate, one can agree (as I do) that free speech is necessary for democracy and also think that allowing, as Musk proclaims he wants to do, allowing all "legal speech" on Twitter to not be a great idea. There is, of course, also the problem that even in a democratic setting, free speech rights aren't as simple as saying "yes" or "no."
Still, as someone who has blogged for nineteen years now, running my own site for quite a while and then helping run this one, I can assure Mr. Musk that allowing open fora on the internet to unfiltered access to all legal speech makes a place unusable.
Almost as soon as the late, lamented PoliBlog was born I had to start dealing with spam comments. Those are legal, I would note. There is nothing illegal about hawking fake boner pills, but man they clog up a comments section pretty damn quickly.
Pornography is not illegal.
Selling extended car warranties is not illegal.
Trolling is not illegal.
Rude behavior is not illegal.
Hate speech is not illegal.
Holocaust denial is not illegal.
And while commercial speech is regulatable, it is not illegal.
I could go on.
While it is true that one can control one's Twitter feed in a way that one cannot control a comment section on a blog (one can't unfollow or block obnoxious OTBers, not that we ever have any of those!), the basic principle remains: it is super easy to be a free speech absolutist in the abstract, but the rubber meets the road a pure open forum quickly, and ironically, degenerates into a diminishment of speech, not the other way around.
The notion that free speech absolutism creates a self-regulated environment (e.g., the best solution to bad speech is more speech) is not as functionally true as dorm-room level philosophizing might suggest.
But, Tweets like this one (which I screenshot, lest it disappear also) suggest (along with a lot of other extant evidence) that Musk, for whatever business acumen he may have, is operating on some serious dorm room philosopher energy: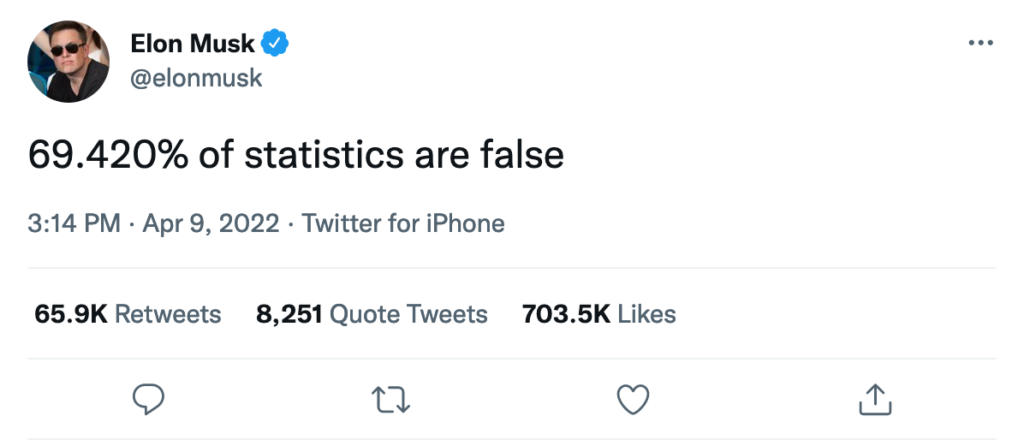 Ah, the droll hilarity.