Elon Musk Buys Twitter
It's happened. What does it mean?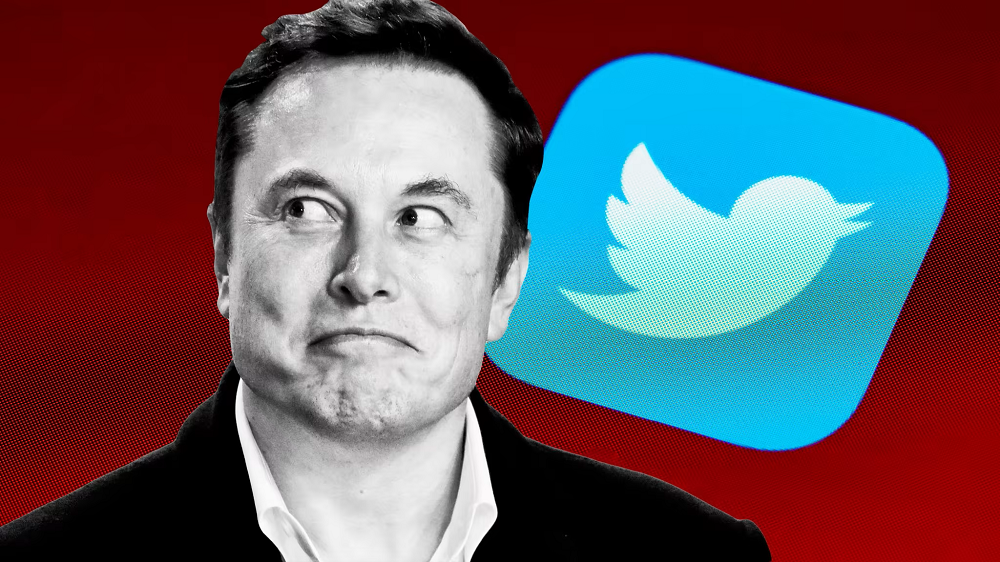 After days of cat and mouse, the World's Richest Man has acquired total control of the social media platform most used by global elites.
CNBC, "Twitter accepts Elon Musk's buyout deal"
Twitter's board has accepted an offer from billionaire Elon Musk to buy the social media company and take it private, the company announced Monday.

The stock closed up 5.64% for the day after it was halted for the news.

"Free speech is the bedrock of a functioning democracy, and Twitter is the digital town square where matters vital to the future of humanity are debated," Musk said in a statement included in the press release announcing the $44 billion deal. "I also want to make Twitter better than ever by enhancing the product with new features, making the algorithms open source to increase trust, defeating the spam bots, and authenticating all humans. Twitter has tremendous potential — I look forward to working with the company and the community of users to unlock it."

The cash deal at $54.20 per share is valued at around $44 billion, according to the press release. Twitter would become a private company on completion of the deal, which requires shareholder and regulatory approval.

The announcement ends a weekslong saga Musk kicked off when he disclosed a large stake in the company. Soon after, the company said he would join the board, only for Musk to reverse course on that plan several days later. Then, he offered to buy the company at $54.20 per share, his "best and final." That offer valued Twitter at about $43 billion.

Assuming the deal closes and Musk takes ownership of Twitter, the company will be controlled by the world's richest person and someone who's been a heavy critic of the platform while using it in legally contentious ways, mostly through sensitive posts about his car manufacturer, Tesla.

Though Musk has indicated that his primary interest in Twitter has to do with what he views as the company's censorship of free speech, Musk critics are concerned that the billionaire's control over the platform will result in the silencing of their voices and others with whom he may disagree, given that he's often blocked critics from his personal account.

Twitter's board sought to fend off a hostile takeover by adopting a so-called poison pill, or shareholder rights agreement, that would allow other shareholders to buy the stock at a discount should Musk or another person or group acquire more than 15% of outstanding common stock. The plan would dilute that person's holdings in a strategy commonly employed to prevent unwanted acquisitions.

The board seemed to have two reasons to consider rejecting the deal. The first was that the offer, while priced well above Twitter's current share price, was arguably too low given it had recently surged above that price tag.

The second was that it was initially unclear how Musk would fund the deal. Despite his being the world's richest person, much of his wealth is tied up in Tesla stock, meaning he would likely have to borrow against his holdings to fund the deal.

But the offer became more concrete once Musk announced in a Securities and Exchange Commission filing that he received commitments for $46.5 billion to help finance the potential deal. That included about $25.5 billion in debt financing from Morgan Stanley Senior Funding and other firms. He said he committed about $21 billion in equity financing.
The thing about public companies is that they're for sale. If one has enough money—and Musk clearly does—one can buy it. WaPo's Naomi Nix and Chris Alcantara question the financials in "Twitter lags behind its rivals. Here's why Elon Musk bought it anyway."
On Monday, Elon Musk agreed to acquire Twitter for $44 billion, making good on an offer that was met with skepticism by much of the investor community when he launched his hostile takeover bid.

That's in part because, by the numbers, Twitter is hardly the most successful — or even the most influential — social media platform in the marketplace. TikTok has more than 600 million monthly users and is growing exponentially as the platform chosen by young people, according to estimates from Insider Intelligence. Facebook, while stagnating, has more than 2 billion monthly users and is practically synonymous with the Internet in some places.

Twitter had a humble338.6million monthly global users last year, according to the estimates. And while politicians, journalists and celebrities — and even Musk, with more than 84 million followers — use it as a megaphone, it's not the most consequential platform globally.

[…]

Still, the company has an elite and dedicated audience. Among the users who regularly visit Twitter, just a handful of them are responsible for the vast majority of content appearing on the social network.

The most-active quarter of adult Twitter users in the United States produced nearly all of the content by all adult users in the country, according to a 2021 study by the Pew Research Center. That means 75 percent of adult Twitter users in the United States hardly tweet.

The majority of the most-prolific users visit Twitter daily, and more than 20 percent of them say they visit the site "too many times to count" each day, according to Pew.

"The thing about Twitter is, it's actually quite a demanding platform," said Ethan Porter, an assistant professor of media and public affairs at George Washington University. "In other words, to really participate on Twitter, you need to be a really active Twitter user, and the number of people who have jobs that allow them to be active Twitter users is pretty small."

Experts said Musk is not wrong to target Twitter if he wants to have an impact on public discourse. Nearly 70 percent of U.S. Twitter users say they get news from the social media network, according to Pew. The vast majority of those Twitter news consumers say they have used the social media network to follow live events, Pew's report found.

Even if their tweets reach only an elite audience on the social media network, politicians, companies and activists often rely on the platform to set the news agenda more broadly.
As to what it all means for the discourse on the platform, nobody really knows.
Harvard Law student Evelyn Douek, writing at The Atlantic, predicts "Running Twitter Is Going to Disappoint Elon Musk."
A fun thing about content moderation—the practice of social-media platforms deciding what we can and cannot say in some of the world's most important online spaces—is that almost everyone thinks that it's broken, albeit in different ways. Almost everyone also thinks that if you just put them in charge, they would fix things. When you're the world's richest man, you can actually give it a shot. And so, Elon Musk is buying Twitter, and a main reason is that he doesn't like the company's content moderation.

A peculiar fact about our modern public sphere is how much its borders depend on the whims of a few companies and their billionaire owners. A handful of people—mostly men and mostly in Silicon Valley—decide whether Russian state media should be allowed to have social-media accounts, whether a controversial post about the coronavirus can be amplified to millions of people or will be taken down, and whether the former president of the United States will keep or lose his most direct line to the global public. The executives who kicked Donald Trump off Twitter, Facebook, and YouTube early last year could've made those judgments by coin toss and no one could have done anything about it. The deliberation about whether to let him back on if he runs for president again in 2024 could be just as arbitrary. Millions of similar decisions—of differing levels of consequence—are made every day.

Our public sphere is governed by almost entirely unconstrained private power. As the internet has become ever more centralized on just a few major platforms, the impact of those companies over every aspect of our lives—politics, culture, the very way we speak—has kept on growing.

That might not seem so bad when content-moderation decisions come out how you want them to. Many on the left celebrated the ability for platforms to banish Trump with a few clicks. Many on the right believe they are unfairly targeted by left-leaning Silicon Valley executives and may celebrate a more freewheeling Twitter if Musk gets rid of many of its content-moderation rules. But that's short-sighted. Ultimately, private power will always protect private power and not public interests.

Beyond the stray hints he's offered in tweets, SEC filings, and interviews, Musk hasn't given much detail about his vision for Twitter. But if he thinks it can exist without extensive content moderation, he is in for a shock. A universal rule of user-generated platforms is that every one of them has to moderate posts once it reaches a certain size. A platform that refuses to dirty its hands by taking down content will soon become flooded with scammers, porn, terrorist recruiters, and, sometimes, literal shitposts. And its user base, its advertisers, and the other tech companies it relies on to operate won't like that. Parler, Gettr, and Reddit all learned this lesson the hard way. That's not even to mention the tightropes platforms have to walk in dealing with governments around the world that are ramping up pressure on platforms to submit to their will, often at the cost of their citizens' free-speech rights.
This has been a recurring theme at OTB since almost the beginning. While debate is enhanced by a wide variety of perspectives, a free-for-all inevitably descends into a cesspool. I tend to police tone more so than content but there are limits even on the latter. I eventually started deleting the worse anti-vaccine nonsense simply because it derailed threads.
Some are going further. Reuters reports "Human rights groups raise hate speech concerns after Musk's takeover of Twitter."
Twitter is not just another company, human rights advocates noted. "Regardless of who owns Twitter, the company has human rights responsibilities to respect the rights of people around the world who rely on the platform. Changes to its policies, features, and algorithms, big and small, can have disproportionate and sometimes devastating impacts, including offline violence," Deborah Brown, a digital rights researcher and advocate at Human Rights Watch, told Reuters in an email.

"Freedom of expression is not an absolute right, which is why Twitter needs to invest in efforts to keep its most vulnerable users safe on the platform," she added.

[…]

"While Elon Musk is an ACLU card-carrying member and one of our most significant supporters, there's a lot of danger having so much power in the hands of any one individual," Anthony Romero, executive director at the American Civil Liberties Union, told Reuters after the deal was announced.

Amnesty International said it was concerned about any potential decision that Twitter may take after Musk's takeover to erode enforcement of the policies and mechanisms designed to moderate hate speech online.

"The last thing we need is a Twitter that willfully turns a blind eye to violent and abusive speech against users, particularly those most disproportionately impacted, including women, non-binary persons, and others," Michael Kleinman, director of technology and human rights at Amnesty International USA, said on Monday.
There is some gnashing of the teeth from Democrats and triumphalism among Trumpers but it's really too soon to know how it'll all play out.
POLITICO's Playbook has the headline "Republicans to Trump: Stay away from Twitter."
The news that ELON MUSK is buying Twitter has thrown Washington into a tizzy over one major question: Will DONALD TRUMP return to his old favorite social media platform and start tweeting again?

As it turns out, no one is more petrified of this than members of Trump's own party.  

On Monday night, in a series of calls and texts with several top GOP insiders, every single one of them told us that they hoped the former president stays the hell away from Twitter, lest he sink their chances at flipping the House and Senate. Some of his allies even think that a return to his old Twitter habits could damage his own brand ahead of a possible third presidential bid in 2024.

"If I'm a Democrat, I'd pray that Elon Musk puts Trump right back on Twitter," said one House GOP leadership aide, who asked not to be named to speak candidly. "I don't think it costs Republicans the House, but it certainly will elevate Trump's opinions — and is going to put Republican candidates and members back having to answer for that."

The person added: "It's enough to create headaches — and it's enough to probably cost us a couple seats."

Some may find this a rather surprising reaction, given that many Republicans have both accused Big Tech of censoring conservative voices (the former president being the most prominent example) and showered praise on the Musk takeover. But as is often the case with the GOP and all things Trump, privately, they feel very differently.

To be sure, there's a lot yet unknown about whether or not Trump will return to Twitter.

Will Twitter allow it? Questions abound over whether Musk's new leadership team will allow the resurrection of the now-defunct @realDonaldTrump handle. (The Tesla and SpaceX impresario, however, has blasted Twitter's permanent bans and what he views as its censorship of free speech.)

Will Trump even want to rejoin? Trump said on Fox News on Monday that he doesn't intend to return to the platform, and will instead stick to his own social media startup, Truth Social. "I am not going on Twitter," he said. "I am going to stay on Truth."

Here's the thing: Nobody really believes him.

Republicans we spoke with predicted that Trump won't be able to resist the urge to see millions of retweets and likes on his posts, to say nothing of his ability to drive any news cycle with a message to his 88 million-plus followers. Could he stay on Truth Social? Sure, but that platform has been something of a disaster (read here and here). Trump himself seems to realize this, and has posted on it only once.
The Bulwark's Tim Miller suggests "Musk Twitter Could Be a Disaster For MAGA Grifters and Republican Ostriches."
Musk Twitter might also be a disaster for a couple of groups who cosmically deserve it:

1) Mitch McConnell and the establishment Republican ostriches who are doing everything in their power to put their heads in the sand and pretend Donald Trump doesn't exist (unless they need to cash in on his name and likeness).

2) The Nazi grifters who started the various Deploratwitter knockoffs like TRUTH, Parler, and Gettr and are now set to be totally pwned by Twitter offering these very fine people the same freedom to shitpost in front of bigger audiences.

So if the two-faced Trumpists and the worst MAGA scammers are going to suffer, might we consider squeaking out one cheer for Musk. Or a half a cheer? Or even just a mild affirmative grunt?

The case for their suffering is as follows:

In Georgia on Insurrection Eve, we saw how a big Trump megaphone could divide the Republican base, resulting in political success for the Democrats. The election fraud mass formation psychosis led Trump voters in rural parts of the state to stay home rather than participate in yet another RIGGED contest while a small percentage of Atlanta Kemp/Raffensperger Republicans refused to be a party to the anti-democratic horror show. As a result, Georgia elected the state's first black and Jewish senators—on the same day!—despite the fact that both had fewer votes than their GOP opponents during the November election.

A repeat of that is the worst-case scenario for the GOP at a time when the political environment is looking rather rosy for them.
Finally, the Federalist's Jordan Boyd suggests, "The Best Thing Elon Musk Could Do With Twitter Is Annihilate It." Alas, her argument is juvenile.
There are plenty of rational arguments to justify wiping Twitter off the face of the planet. First of all, much like other Big Tech-controlled platforms, Twitter is a censorship cesspool operated by Silicon Valley elites who are prone to radical groupthink. It's an app laced with manipulative algorithms and politically motivated shadowbanning.

Musk can try to serve justice by reinstating The Babylon Bee and every other account that fell victim to Twitter's reckless political censorship. He can add an edit button and give me a blue checkmark, but that won't change how the corrupt press or other Big Tech companies treat speech that they don't like.

Speaking of free speech, Twitter is far from the pro-First Amendment social media company that it was ostensibly created to be and I'm personally not convinced that the "Techno-king of Tesla," whose success is sustained by government subsidies, has the power to fix it.

It's also a platform that induces and profits off of doom-scrolling, which leads to heightened anxiety and worsening mental health. The only difference between Twitter and Facebook or Instagram is that Twitter doesn't pretend to be a place where users can "stay connected with family and friends" and you only have 280 characters to voice an unoriginal thought.
Better than an entire column, I guess.