National Park Service Tells OccupyDC It's Time To Go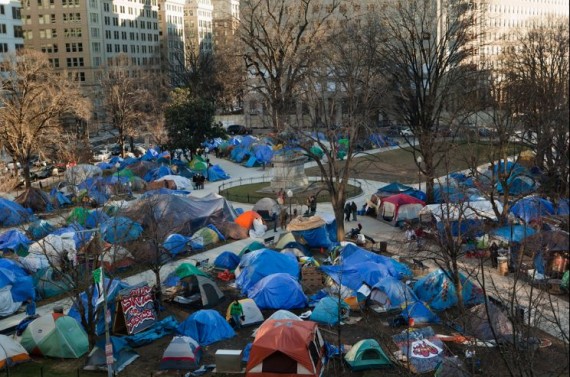 After months of complaints from city residents, business owners, and Members of Congress, the National Park Service is finally going to enforce the rules against overnight camping in McPherson Park:
After four months in McPherson Park, the National Park Service says the camp-out is over.

On Friday, the Park Service began distributing flyers to demonstrators in Freedom Plaza and McPherson Square advising them to pack up their sleeping bags and remove their camping gear from the park by Monday at noon or face arrest.

The flyer reads:

"This communication serves as notice that, on or about noon, January 30, 2012, the United States Park Police will commence enforcement of the long-standing National Park Service (NPS) regulations that prohibit camping and the use of temporary structures for camping in McPherson Square and Freedom Plaza.  The NPS has repeatedly advised participants in both parks of the camping regulations, and had sought voluntary compliance.   On or about noon, January 30, 2012, if camping violations are observed, individual violators may be subject to arrest and their property subject to seizure as evidence.  Any temporary structure used for camping also will be subject to seizure as an abatement of a public nuisance, and may be reclaimed by the property owner between the hours of 8:00 a.m.-5:00 p.m. at the Park Police D-1 Station located at 960 Ohio Drive, S.W., Washington, D.C. 20024, if done within the 60 days."

The Park Service said that protesters are permitted to continue their demonstrations at the two locations, but they will no longer be allowed to camp overnight at the locations.  Temporary structures can stay inside the park, as long as no one is using them as living accommodations.

"The National Park Service takes very seriously its tradition of providing opportunities for First Amendment activities," said Bob Vogel, Superintendent of the National Mall and Memorial Parks. "We have a long history spanning several decades of 24-hour First Amendment vigils."

The National Park Service said demonstrators who want to stay will have to do two things: 1) remove all camping material, and 2) leave one side of all temporary structures open at all times "to ensure public health and safety and to allow NPS personnel to monitor compliance."
The decision comes just over two weeks after District health officials discovered a rat infestation at the encampment. One wonders what took them so long.
Photo via The Washington Examiner