Camping Out In A Park Is Not A First Amendment Right
The Occupy movement is starting to face the reality that they really aren't engaging in protected speech.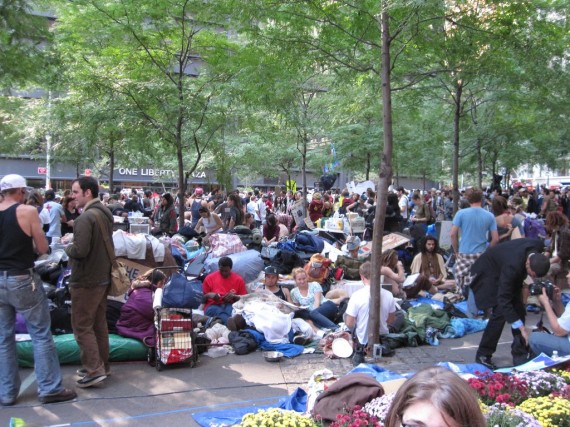 As the Occupy Wall Street movement and its progeny move into their third month, the courts are starting to get involved:
Now that Occupy Wall Street has grown from a handful of demonstrators taking over a Lower Manhattan park to spawn offshoots in cities around the U.S., the movement is now occupying courtrooms.

The young movement has lawyered up and filed lawsuits asserting freedom of speech and assembly in federal courts in Cincinnati, Sacramento, Nashville, Dallas and Atlanta, to name a few places.

These lawsuits, launched throughout October and November, are attempts by demonstrators to remain in their encampments while protesting government policies and influential corporations that they hold responsible for America's lopsided economic system.
Late last week, the first test of those legal arguments came in Sacramento, and resulted in a ruling in favor of the city's right to enforce curfews in city parks and on city property:
The ordinance banning Occupy Sacramento protesters in the park across the street from City Hall during late night and early morning appears, at this early stage of a legal challenge, to be constitutional, a federal district judge decided Thursday.

U.S. District Judge Morrison C. England Jr. said the ordinance does not appear to contravene First Amendment guarantees of free speech and assembly, contrary to arguments by attorneys for the protesters.

The month-old protest is part of a nationwide movement targeting "corporate greed" and other issues

England said the Sacramento ordinance "as drafted and applied" does not discriminate against the views of park occupiers, and it governs in a reasonable way the "time, place and manner" of demonstrations in all city parks.

Moreover, England said, the ordinance gives a reasonable amount of discretion to the city's respective chiefs of police and parks as to when Cesar Chavez Plaza may be occupied.

He noted the 1981 ordinance "has been in place for 30 years and has never before been challenged."

The judge made oral findings from the bench at the conclusion of a 75-minute hearing on Occupy Sacramento's motion for a temporary restraining order barring the city from enforcing the ordinance and arresting demonstrators. He cautioned that his findings were "instructional," not to be construed as a formal ruling, and he promised to issue a written order "shortly."

England set Jan. 5 for a hearing on Occupy Sacramento's motion for a preliminary injunction against the city, a remedy that if granted would remain in place until the lawsuit is either settled out of court or resolved in court on the merits.
This isn't an entirely surprising outcome given the state of case law on the right to assemble. In short, while the Courts have upheld the right of groups to march and protest and generally always struck down laws or decisions by government entities that attempted to regulate an assembly based on the content of what was being said or advocated (See e.g., National Socialist Party of America v. Village of Skokie), they have also upheld the right of government entities to impose reasonable time, place, and manner regulations on speech as long as it was applied in a content neutral manner. In fact, the Supreme Court dealt with a protest similar to the Occupy movement back in 1981 and issued a ruling that seems to clearly decide this issue.
Beginning in 1981, a group calling itself the Community for Creative Non-Violence began setting up a tent city in Lafeyette Park across the street from the White House to, they said, bring attention to the rise of homelessness under the less-than-a-year-old Reagan Administration. The National Park Service, which controls the park since it's national land, attempted to limit the groups protests by limiting their permit to prohibit sleeping in the park. The group challenged the permit and, after two rounds of argument at the District Court and Court of Appeals level where the Park Service found its permit restrictions upheld by the District Court but shot down, by the Court of Appeals,  the Supreme Court ruled, in Clark v. Community for Creative Non-Violence, that the Park Service's regulation did not violate the First Amendment and that it was a content neutral time, place, and manner regulation. This was in 1981, remember, and this was a 7-2 decision, with only Justices Marshall and Brennan dissenting.
As Justice White noted at the time, even if one assumed that overnight sleeping in a park is a form of expression entitled to protection that doesn't mean it isn't subject to regulation:
We need not differ with the view of the Court of Appeals that overnight sleeping in connection with the demonstration is expressive conduct protected to some extent by the First Amendment. [n5] We assume for present purposes, but do not decide, that such is the case, cf. United States v. O'Brien, 391 U.S. 367, 376 (1968), but this assumption only begins the inquiry. Expression, whether oral or written or symbolized by conduct, is subject to reasonable time, place, or manner restrictions. We have often noted that restrictions of this kind are valid, provided that they are justified without reference to the content of the regulated speech, that they are narrowly tailored to serve a significant governmental interest, and that they leave open ample alternative channels for communication of the information. City Council of Los Angeles v. Taxpayers for Vincent, 466 U.S. 789 (1984); United States v. Grace, 461 U.S. 171 (1983); Perry Education Assn. v. Perry Local Educators' Assn., 460 U.S. 37, 45-46 (1983); Heffron v. International Society for Krishna Consciousness, [p294] Inc., 452 U.S. 640, 647-648 (1981); Virginia Pharmacy Board v. Virginia Citizens Consumer Council, Inc., 425 U.S. 748, 771 (1976); Consolidated Edison Co. v. Public Service Comm'n of N.Y., 447 U.S. 530, 535 (1980).

It is also true that a message may be delivered by conduct that is intended to be communicative and that, in context, would reasonably be understood by the viewer to be communicative. Spence v. Washington, 418 U.S. 405″]418 U.S. 405 (1974); 418 U.S. 405 (1974); Tinker v. Des Moines School District, 393 U.S. 503 (1969). Symbolic expression of this kind may be forbidden or regulated if the conduct itself may constitutionally be regulated, if the regulation is narrowly drawn to further a substantial governmental interest, and if the interest is unrelated to the suppression of free speech. United States v. O'Brien, supra.

Petitioners submit, as they did in the Court of Appeals, that the regulation forbidding sleeping is defensible either as a time, place, or manner restriction or as a regulation of symbolic conduct. We agree with that assessment. The permit that was issued authorized the demonstration, but required compliance with 36 CFR § 50.19 (1983), which prohibits "camping" on park lands, that is, the use of park lands for living accommodations, such as sleeping, storing personal belongings, making fires, digging, or cooking. These provisions, including the ban on sleeping, are clearly limitations on the manner in which the demonstration could be carried out. That sleeping, like the symbolic tents themselves, may be expressive and part of the message delivered by the demonstration does not make the ban any less a limitation on the manner of demonstrating, for reasonable time, place, or manner regulations normally have the purpose and direct effect of limiting expression, but are nevertheless valid. City Council of Los Angeles v. Taxpayers for Vincent, supra; Heffron v. International Society for Krishna Consciousness, Inc., supra; Kovacs v. Cooper, 336 U.S. 77 (1949). Neither does the fact that sleeping, arguendo, may be expressive [p295] conduct, rather than oral or written expression, render the sleeping prohibition any less a time, place, or manner regulation. To the contrary, the Park Service neither attempts to ban sleeping generally nor to ban it everywhere in the parks. It has established areas for camping, and forbids it elsewhere, including Lafayette Park and the Mall. Considered as such, we have very little trouble concluding that the Park Service may prohibit overnight sleeping in the parks involved here.
In his ruling on the Sacramento statute, Judge Morrison England argues that, like the regulations in Clark, the Occupy Sacramento lawyers have failed to show that the relevant municipal statute is anything other than a reasonable time, place, and manner regulation:
On its face, § 12.72.090 appears to be content neutral: it does not make any reference to speech and it merely regulates the hours that anyone can remain or loiter in City  parks. While § 12.72.090 does have the direct effect of limiting speech and expressive activities in City parks during those hours during which people are not permitted to remain or loiter in the parks, "reasonable time, place, or manner regulations normally have the purpose and direct effect of limiting expression but are nevertheless valid." Clark, 468 U.S. at 294 (citation omit ted). Plaintiffs have not alleged any content-based purpose behind § 12.72.090 and it is unlikely that they will be able to do so.

Second, Plaintiffs have not presented any compelling evidence that § 12.72.090 is not narrowly-tailored. A regulation of speech or speech-related conduct is overbroad-and therefore facially invalid-if it punishes a substantial amount of protected speech, judged in relation to the regulation's plainly legitimate sweep. Virginia v. Hicks, 539 U.S. 113 (2003). The regulation must be narrowly tailored to advance a government's legitimate, content-neutral interest, but need not be the least restrictive or least intrusive means of doing so. Ward v. Rock Against Racism, 491 U.S. 781, 798 (1989). Plaintiffs argument that § 12.72.090 is either over-broad or under-inclusive is not compelling.

The ordinance is limited to City parks and limited to five or six hours a day between the hours of 11:00 p.m. and 5:00 a.m. Section 12.72.090 does not prevent Plaintiffs from conducting their expressive activities twenty-four hours a day on adjoining sidewalks or in other public spaces if they so choose. It just prevents them from doing so by remaining or loitering in City parks after the hours established by the ordinance if they do not have a permit to do so. It is therefore not over-broad. Neither is it under-inclusive. The fact that § 12.72.090 applies to parks and not to sidewalks or other public places does not lead inevitably to the conclusion that the hours restrictions are intended to stifle free expression in City parks, as Plaintiffs suggest.

Third, § 12.72.090 appears to support a substantial government interest. In his declaration, the Director asserted the following government interests for this ordinance: (1) the general public's enjoyment of park facilities; (2) the viability and maintenance of those facilities; (3) the public's health, safety and welfare; and (4) the protection of the City's parks and public property from overuse and unsanitary conditions. These interests appear to be narrowly-tailored and substantial and similar to the interests the Supreme Court found
This seems like an entirely reasonable view of the issue. Even a First Amendment zealot must surely recognize that the "right to assemble" — and it's worth noting that the actual words in the First Amendment are "the right to peaceably assemble" — is not absolute any more than freedom of the speech or of the press are absolute. Just as we have libel and slander laws that, within the bounds of the First Amendment, allow people who have been wronged by untruthful speech to seek redress, so we have regulations on the use of public property that regulate how and when it can be used. As long as these laws are applied in a non-discriminatory manner, there is no question that they are Constitutional, and that the idea that camping out in a public park forever is a "right" is just nonsense on stilts. It's unlikely that the Occupy movement will last long enough for this to happen, but if this issue ever got to the Supreme Court, especially under its current makeup, I don't think there's any doubt that the Court would uphold the right of Sacramento and other cities to reasonably regulate the use of their property.
Here's the opinion in the Sacramento case: