Native American History in the House
Mary Peltola's election was a milestone for America's First Peoples.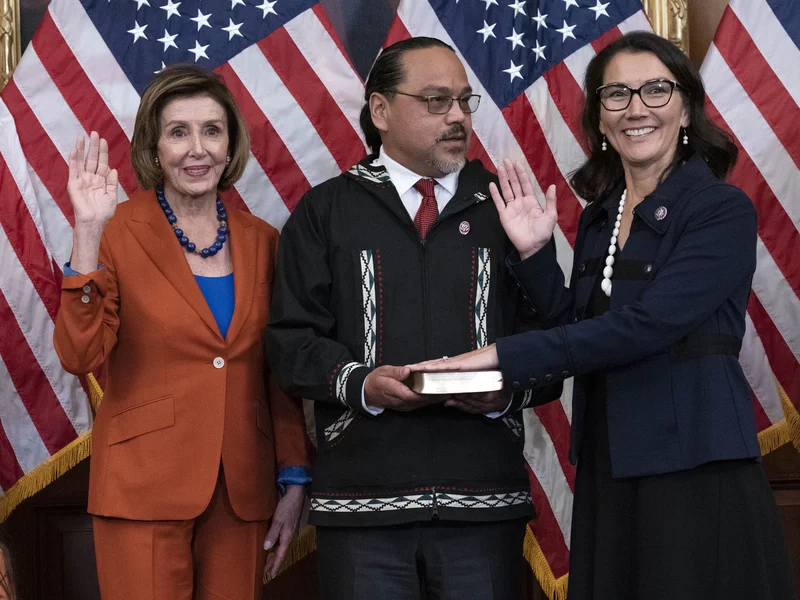 An odd piece from Jaclyn Diaz at NPR: "For the first time in 230 years, Congress has full U.S. Indigenous representation."
Rep. Mary Peltola's election to the U.S. House of Representatives made history in several ways.

With her recent swearing-in, it became official for the first time in more than 230 years: A Native American, an Alaska Native and a Native Hawaiian are all members of the House — fully representing the United States' Indigenous people for the first time, according to Rep. Kaiali'i Kahele of Hawaii.  Now, there are six Indigenous Americans who are representatives in the House.
An interesting enough milestone, to be sure, although "full representation" seems like an odd way of describing this. But the report doubles down:
"It's a historic moment," Lani Teves, an associate professor at the University of Hawai'i at Mānoa said.

Indigenous peoples in the United States have been disenfranchised on many levels throughout history, Teves told NPR.

"Having different Indigenous communities represented shows the growing power of Native people across the United States and across the world," she said.

Bringing more Indigenous representation to Congress has been slow-going over the years. Just four years ago, Davids and now-Interior Secretary Deb Haaland became the first two Native American women elected to Congress. Kahele is just the second Native Hawaiian to represent his home state.
It's undeniable that American Indians have faced extraordinary discrimination over the years that created obstacles to their representation in government. Still, Native Americans—Amerindians, Native Alaskans, Native Hawaiians, and other indigenous groups—are only 1.6% of the population. It's not shocking that there aren't a lot of them in Congress.
Further, Alaska only has one Representative and Hawaii only has two; like all states, they have two Senators. And Alaska's population is overwhelmingly (64.%) white; Alaska Natives and other Native Americans are a mere 17.3%. Hawaii is more diverse but Asians (36.8%) are the largest plurality, Native Hawaiians and other Pacific Islanders combine for another 10.5%, with American Indians and Native Alaskans adding another 0.4%.
So, again the fact that we have six total Natives in Congress and one from each of the major groups is a noteworthy milestone. But it's not the righting of some great injustice—just evidence that members of minority groups are electable.
Of course, Peltola is extremely likely to lose this seat in November, since she's a Democrat in a heavily Republican state and only won through a bizarre special election process in which the Republican vote was split. Surely, we're not going to pretend that, if she does, it's some giant setback for race relations?