New IRS Rules Designed to Help Adjunct Faculty Hurt Them
New rules mandating full-time benefits for instructors teaching 30 hours predictably led to their hours being cut.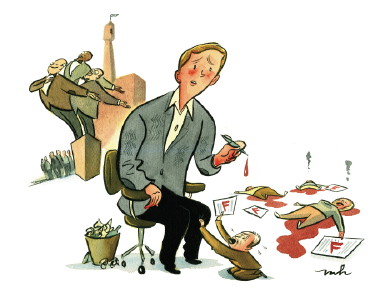 The IRS issued rules requiring colleges to provide full benefits to adjunct teachers who work at least 30 hours a week. Naturally, the schools are cutting the hours of their adjunct faculty.
HuffPo ("IRS: Adjunct Faculty Hours Must Be Calculated With 'Reasonable' Method"):
The Internal Revenue Service put colleges and universities on warning with new proposed rules issued this month, warning them not to skimp when counting the hours adjunct faculty work. The guidelines from the IRS could be critical to ensuring whether part-time college instructors receive health care benefits as new Affordable Care Act laws take effect.

The IRS noted in the Federal Register that "educational organizations generally do not track the full hours of service of adjunct faculty, but instead compensate adjunct faculty on the basis of credit hours taught." In short, most colleges are only paying part-time instructors for time spent in a classroom, and nothing for time spent grading or preparing.

The Treasury Department and the IRS are considering and "invite further comment on how best to determine the full-time status of employees" like educators, who may work many hours after students leave the classroom.

Starting in January 2014, any employee working 30 hours or more per week will be considered a full-time faculty member and will be entitled to health insurance through an employer under new federal rules, with an exception for certain small businesses. So far, several schools have cut adjuncts' hours to avoid the requirement and save cash. Matt Williams, vice president of New Faculty Majority, a group that advocates for collective bargaining rights of adjunct instructors and professors, told The Huffington Post in November he expects this type of action to happen more often.

Colleges say they need further guidance from the federal government, and without adequate state appropriations, they can't afford to provide insurance.
In an ideal world, colleges would hire adjuncts only rarely and for the purposes of teaching niche courses. Most courses would be taught by full-time, tenured or tenure-track faculty making a decent living and fully committed to the life of the institution and its students.
Instead, adjuncts are hired in droves to teach introductory courses almost solely for the purposes of saving money. Full-time professors command decent salaries and benefits and accrue generous retirements, whereas adjuncts are paid a meager sum on a per-course basis. The national average is less than $3000 per course, with some institutions paying as little as a third of that.
The IRS is of course right that adjunct work hours should include time they spend working for the university, even if they're not in front of the classroom. They are, after all, expected to grade papers and examinations and prepare for their lectures. The redefinition of "full-time" as a 30 hour week strikes me as odd, since we've traditionally defined it as 40 hours and most of us work more than that; but I'm generally in favor of making it less desirable to employ not-quite-full-time employees for the sole purpose of screwing them out of benefits.
But given the mindset that adjuncts are there to cut costs—which is both unseemly and understandable, given resource constraints in recent years—that institutions would cut hours rather than undermine their whole agenda in hiring adjuncts was perfectly predictable. There are more qualified candidates to teach courses in many disciplines than there are courses to teach. So, rather than having one academic gypsy string together four courses to eke out a meager living, they'll instead have two or three or four people teach those courses. The net result will be even worse for adjuncts than the status quo ante.