No 'Hard Choices' In China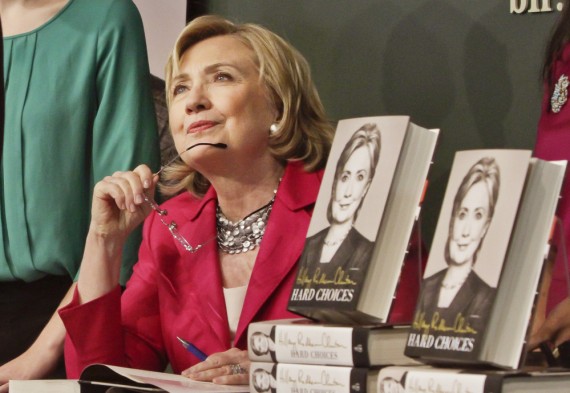 The more than one billion people who live in the People's Republic of China won't be able to buy Hillary Clinton's new book for new:
Hillary Clinton's new book will not be sold in mainland China, despite efforts by her publisher, Simon & Schuster, to sell the memoir there.

Chinese publishers have declined to purchase translation rights to Hard Choices, an account of Clinton's four years as secretary of state, her publisher told BuzzFeed.

The book will not be sold in English either: One of China's largest import agencies will not allow distribution of an English-language edition. The day after Clinton's book hit stores in the U.S., executives at Simon & Schuster were told by Shanghai Book Traders, which supplies foreign books to Amazon China, that the title would not be approved for sale in China. The decision came only after the agency was able to screen the book, the publisher said. As a result, Hard Choices was removed from the country's Amazon site.

Hard Choices has been received well in nearly every major international market, except for China, Simon & Schuster said. In total, 16 other countries have purchased foreign rights to the book, which was released in the U.S. on June 10.

Simon & Schuster president Jonathan Karp said in an interview that China's response to Clinton's book amounts to an "effective ban" by the country.

"It's outrageous and unfortunate," Karp said. "And it's a pretty clear indication of the low level of intellectual freedom in China right now."

Clinton's book, a 656-page retelling of her tenure at as secretary of state, is critical of the Chinese government. She details its censorship practices and characterizes the country as "full of contradictions" and the "epicenter of the antidemocratic movement in Asia."

The book also includes several passages about her dealings with Chinese senior officials. In one section, Clinton references a discussion with Dai Bingguo, China's state councilor, about the U.S. "pivot strategy" in Asia. "Why don't you 'pivot' out of here?" Dai is quoted as saying.

Clinton dedicates a full chapter to her efforts on behalf of Chen Guangcheng, the blind Chinese dissident and civil rights activist who sought asylum in the U.S. Another chapter focuses on democratization in Myanmar, where China has political and economic interests, and on Aung San Suu Kyi, Myanmar's opposition leader.

Clinton also revisits her 1995 address to the United Nations Conference on Women in Beijing, where, she writes, she "felt the heavy hand of Chinese censorship when the government blocked the broadcast of my speech."

Simon & Schuster believes that Chinese publishers and the import agency, Shanghai Book Traders, consider the book unprintable. "It really is about a Chinese business fearing the wrath of the Chinese government," Karp said.
Of course, given the relationship between Chinese businesses and the state it's not entirely credible that this was an independent decision by the publishes As has been the case with so many other things, the Chinese continue to try to shield their people from criticism of the leadership. Something tells me, though, that at least a few copies of the book will slip through.