North Korea Conducts Another Ballistic Missile Test
North Korea tests another missile, and sends another message to the United States and its allies in Asia and the Pacific.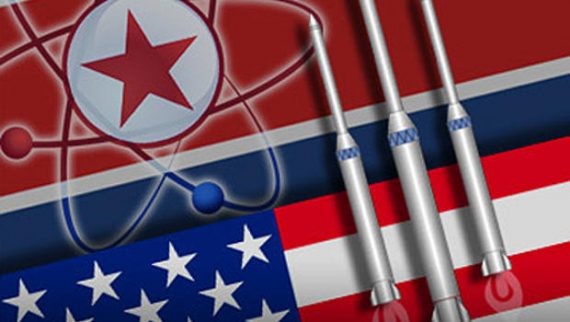 For the first time since September, North Korea has launched another ballistic missile test in what seems like another direct challenge to President Trump, the United States, and its Asian and Pacific allies:
SEOUL, South Korea — North Korea fired a ballistic missile on Wednesday morning for the first time in more than two months, defying demands from President Trump to halt its weapons programs and raising the stakes in an increasingly tense standoff with the United States and its allies.

The unidentified ballistic missile took off from Pyongsong, a town northeast of Pyongyang, at 3:17 a.m. and flew east toward the Sea of Japan. It appeared to land in waters in which Japan claims special exploration rights.

Six minutes after the launch, South Korea conducted its own missile test off its east coast, demonstrating its ability to strike North Korean missile launching sites, the South's military said in a statement.

Japan's chief cabinet secretary, Yoshihide Suga, told reporters that Prime Minister Shinzo Abe had called a meeting of his national security council.

"We strongly urge North Korea to change their policy as there will be no bright future for North Korea unless they resolve such issues as the abductions, nuclear program and missiles," Mr. Suga said.

There was no immediate reaction from the Trump administration.

Unlike in previous launches over the summer, when the missiles flew over Japan's northern island, Hokkaido, the government did not issue cellphone alerts to warn citizens.

Nighttime launches are not common, but North Korea has conducted night missile tests before. It launched an intercontinental ballistic missile at night on July 28.

The new missile firing came as North Korea has increased the frequency and daring of its missile tests, sending two missiles over Japan in August and September, while demonstrating technical progress that suggested it had developed the ability to strike the continental United States.

In a Sept. 19 speech at the United Nations, Mr. Trump warned that if North Korea threatened the United States or its allies, Washington would have "no choice but to totally destroy North Korea," and he mockingly referred to its leader, Kim Jong-un, as "rocket man."

The North Korean leader responded by calling Mr. Trump "a mentally deranged U.S. dotard," and his foreign minister later warned that Mr. Kim could order the test of a hydrogen bomb over the Pacific.

In the wake of a Sept. 3 underground nuclear test — the sixth by North Korea — the United Nations Security Council imposed a new round of sanctions against the country.

In the nearly three months since that test, as leaders of North Korea and the United States have exchanged insults, the world has braced itself for another show of force by the North.

While in New York for the United Nations General Assembly meeting in September, North Korea's foreign minister, Ri Yong-ho, said that Mr. Kim was considering a hydrogen bomb test of unprecedented scale over the Pacific Ocean.
As noted, this latest test has not resulted in an extensive response from the Trump Administration as of yet. However, during a press pool availability during a meeting with the Republican leaders of the House and Senate regarding tax reform and the Congressional agenda for the rest of this year, Trump did make some brief remarks about the test:
President Donald Trump said "we will handle" the intensifying situation with North Korea, though he gave no details about how to do it after the nation launched an intercontinental ballistic missile on Tuesday.

"I will only tell you that we will take care of it," Trump said. "We have Gen. [Jim] Mattis in the room with us, and we've had a long discussion on it. It is a situation that we will handle."

The president spoke after huddling with GOP senators on Capitol Hill and after the Pentagon on Tuesday said it detected a North Korean missile launch — the first from Pyongyang since mid-September.

"It went higher, frankly, than any previous shot they've taken," Mattis said. "It's a research and development effort on their part to continue building ballistic missiles that can threaten everywhere in the world, basically."
South Korea's Yonhap News Agency reported that, in immediate response to the North Korean test, South Korea launched a missile exercise of its own that took place within an hour after the North Korean launch was detected, suggesting that the North Korean test was anticipated at least to some degree. Of course, this is largely due to the fact that North Korea is at the moment probably among the most scrutinized places on the planet when it comes to American spy satellites and surveillance planes. Just as intelligence can detect the tell-tale signs of preparations for an underground nuclear test, it likely isn't very difficult to determine from aerial and orbital surveillance when a new missile is being prepared for a launch of some kind. As a result, South Korean, Japanese, and American forces were likely already on hair-trigger alert for a launch of some kind at the time that it happened. At this point, of course, these launches remain tests. In the future, though, we could likely be faced with a situation where a test will end up being something far more serious. At that point, the response from the United States and its allies could prove to be more than just a mere missile exercise.
It is worthwhile to keep things in perspective at this point, though. As with previous tests, the missile in question did not go very far, landing somewhere off the east coast of Japan in Japanese territorial waters. The difference this time is that the missile appears to have gone higher than any previous North Korean test missile, perhaps as high as 3,000 feet. This appears to be a significant enhancement on previous test results and suggests that the missile could be capable of flying longer distances. Nonetheless, the distance traveled isn't much better than the distance that the DPRK's medium-range missiles have been known to reach, and a long way toward being able to effectively hit American territory such as Guam or Hawaii, much less the Continental United States itself. Additionally, the North has yet to demonstrate that it has the ability to launch a missile capable of delivering a payload of any kind that far, and apparently still has not mastered the ability to create an effective nuclear or atomic weapon that could be placed on such a missile.
Until that time arrives, it's not at all clear that the North Koreans are going to be willing to talk anytime soon.