Not All Abortions Are Legal
Desperate women are finding some horrific ways to terminate their pregnancies. Some are being arrested for it.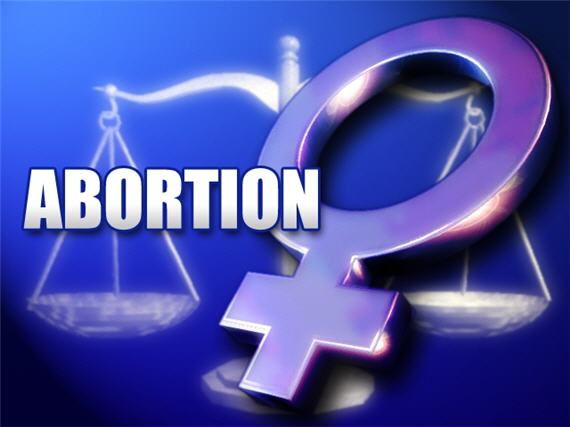 Matt Duss and Amanda Marcotte both point to Michelle Goldberg's disturbing Daily Beast essay "The Return of Back-Alley Abortions."
Underground abortions have returned to the United States, just as pro-choice activists have warned for years. And women have started going to jail for the crime of ending their own pregnancies, or trying to.

This week Jennie L. McCormack, a 32-year-old mother of three from eastern Idaho, was arrested for self-inducing an abortion. According to the Associated Press, McCormack couldn't afford a legal procedure, and so took pills that her sister had ordered online. For some reason, she kept the fetus, which police found after they were called by a disapproving acquaintance. She now faces up to five years in prison, as well as a $5,000 fine.

Idaho recently banned abortions after 20 weeks, and McCormack's fetus was reportedly between five and six months old. But according to Alexa Kolbi-Molinas, a staff attorney for the ACLU's Reproductive Freedom Project, under Idaho law, McCormack could have been arrested even if she'd been in her first trimester because self-induced abortion is illegal in all circumstances. "It doesn't matter if it's an 8- or 10- or 12-week abortion," says Kolbi-Molinas. "If you do what you could get lawfully in a doctor's office—what you have a constitutional right to access in a doctor's office—they can throw you in jail and make you a convicted felon."

While horrific, McCormack's case is not unique
If ever there was a misplaced adjective, this is it. While I'm squishy on very early term abortions–and even later term abortions in cases of severe fetal malformity–killing a viable fetus by ingesting some shit you bought on the Internet is what's horrific, not the prospect of being punished for so doing.
In recent years, several women have been arrested on suspicion of causing their own abortions, or attempting to. Most have come from conservative rural states with few clinics and numerous restrictions on abortion. In America's urban centers and liberal enclaves, the idea of women being prosecuted for taking desperate measures to end their pregnancies might seem inconceivable, a never-again remnant of the era before Roe v. Wade. In fact, it's a slowly encroaching reality.

In 2005, Gabriela Flores, a 22-year-old Mexican migrant worker, was arrested in South Carolina. Like McCormack, she had three children and said she couldn't afford a fourth, and so she turned to clandestinely acquired pills. (The drug she took, Misoprostol, is an ulcer medicine that also works as an abortifacient and is widely used in Latin American countries where abortion is illegal.) Initially facing two years in prison, she ended up being sentenced to 90 days.

In 2009, a 17-year-old Utah girl known in court filings as J.M.S. found herself pregnant by an older man who is now facing charges of using her in child pornography. J.M.S. lived in house without electricity or running water in a remote part of the state, several hours' drive from the nearest clinic, which was in Salt Lake City. Getting there would have required not just a car—her area had no public transportation—but money for a hotel in order to comply with Utah's 24-hour-waiting period, as well as for the cost of the abortion itself.

According to prosecutors, when J.M.S. was in her third trimester, she paid a man $150 to beat her in the hopes of inducing a miscarriage. The fetus survived, but she was charged with criminal solicitation to commit murder. When her case was thrown out on the grounds that her actions weren't illegal under the state's definition of abortion, legislators changed the law so they would be able to punish women like her in the future. Meanwhile, prosecutors have appealed J.M.S.' case to the Supreme Court, and observers expect it to rule against her. She could still face a trial and prison time.
Granting that these women were not in the best position to make rational choices, one can be sympathetic to their plights and still repulsed at their actions. One doesn't "find" themselves six months pregnant. And the inability to afford to raise the child doesn't confer the right to kill it or do it irreparable harm. Having a thug murder your baby* is simply unconscionable. Being inconveniently distant from an abortion facility doesn't change that.
This case is somewhat different:
A woman doesn't even have to be trying to abort to find herself under arrest. Last year, a pregnant 22-year-old in Iowa named Christine Taylor ended up in the hospital after falling down a flight of stairs. A mother of two, she told a nurse she'd tripped after an upsetting phone conversation with her estranged husband. Though she'd gone to the hospital to make sure her fetus was OK, she confessed that she'd been ambivalent about the pregnancy and unsure whether she was ready to become a single mother of three.

Suspecting Taylor had hurled herself down the stairs on purpose, the nurse called a doctor, and at some point the police were brought in. Taylor was arrested on charges of attempted feticide. She spent two days in jail before the charges were dropped because she was in her second trimester, and Iowa's feticide laws don't kick in until the third.
People do some unspeakable things. Consequently, we've implemented procedures when red flags are raised. Woman and children who show at the hospital claiming to have fallen down stairs are often screened for abuse. Apparently, when they're pregnant and express ambivalence about whether their baby survives, they're sometimes screened for feticide. As with any other criminal justice matter, innocents are sometimes falsely accused.
These cases are a harbinger of what's to come as abortion laws become increasingly strict and abortion clinics harder to access in the more conservative parts of the country. They demonstrate the lengths to which women will go to end unwanted pregnancies. But even more, they demonstrate that criminalizing abortion means turning women who have abortions into criminals.
Well . . . no. Or, at least, not any more than criminalizing any activity turns the people who engage in that activity into criminals. Abortion is legal, at least in the first 20 weeks or so of pregnancy, because we've convinced ourselves that it's a clinical procedure conducted by highly trained medical professionals. It's quite another thing when people take matters into their own hands.
Further, in most of the cases Goldberg recounts, it would have been illegal to kill the baby, anyway, because of the lateness of term. Even going back to Roe, which proclaimed abortion a Constitutional right under the broader right of privacy, thee was a sliding scale depending on fetal viability. There was essentially no right to abortion in the third trimester and essentially no right for the state to intervene in the first. That has evolved somewhat in the intervening years towards a pure viability standard.
Should we be doing a better job of educating poor women on their choices? Sure. And there's a bizarre disconnect between abortion being both legal and supported by a majority of Americans and yet not readily available in many places. But not as bizarre as the notion that back alley abortions–the very thing that pro-abortion rights people have been touting all these years as the horrific alternative to legal abortion–is being portrayed as a legitimate alternative that society shouldn't seek to punish.
___________
*It occurs to me that "baby" might be a prejudicial term here. But my wife and I have been through this process twice now, expecting the birth of our second girl on the 27th. Not only do we think of it as a "baby" and not a "fetus," but every doctor and nurse we've dealt with throughout both pregnancies uses that language, too.