NYT Devotes Front Page to COVID Dead
All the deaths are fit to print.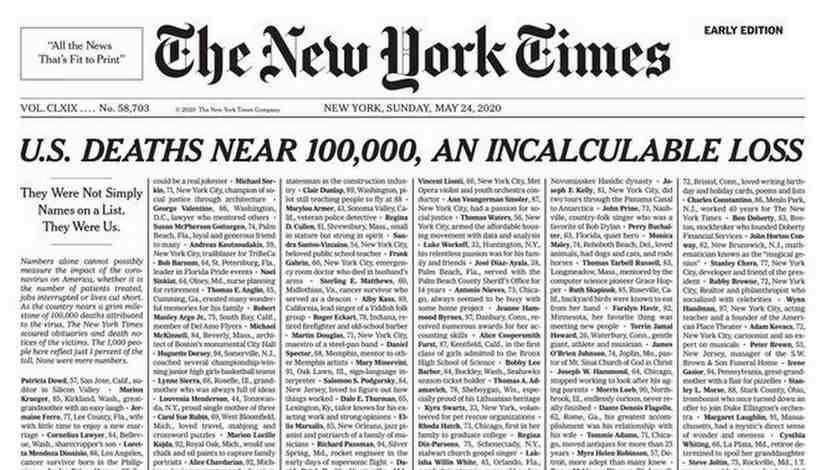 The United States will toll 100,000 losses from the novel coronavirus soon, probably on Memorial Day. The New York Times today devoted its entire front page to listing a thousand of their names.
They explain the project:
Instead of the articles, photographs or graphics that normally appear on the front page of The New York Times, on Sunday, there is just a list: a long, solemn list of people whose lives were lost to the coronavirus pandemic.

As the death toll from Covid-19 in the United States approaches 100,000, a number expected to be reached in the coming days, editors at The Times have been planning how to mark the grim milestone.

Simone Landon, assistant editor of the Graphics desk, wanted to represent the number in a way that conveyed both the vastness and the variety of lives lost.

Departments across The Times have been robustly covering the coronavirus pandemic for months. But Ms. Landon and her colleagues realized that "both among ourselves and perhaps in the general reading public, there's a little bit of a fatigue with the data."

"We knew we were approaching this milestone," she added. "We knew that there should be some way to try to reckon with that number."

Putting 100,000 dots or stick figures on a page "doesn't really tell you very much about who these people were, the lives that they lived, what it means for us as a country," Ms. Landon said. So, she came up with the idea of compiling obituaries and death notices of Covid-19 victims from newspapers large and small across the country, and culling vivid passages from them.

Alain Delaquérière, a researcher, combed through various sources online for obituaries and death notices with Covid-19 written as the cause of death. He compiled a list of nearly a thousand names from hundreds of newspapers. A team of editors from across the newsroom, in addition to three graduate student journalists, read them and gleaned phrases that depicted the uniqueness of each life lost:

"Alan Lund, 81, Washington, conductor with 'the most amazing ear' … "

"Theresa Elloie, 63, New Orleans, renowned for her business making detailed pins and corsages … "

"Florencio Almazo Morán, 65, New York City, one-man army … "

"Coby Adolph, 44, Chicago, entrepreneur and adventurer … "
As noted in a recent discussion, I'm wired to prefer data to anecdote. I find comparison of 100,000 to the deaths from various wars or the population of cities and the like provides a more useful perspective than just a listing of names of people I don't know.
But I understand why this is an effective means of storytelling. It's long been said that, "A single death is a tragedy; a million deaths is a statistic." Personalizing helps people connect.
The odd coincidence that this milestone is likely to hit on Memorial Day is interesting and likely to spark some controversy. Flags will be flying at half staff across the country this year to honor COVID-19 victims on a day that is traditionally set aside to honor those who died fighting America's wars. It will likely spark some reflection as to what constitutes heroism and why we honor some deaths and not others.