Biden: The Pandemic Is Over
The President is getting hammered from all sides for stating the obvious.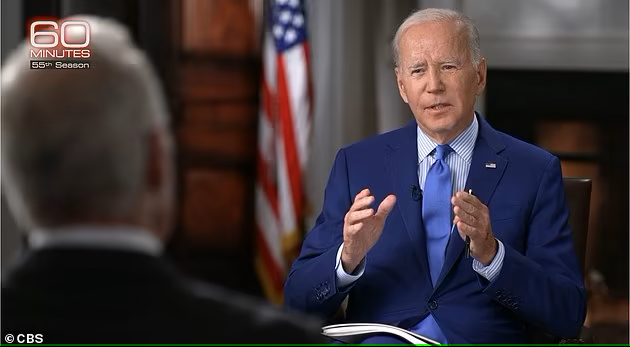 In the same 60 Minutes interview wherein he doubled down on his pledge to defend Taiwan from Chinese aggression, President Biden declared the COVID-19 "over." Some are none too happy.
POLITICO ("Biden declared the pandemic 'over.' His Covid team says it's more complicated."):
White House officials spent the better part of this year plotting a delicate, step-by-step process they hoped would guide the U.S. out of its pandemic era.

One element that was not part of that plan: President Joe Biden just coming out and saying it.

"The pandemic is over," Biden said in a "60 Minutes" interview that aired Sunday night. "We still have a problem with Covid. We're still doing a lot of work on it. But the pandemic is over."

The declaration surprised the president's own senior health officials, many of whom only learned about Biden's remarks from tweets and news headlines. The president had not originally planned to make major news on Covid, nor had he discussed with his health advisers announcing an end to the pandemic soon, two senior officials said.

When the White House reviewed a transcript of his comments after the interview, which was taped earlier in the week, it did not alert its Covid team — leaving the administration without a coordinated response for the immediate aftermath.

In the hours since, health officials have privately and sarcastically applauded themselves for a job well done: After 20 months of round-the-clock work, they joked, all it took to end a once-in-a-century crisis was for Biden to declare it finished. Others argued that the time had actually come for such a declaration; that the virus is in a manageable state and Biden was simply putting in blunt terms where his administration has long been headed.

Substantively, however, there was lingering concern that Biden's off-the-cuff comments could undercut the White House's effort to actually bring the public health emergency that is the Covid crisis to a formally declared close — and turn into a political headache should the virus come roaring back.

"We are not where we need to be if we are going to quote 'live with the virus'," Anthony Fauci, Biden's chief medical adviser, said on Monday. "We still must be aware of how unusual this virus is and continues to be in its ability to evolve into new variants which defy the standard public health mechanisms of addressing an outbreak."
ABC News ("Is the COVID pandemic really 'over' like Biden says? Experts say no"):
Data from the federal health agency shows that hundreds of COVID-19-related deaths are being recorded every day and that around 14,000 Americans died from the virus last month.

Public health experts told ABC News that the pandemic is not over yet and that Biden's comments may be a bit premature.

"The pandemic is emphatically not over," Dr. Peter Chin-Hong, an infectious diseases specialist at the University of California, San Francisco, told ABC News. "I would highlight the first [reason] is number of deaths per year."

The U.S. has recorded more than 223,000 deaths so far this year, CDC data shows.

"That's several-fold higher than a typical flu season," Chin-Hong said, with an average of about 35,000 deaths per year from the 2010-11 flu season to the 2019-20 flu season, according to an ABC News analysis of CDC data.

He said if the annual COVID death toll continues to remain high, "it would be way higher than diabetes, other respiratory illnesses. That number is not insignificant at all."

[…]

"My concern about all of this is that when you say the pandemic is over, that becomes synonymous with there's no disease," Dr. Perry Halkitis, dean of Rutgers School of Public Health, told ABC News. "But we know there's disease that very much exists in the United States still making people sick and still killing people. It could be troubling because of the increase in respiratory illness in the fall season."

During a press conference last Thursday, the World Health Organization's director-general, Tedros Adhanom Ghebreyesus, said the end of the pandemic was "in sight."

"Last week, the number of weekly reported deaths from Covid-19 was the lowest since March 2020," Ghebreyesus said. "We have never been in a better position to end the pandemic. We're not there yet, but the end is in sight."

The WHO continues to classify COVID-19 as Public Health Emergency of International Concern and the U.S. continues to declare the virus to be a Public Health Emergency, but experts say the country is likely transitioning from being in a pandemic to an endemic phase.

[…]

"We're not in as bad a place as we have been in the past, which is good," Dr. Julia Raifman, an assistant professor of health law, policy and management at Boston University School of Public Health who researches state-level policy responses to the pandemic, told ABC News. "But I remain very concerned that we are not prepared for surges of new variants. And that we are likely to have a high cumulative toll, almost all of it preventable."

"Just being ready to turn those on when there's a surge of a new variant will be very helpful, but there's no readiness for that right now," Raifman continued.
It seems obvious to me that Biden was making a statement about public policy, not epidemiology. COVID is still with us. The virus is mutating to survive against the vaccines. It's still killing a lot of people. But the fact of the matter is that the general public, even those who were cheerfully compliant with masking, social distancing, and vaccinations, are simply over it. Outside the most vulnerable populations, people simply aren't interested in masking and other restrictions to getting on with their lives nearly three years into this thing.
So, for example, even though CDC guidelines, local infection rates, and past DoD policy would seem to indicate that we should be back to masking and lower occupancy levels at work, we have been given updated guidance that puts that decision at the discretion of the base commander who is very unlikely to return us to previous levels of caution. Whether that's smart is debatable. But, again, even in a military organization where people are accustomed to following orders and living under austere conditions, there's just no appetite for going back.
This strikes me as exactly right:
"So endemic means sort of normal amounts of cases … for the foreseeable future, COVID is here to stay and we should expect some COVID cases," Dr. Dana Mazo, an infectious diseases specialist and clinical associate professor of medicine at NYU Langone Health, told ABC News. "What we're seeing is that COVID is around and we all have to learn to live with it."

She added, "And I think it's more important versus talking about terminology, it's more important for people to understand that COVID has not gone away. It's unlikely to go completely away anytime soon."
Some people have a heightened risk for contracting and, especially, suffering severe symptoms from the virus. They should obviously take additional precautions. Some have a higher tolerance for masking—indeed, some seem to like it—and other restrictive measures and/or a lower risk tolerance and will act accordingly. We should cheerfully allow them to do so without negative social judgment.
Leading public health expert Leana S. Wen, a frequent WaPo contributor, goes further, declaring, "Biden is right. The pandemic is over."
By multiple definitions, the pandemic is over. That doesn't mean that the coronavirus is no longer causing harm; it simply signals the end of an emergency state as covid has evolved into an endemic disease.

A pandemic is something that upends our daily lives and profoundly alters the way that we work, go to school, worship and socialize. That was certainly the case in March 2020. I was among the public health experts who urged people to "stay home, save lives." We called for Americans to avoid "play dates, sleepovers, bars, restaurants, parties or houses of worship." Employers sent workers home en masse. Schools pivoted to remote instruction.

Things changed with the arrival of vaccines. Many individuals, once vaccinated, began resuming their pre-pandemic activities. Others, like my family, waited until younger kids could receive the shots. By now, the vast majority of Americans have been vaccinated or recovered from covid-19 or both. The preventive antibody Evusheld and treatments such as Paxlovid and monoclonal antibodies provide further protection against severe illness.

As a result, most Americans have turned the page and abandoned mitigation measures. By August, according to a Morning Consult poll, just 14 percent of adults viewed covid as a severe health risk. This tracks with their other findings that only 28 percent still mask in all settings, while 75 percent were comfortable with indoor dining.

For most of the country, the pandemic is effectively over because it is no longer altering people's day-to-day lives. To them, covid has evolved from a dire deadly disease to one that's more akin to the flu. It's still something people want to avoid, and they'll take basic steps to do so, such as getting an annual vaccine. Some might choose to take extra precautions, such as masking in indoor settings. But the societal end of the pandemic has already arrived, a sentiment reflected in Biden's comment.
It's not just a matter of Americans throwing caution to the wind, either.
The scientific end of the pandemic might have arrived, too. On this point, there is disagreement among experts. On the one hand, the coronavirus continues to cause illness and death. About 30,000 people are currently hospitalized with covid in the United States, and more than 400 people a day are still dying from it. Long covid might lead to lasting health effects in as many as 1 in 5 infected with the coronavirus.

On the other hand, deaths globally from covid-19 have fallen to their lowest level since March 2020. The actual numbers may be far lower. Some researchers have argued that reported covid death counts are substantially overestimated because hospitalized patients are tested routinely regardless of symptoms, and being hospitalized with covid is different from being ill because of it. An infectious-disease physician in Boston told NPR that 70 percent of reported covid hospitalizations in her hospital are due to patients testing incidentally for the coronavirus.
Some might say that's a distinction without a difference. They are, after all, infected. But I agree that being positive for the virus but not sick enough to seek medical treatment is a very different thing, indeed, from the mass hospitalizations—often in intensive care—we saw during the pre-vaccination phase.
Perhaps the most significant rationale in favor of the transition from pandemic to endemic is the growing consensus that covid will never be eradicated. Countries that instituted some of the strictest policies have lifted them. Even New Zealand recently removed mask and vaccine mandates and lifted all pandemic travel restrictions. China is the only outlier still pursuing a zero-covid policy that's exacting a huge economic and humanitarian toll.
The world's leading totalitarian state is, naturally, in a different position to make demands of its citizens.
Now, the politics of this work both ways. On the one hand, Biden is leading within the context of where the people he leads are on the issue. On the other, that doesn't prevent the opposition party from capitalizing. The above-linked POLITICO piece notes,
Biden's pronouncement is likely to give Republicans more ammo to oppose the White House's funding request to keep the federal Covid response afloat. The White House is seeking more than $22 billion, though Democrats' faith they could secure that amount in an upcoming budget bill was waning even before the airing of "60 Minutes."

It could also complicate the administration's campaign for people to seek updated vaccines ahead of a potential winter surge — an uphill battle that health officials say will be the true determinant for whether the U.S. can emerge from the pandemic.

"Covid is probably not the biggest issue at this moment," a senior Biden official said. "It's just that Covid is still a real challenge. And if things go bad, it could go from being a problem to being the biggest issue again."
Wen acknowledges this and responds,
Biden's detractors argue that he can't have it both ways — that he can't say that the pandemic is over and still ask Congress for funding and encourage Americans to get boosted. These critics are willfully misrepresenting public health policy. Just because a disease is endemic doesn't mean the level of illness is acceptable or should be ignored. Consider HIV and cancer. These are not considered pandemics, but the goal is still to prevent disease and provide affected patients with state-of-the art medical care.

Indeed, there are many other ailments that deserve far more attention, from the epidemics of opioid overdose and obesity to the reemergence of polio and the worsening mental health crisis. Removing the "pandemic" designation for covid places it among the list of diseases harming Americans, all of which require focus and funding.

It is also imperative that we learn the lessons from covid to bolster our inadequate public health infrastructure. People across the political spectrum should agree that we cannot afford to allow our lives to be upended again. As the United States ends its emergency footing in this pandemic, we must double down on efforts to prevent the next.
Alas, too few in the post-Trump GOP leadership have shown such statesmanship. But that doesn't mean Biden is wrong.