Monkeypox 'Emergency of International Concern'
A disease spreading mostly among gay men is now infecting small children.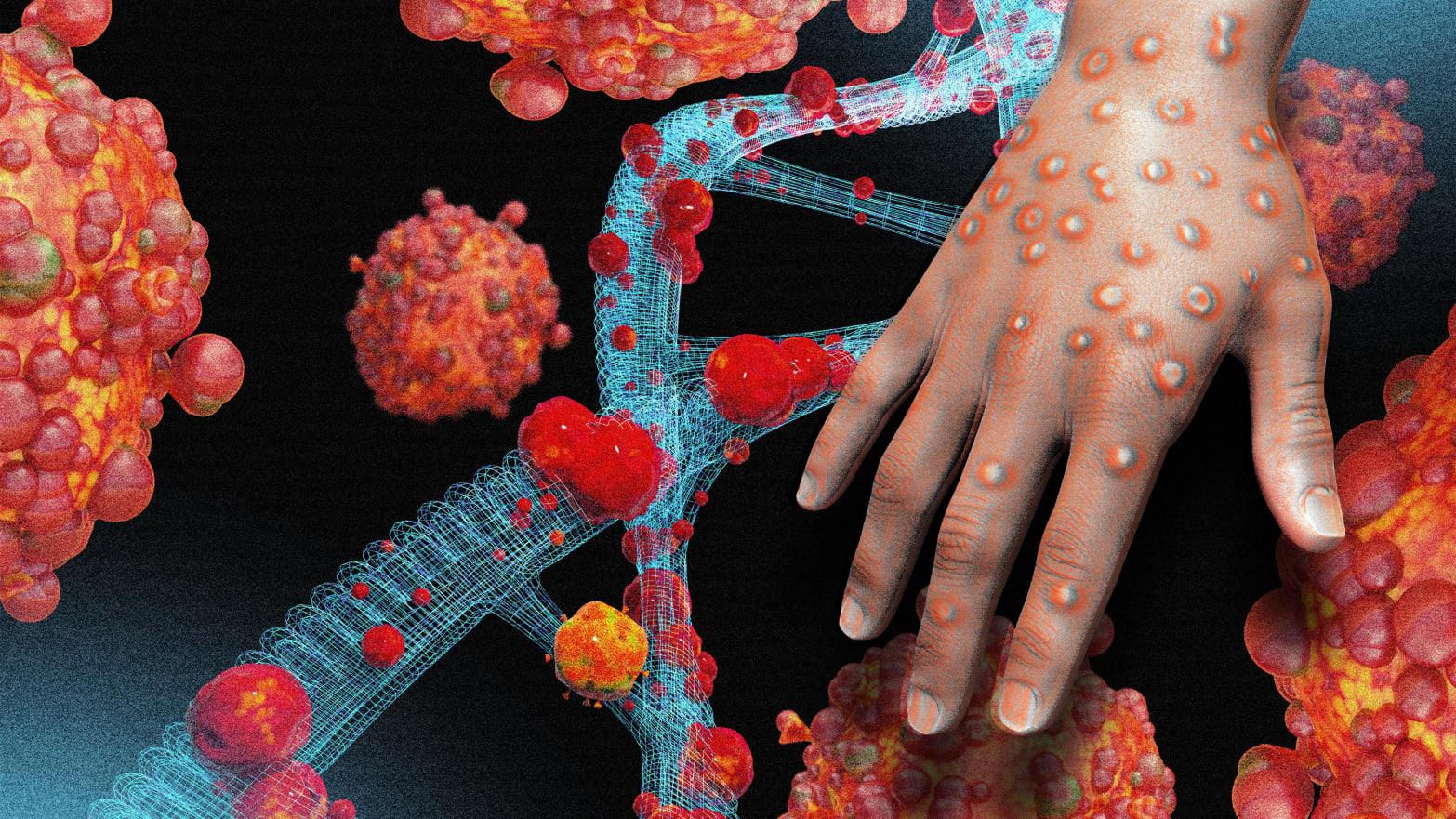 Yesterday, we learned that monkeypox has moved one step closer to pandemic status.
ABC News ("WHO declares monkeypox outbreak to be public health emergency of international concern"):
The World Health Organization declared the outbreak of monkeypox to be a public health emergency of international concern.

"The global monkeypox outbreak represents a public health emergency of international concern," WHO Director-General Dr. Tedros Adhanom Ghebreyesus said during a briefing in Geneva Saturday.

At the virtual press conference, Ghebreyesus also said that the outbreak has spread around the world "rapidly," including those that had not seen it before, and that officials understand "too little" about the disease. The risk of monkeypox is moderate globally except in the European region, where the risk is assessed as high, he said.

Ghebreyesus also outlined a set of recommendations for countries that have not yet reported a case of monkeypox or have not reported a case for 21 days; those with recently imported cases of monkeypox that are experiencing human-to-human transmission; those with transmission of monkeypox between animals and humans; and those with manufacturing capacities for diagnostics, vaccines and therapeutics.
This elevated status is rare.
This is the seventh event declared a PHEIC by the global health agency since 2007.

The other six include the H1N1 influenza pandemic of 2009; the Ebola outbreak in West Africa from 2013 to 2015; the Ebola outbreak in the Democratic Republic of the Congo from 2018 to 2020; the Zika outbreak in 2016; the ongoing spread of poliovirus that started in 2014; and the ongoing COVID-19 pandemic, according to the National Library of Medicine.
The numbers are attention-getting, as is the growth:
More than 16,000 monkeypox cases have now been detected across the globe in 75 countries and territories, according to the WHO. Thus far, five deaths have been reported, all of which have occurred in Africa.

In the United States, more than 2,800 cases are confirmed in 44 states and the District of Columbia, according to the Centers for Disease Control and Prevention. In New York, which has reported the highest number in the U.S., a total of 900 cases of monkeypox have been confirmed, with the vast majority of them — 93% — detected in New York City, state officials said Friday.
US health officials are obviously concerned as well.
CNN ("As Fauci warns monkeypox needs to be taken more seriously, former FDA commissioner says the window to control it 'probably has closed'"):
As cases of monkeypox continue to rise in the US, a top health official is stressing that the outbreak needs to be handled in a more rigorous manner.

"This is something we definitely need to take seriously. We don't know the scope and the potential of it yet, but we have to act like it will have the capability of spreading much more widely than it's spreading right now," Dr. Anthony Fauci told CNN on Saturday.

Former US Food and Drug Administration Commissioner Dr. Scott Gottlieb warned that it may be too late to control and contain the virus.

"I think the window for getting control of this and containing it probably has closed. If it hasn't closed, it's certainly starting to close," Gottlieb told CBS' Margaret Brennan on Sunday on "Face the Nation."

Monkeypox has been detected throughout most of the US, except for a handful of states, according to the US Centers for Disease Control and Prevention. The states with the most cases include New York, California, Illinois and Florida.

The latest data shows that the CDC has tracked at least 1,814 probable or confirmed cases in the US, as of Friday, and a total of 12,556 confirmed cases in 68 countries.

Fauci, who is director of the National Institute of Allergy and Infectious Diseases and President Joe Biden's chief medical adviser, told CNN's Laura Coates that the numbers are "very likely an undercount."

"Whenever you have the emergence of something like this, you are always probably looking at what might be — might be, we don't know — the tip of the iceberg, so that's the reason why we've got to get the testing out there in a much, much more vigorous way," Fauci said.
Of course, given the politicization over COVID, it's quite likely that huge swaths of folks will view these warnings with cynicism—more public health officials using fear to increase their own power and control over us.*
Regardless, as I try to wrap my head around this spread, I find much of the reporting confusing.
WaPo attempts an explainer with "Understanding Monkeypox and How Outbreaks Spread."
The global eradication of smallpox more than 40 years ago was one of the greatest achievements in public-health history, vanquishing a cause of death, blindness and disfigurement that had plagued humanity for at least 3,000 years. But, on the downside, it also led to the end of a global vaccination program that provided protection against other pox viruses. That includes monkeypox, which has been spilling over from its animal hosts to infect humans in West and Central Africa with increasing frequency since the 1970s. Now monkeypox has sparked unprecedented outbreaks in Europe, the US and elsewhere, demonstrating again how readily an infectious agent that emerges in one region can mushroom into a global emergency.

[…]

3. How is it transmitted?

Monkeypox doesn't usually spread easily between people. Close contact with the virus from an infected animal, human or contaminated object is the main pathway. Most reported cases in the 2022 outbreaks have been linked to skin-to-skin contact with someone infected with this virus, such as during sex. The pathogen enters the body through broken skin, the respiratory tract or the mucous membranes in the eyes, nose, mouth, rectum and anus. Clubs, raves, saunas, sex parties and other activities where there is close contact with many people may also increase the risk of exposure, especially if people are wearing less clothing. Tests on patient saliva, rectal swabs, semen, urine and fecal samples found traces of the virus that could indicate the infectious potential of these bodily fluids and their potential role in disease transmission by close physical contact during sexual activity, a study from Spain found. Transmission from mother-to-unborn baby has also been documented. It can also happen indirectly through contact with contaminated clothing or linens. Common household disinfectants can kill it.

4. What's unusual this time?

There have been multiple chains of human-to-human transmission occurring, including in sexual networks.

• Cases don't involve recent travel to places in Africa where the disease is endemic.

• Although anyone can get monkeypox, most cases occur in men. In endemic areas of Africa, it was thought that was related to hunting practices, whereas in the current outbreak, most individuals are men aged 21 to 40 years who have sex with men, people with multiple sexual partners, or people who practice condomless sex. Close skin-to-skin contact during sex is the primary mode of transmission in such cases. [emphasis mine]

• Flu-like symptoms haven't always preceded the rash, and some patients first sought medical care for lesions in the genital and perianal region.

• In some cases, the lesions are mostly located at these sites, making them hard to distinguish from syphilis, herpes simplex virus, shingles and other more common infections, according to the US Centers for Disease Control and Prevention.
NBC News ("Monkeypox is being driven overwhelmingly by sex between men, major study finds") elaborates on the highlighted point:
The global monkeypox outbreak is primarily being driven by sex between men, according to the first major peer-reviewed paper to analyze a large set of cases of the virus.

The outbreak, which epidemiologists believe initially began in mid-spring gatherings of gay and bisexual men in Europe, has since alarmed such experts by ballooning to nearly 16,000 cases worldwide.

Now infectious disease specialists are developing an increasingly refined understanding of the predominant conduits of monkeypox transmission, as well as the typical disease course patterns.

"These data point clearly to the fact that infections are so far almost exclusively occurring among men who have sex with men," said Jennifer Nuzzo, an epidemiologist at Brown University, of the new study, which was published Thursday in the New England Journal of Medicine. "And the clinical presentation of these infections suggest that sexual transmission, not just close physical contact, may be helping spread the virus among this population."

"This large, multicountry study provides the most complete set of clinical and demographic data on monkeypox cases occurring outside endemic areas," said Nuzzo, who was not involved with the study.

No one has died of monkeypox infection outside of Africa during this outbreak. And for many people, the disease is relatively mild and resolves on its own in a few weeks without any need for medical intervention. However, the new paper reports that monkeypox can cause pain so intense that a substantial proportion of people with the virus require hospitalization for pain management.

[…]

In the United States, confirmed cases of monkeypox have increased dramatically in recent weeks, to 2,593 as of Thursday. With fears mounting among infectious disease experts that the virus will become endemic in the U.S. and around the world, the Biden administration has been subject to intense criticism by activists and the public health community that its health agencies failed to act quickly enough to stem the outbreak.

The recent sharp rise in U.S. monkeypox diagnoses could be driven in part by increased testing, especially after the Centers for Disease Control and Prevention brought onboard five commercial testing companies during the past two weeks.

Public health experts also theorize that major LGBTQ Pride gatherings in June may have facilitated transmission of the virus. And given the infection's incubation period — the new paper puts it at seven days, with a range of three to 20 days — the nation is now possibly seeing the resulting downstream effects of sexual encounters in late June and early July.
I must admit, aside from headlines, I'd largely not paid a lot of attention to the monkeypox outbreak. But this morning was somehow the first hint I'd gotten that it's largely a sexually-transmitted disease. That rather puts it in a different category than COVID or other outbreaks that pass through the air or other casual contact. Obviously, we still need to contain the disease. But it radically changes the nature of the mitigation measures surrounding it.
But, if that's the case, how does one explain this?
Guardian ("Monkeypox: US reports its first cases of virus in children"):
Cases of monkeypox have been identified in the United States for the first time in children – a toddler in California and an infant who is not a US resident, health authorities say.

The two cases of the viral disease were unrelated and were likely the result of household transmission, the Centers for Disease Control and Prevention (CDC) said in a statement on Friday.
Presumably, these individuals aren't having unprotected sex with gay men. So, obviously, there are other ways to catch this virus?
Speaking on a conference call, Dr Jennifer McQuiston, the deputy director of the CDC's division of high consequence pathogens and pathology, said it was not a surprise that pediatric cases of monkeypox had emerged, but "there is no evidence to date that we are seeing this virus spread outside" the communities of gay, bisexual and other men who had sex with men.

She said 99% of the 2,891 monkeypox cases confirmed in the US involved men who have sex with men, but there had been a handful of women and transgender men who had become infected.
Well, alrightee then.
Oh, despite news a month ago that WHO was going to rename this virus because of unfortunate stigmas, it apparently hasn't yet happened. At this point, it's unlikely any new name is going to catch on.
________________
*I was at my ophthalmologist's office in DC Monday and there was a sign requiring all who entered to wear a mask. Having long since fallen out of the habit, I didn't have one with me and asked for one, which I was graciously provided. The elderly gentleman in front of me not only refused to wear his but proclaimed it a "compliance mask" for Democrats. When the head nurse followed him to his seat, insisting, he still refused, demanding to see the doctor. The doctor finally came out and told him he must either wear the mask or leave. He initially put it on but ultimately left without being seen. (He also ranted about the outrage that the office doesn't validate parking in the building's garage.)