Obama May Bypass Guantánamo Rules
President Obama is likely to issue a signing statement in order to keep his Gitmo options open.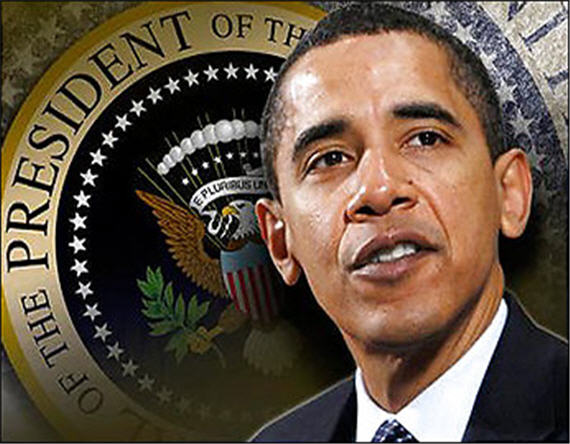 In an ongoing story, the NYT's Charlie Savage reports that President Obama is likely to issue a signing statement in order to keep his Gitmo options open.
President Obama's legal advisers, confronting the prospect of new restrictions on the transfer of Guantánamo detainees, are debating whether to recommend that he issue a signing statement asserting that his executive powers would allow him to bypass the restrictions, according to several officials.

If Mr. Obama were to issue such a statement, it could represent a more aggressive use of unilateral executive powers than what he exerted in his first two years in office. The issue has arisen as the Republican Party takes control of the House.

Last month, while still under Democratic control, Congress included the detainee transfer restrictions — which would make it harder for the administration to achieve its goal of closing the prison at the military base in Guantánamo Bay, Cuba — in a major defense bill it sent to Mr. Obama. He could act on the measure by the end of the week.

One provision bars the military from using its funds to transfer detainees to the United States, making it harder to prosecute them in federal court. Another prohibits the transfer of detainees to any other country unless the defense secretary, Robert M. Gates, certifies that the country has met a strict set of security conditions.

[…]

One option on the table, according to officials familiar with the deliberations, is for Mr. Obama to sign the bill into law but declare his opposition to the detainee transfer restrictions — which expire Sept. 30, at the end of the current fiscal year — by simply arguing that they are bad policy.

But the administration is also considering whether he should go further by issuing a signing statement — a formal document recording a president's interpretation of a new law for the rest of the executive branch to follow — asserting that he has the constitutional power to disregard the restrictions.

Under the latter approach, the president would assert that as the head of the executive branch and commander in chief, his prosecutorial discretion and wartime powers would allow him to lawfully bring detainees into the United States for trial or to transfer them to other countries as he sees fit.
Either this is a leak by an internal opponent to the policy in an attempt to derail it or, more likely, it's a trial balloon to test the political fallout.
Interestingly, despite my recollection that Obama vehemently opposed the Bush practice of issuing signing statements during the 2008 campaign, that's not quite right.  From the February 28, 2008 WaPo:
Asked by my colleague Glenn Kessler whether he would ever consider issuing a signing statement as president, Sen. McCain was emphatic: "Never, never, never, never. If I disagree with a law that passed, I'll veto it."

[…]

Responding to a questionnaire late last year by the Boston Globe, Sens. Barack Obama (D-Ill.) and Hillary Rodham Clinton (D-N.Y.) made clear their view that Bush has gone too far in issuing signing statements — but that there are circumstances in which such statements are necessary.

"The problem with this administration is that it has attached signing statements to legislation in an effort to change the meaning of the legislation, to avoid enforcing certain provisions of the legislation that the President does not like, and to raise implausible or dubious constitutional objections to the legislation," Obama answered. But, he added: "No one doubts that it is appropriate to use signing statements to protect a president's constitutional prerogatives."
On the other hand, my memory that Candidate Obama was adamant about closing Gitmo is correct.  Indeed,  Obama's first significant act as president was to order a halt to the military tribunals at Gitmo.  But he's slowly backed away from his promise to close the place down within a year, partly because Congress has put major obstacles in his path and partly because, like his predecessor, he doesn't know what to do with the detainees.
Outgoing Vice President Cheney's prediction that Obama wouldn't give up power has proved prescient:
"Once they get here and they're faced with the same problems we deal with every day, then they will appreciate some of the things we've put in place," Cheney said during an interview on Rush Limbaugh's radio show. "We did not exceed our constitutional authority, as some have suggested," Cheney insisted. "The President believes, I believe very deeply, in a strong executive, and I think that's essential in this day and age. And I think the Obama administration is not likely to cede that authority back to the Congress. I think they'll find that given a challenge they face, they'll need all the authority they can muster."
And that's exactly what happened.  Presidential power looks decidedly more desirable when sitting in that big chair in the Oval Office than it does as a United States Senator on the presidential campaign trail.