Obama Says It's Time For Gaddafi To Go, While U.N. Imposes Sanctions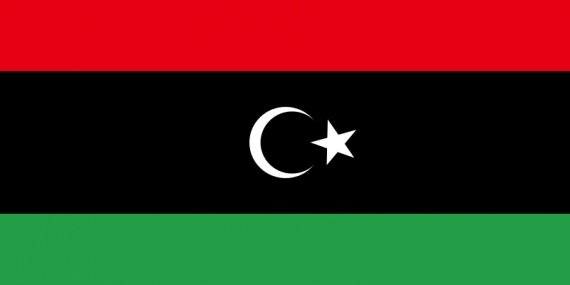 With most Americans now out of Libya, the rhetoric coming out of Washington is stepping up a notch:
In a significant escalation of rhetoric over the unrest and violence in Libya, President Barack Obama on Saturday appeared to call for Libyan leader Muammar Qadhafi to vacate his office immediately.

The word from the White House came in a statement detailing a telephone call Obama had Saturday with German Chancellor Angela Merkel.

"The president stated that when a leader's only means of staying in power is to use mass violence against his own people, he has lost the legitimacy to rule and needs to do what is right for his country by leaving now," the White House said.

In a separate statement Saturday afternoon, Secretary of State Hillary Clinton was even more explicit in calling for Qadhafi to resign. "Muammar Qadhafi has lost the confidence of his people, and he should go without further bloodshed and violence," Clinton said.
Meanwhile, the U.N. Security Council took some steps against the Gaddafi regime:
The United Nations Security Council voted unanimously on Saturday night to impose sanctions on Libya's leader, Col. Muammar el-Qaddafi, and his inner circle of advisers, and called for an international war crimes investigation into "widespread and systemic attacks" against Libyan citizens who have protested against the government over the last two weeks.

The vote, only the second time the Security Council has referred a member state to the International Criminal Court, comes after a week of bloody crackdowns in Libya in which Colonel Qaddafi's security forces have fired on protesters, killing hundreds.

Also on Saturday, President Obama said that Colonel Qaddafi had lost the legitimacy to rule and should step down. His statement, which the White House said was made during a telephone call with Chancellor Angela Merkel of Germany, was the strongest yet from any American official against Colonel Qaddafi.

The Security Council resolution also imposes an arms embargo against Libya and an international travel ban on 16 Libyan leaders, and freezes the assets of Colonel Qaddafi and members of his family, including four sons and a daughter. Also included in the sanctions were measures against defense and intelligence officials who are believed to have played a role in the violence against civilians in Libya.

The sanctions did not include imposing a no-fly zone over Libya, a possibility that had been discussed by officials from the United States and its allies in recent days.
None of this will have very much impact, of course. Sanctions take months or years to have any serious impact, and there's no real record of them having any impact at all when dealing with a regime like this. I also doubt Gaddafi cares about the International Criminal Court e