Obama's America Iron Bowl Cartoon Controversy
Irony is officially dead.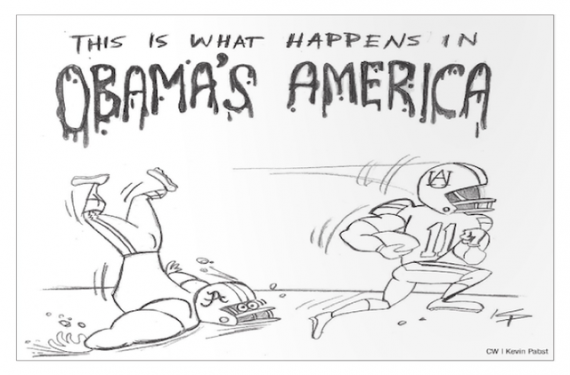 Irony is officially dead.
AL.com ("The Crimson White apologizes for Iron Bowl editorial cartoon after social media backlash"):
The University of Alabama student newspaper The Crimson White issued an official apology for an editorial cartoon in Thursday's edition after some readers perceived it had "racist intentions," according to the apology from editor-in-chief Mazie Bryant.

The satirical cartoon, published the CW's opinion page, depicts two football players — one from the Alabama Crimson Tide, the other from the Auburn Tigers — in the final play of last week's Iron Bowl.

The Alabama player is tripped up as the Auburn player runs to victory under the words "This is what happens in Obama's America."

"The cartoon, in fact, was intended as a lighthearted look at some of the more absurd explanations given for Alabama's collapse at the end of the Iron Bowl game against Auburn last Saturday," Bryant wrote in Thursday. "Many fans across the state took to social media and personal platforms to place blame for the team's loss. To The Crimson White, and much of the student body, the blame was based on ridiculous and unfounded reasons."

The cartoon appeared to be a play on the popular online meme, "Thanks, Obama," an expression used on sites like Reddit and Facebook to sarcastically blame personal inconveniences on President Obama.

"This cartoon was, by no means, intended to be racist or insulting," Bryant said. "It was the unfortunate product of editorial oversight and a lack of a critical eye in determining possible implications the cartoon could have. This mistake will not be made again."

In a comment on The Crimson White's Facebook page, cartoonist Kevin Pabstapologized for any offense the comic might have caused.

"I wasn't even taking a political stab at Obama," Pabst wrote. "As many have noted, my thought process here was to mock those who blindly blame Obama for any and everything that goes wrong. So yes, it was just a 'Thanks Obama' joke. Hindsight is 20/20, and I realize now there are ways I could have made the intent behind the cartoon more evident. Sometimes sarcasm isn't executed as well on paper as it is in my head."
They're apparently now going to have a review panel for future editorial cartoons. But are there any cartoons, especially those involving a black political leader, that couldn't be construed by somebody as racist?
The "Obama's America" meme is rather prevalent and everyone in the state would have understood the drawing. If this is offensive, then everything is offensive. And, rather than a heckler's veto, we've instituted a moron's veto.