Kobe Bryant Killed in Helicopter Crash
The basketball legend and his 13-year-old daughter, Gianna, were among five fatalities.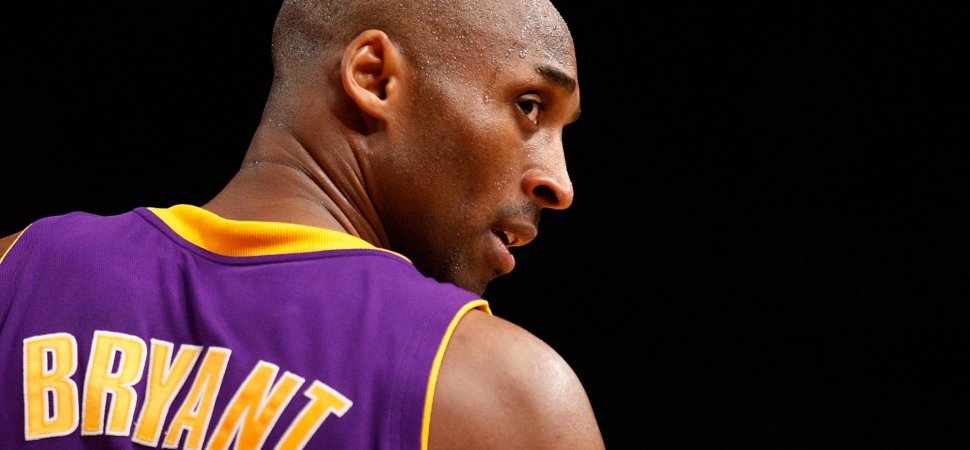 Shocking news in the world of sports:
NBA legend Kobe Bryant and his daughter were among five people killed in a helicopter crash in Calabasas, California, on Sunday, a source confirmed to ESPN's Adrian Wojnarowski. Bryant was 41.

Bryant was on his way to a travel basketball game with his 13-year-old daughter Gianna Bryant when the helicopter crashed, sources told Wojnarowski. Those aboard the helicopter also included another player and parent. According to the Los Angeles County Sheriff's Department, there were no survivors of the crash. An investigation is ongoing.

The crash comes one day after Bryant was passed by Los Angeles Lakers forward LeBron James for third place on the NBA's all-time scoring list. As late as 10:39 p.m. ET on Saturday, Bryant was active on social media, congratulating James on Twitter during the Lakers' 108-91 loss to the Philadelphia 76ers.
James inscribed his sneakers with "Mamba 4 Life" and "8/24 KB" in gold marker before the game, showing respect for Bryant, an 18-time All-Star with the Lakers who is eligible for the Basketball Hall of Fame in 2020. All week, in the lead-up to the milestone, he was quick to laud Bryant.
I'm not in a position to blog right now and will likely have more but thought it worth getting something up so readers can share their reflections. Sad news, indeed.
UPDATE (1/27 0608): More on the crash itself, which killed nine:
The helicopter carrying Kobe Bryant and eight other passengers that crashed into a hillside in Southern California on Sunday was in a climbing left turn about 2,400 feet high before it dove to the ground, a person familiar with preliminary investigative information about the fatal crash told ESPN.

The source, who spoke on the condition of anonymity, told ESPN that the pilot had only moments before contacted air traffic controllers to say that he had begun a climb to "go above the layer" of clouds present.

The chopper went down in Calabasas, about 30 miles northwest of downtown Los Angeles, after departing John Wayne Airport in Orange County at 9:06 a.m. PT. The first 911 call reporting the crash was received at 9:47 a.m.

Audio reviewed by ESPN indicates that a few minutes prior to the crash, an air traffic controller told the pilot that he was "still too low level for flight following," meaning the aircraft was below the level at which it could be picked up by radar due to the area's hilly terrain. That audio came from recordings posted on LiveATC.net, which has partial audio of the communication between the pilot and air traffic controllers.

Additional recordings between the pilot and air traffic controllers posted on the site indicate that the pilot was getting guidance from controllers as he navigated what was reported to be dense morning fog.

Air traffic controllers noted poor visibility around Burbank, just to the north, and Van Nuys, to the northwest. After holding up the helicopter for other aircraft, the controllers cleared the Sikorsky S-76 to proceed north along Interstate 5 through Burbank before turning west to follow U.S. Route 101, the Ventura Highway.
Reflections and remembrances poured out from around the worlds of sports and entertainment, including a tribute at last night's Grammy awards. The NBA and its players honored him in a unique fashion:
Grief-stricken players and teams around the NBA paid their respects to Kobe Bryant on Sunday in myriad ways as the stunning news of the former Lakers great's death shook the league.

Nearly every team playing across Sunday's eight-game schedule — not long after it was learned that Bryant died in a helicopter crash at age 41 — took a planned shot-clock violation. Teams took turns holding the ball for 24 seconds and eight seconds in the backcourt in honor of the No. 24 and No. 8 jerseys that Bryant wore. The tributes drew standing ovations across the board.
The owner of the rival Dallas Mavericks took an unusual step:
The Dallas Mavericks said in a statement Sunday that they will be retiring Bryant's No. 24. "Kobe's legacy transcends basketball, and our organization has decided that the number 24 will never again be worn by a Dallas Maverick," Mavericks owner Mark Cuban said.
Bryant's appeal reached beyond basketball, with superstars from other sports touched as well.
While competing in the Farmers Insurance Open at Torrey Pines on Sunday, a shaken and subdued Tiger Woods was unaware that Kobe Bryant had died.

The news of Bryant's reported death broke while Woods played the front nine, and his caddie, Joe LaCava, learned of the accident but decided not to tell his boss, waiting until after he walked off the green to share the news.

Bryant and his daughter Gianna were among several people killed in a helicopter crash on Sunday in Calabasas, California, a source confirmed to ESPN's Adrian Wojnarowski. Bryant was 41, and Gianna was 13.

A stunned Woods went to the scoring area to sign his card, spoke briefly with PGA Tour officials, signed a few autographs and did a television interview before meeting with reporters. Golf never came up.

"It's one of the most shocking, tragic days that I've ever been a part of in a very quick span here," Woods said.

[…]

As he played, there was some speculation that Woods had been made aware of Bryant's death — which was not the case.

"I didn't understand why they were yelling, 'Do it for Mamba,' on the back nine," Woods said of a nickname for Bryant. "People yell things all the time, so I was just plodding along, doing my own thing. Then when Joey told me that here. … It's unbelievable, the reality that he's no longer with us.

"LeBron [James] breaks his [Bryant's scoring] record, and he passes today. I grew up a die-hard Laker fan, always have been my entire life. That's all I remember, and he was part of the most historic franchise in all of the NBA."

Woods then went into detail about the kind of player he remembered Bryant to be.

"What made him so impressive is that he was dominant on the offensive side … We all know that," Woods said. "But he would lock up on D. He played their best guard and shut 'em down for all 48 minutes. That's what made him so special — he played both ends of the court. There are maybe two guys, three guys in the entire NBA history that you can say that, that would do that. He was up for that challenge.

"And one of the more impressive things that I've ever witnessed is when he ruptured his Achilles, and he went to the foul line, made his shots. Ultimate toughness, ultimate competitor."
Veteran sportswriter Jackie MacMullen:
He was the most intelligent professional athlete I had ever encountered, curious and demanding and savvy and competitive and relentless and infinitely complicated.

[…]

The shock swiftly reverberated throughout the NBA, Hollywood and across the globe. For those of us who knew him well, it was, simply, incomprehensible. Bryant was a man with limitless possibility, a man whose trophy case included MVPs, an Oscar and a best-selling novel.

When I heard the news, I thought immediately of Michael Jordan, who Bryant told me on several occasions was the player he aspired to be. Certainly, Bryant came closer than anyone else to matching the talent, the intensity — and the aura — of His Airness. I reached out to Jordan via text, knowing the news would be overwhelming and deeply personal.
"I'm devastated!!!!" Jordan wrote me. "Too emotional to respond. I can't find the words to make sentences!!!!

"I just started crying," added a teary-eyed Charles Barkley. "That's all I've been doing, is crying."

[,,,]

Hall of Famer Jerry West traded for a teenage Bryant in the 1996 draft, shipping well-established and highly regarded center Vlade Divac to the Charlotte Hornets for the rights to the young phenom, who declared for the draft right out of high school. It was a bold move that literally altered the landscape of NBA history.

It was West who guided a young Bryant through the pitfalls of an NBA climate that was often unkind to a gifted yet impetuous young talent. Bryant would later credit West as the first of many mentors who helped him shape his career as an unforgettable NBA icon.

"I haven't come to grips with this," said an audibly distraught West. "First you have a feeling of shock, then a feeling of horrible sorrow, and then you start having all these recollections of the times I shared with him. Unbelievable. Just unbelievable.

"I feel like I've lost a son."

[…]

"I don't think anyone knew Kobe well — I ain't gonna lie about that," Barkley said. "Every time I saw him, he was courteous, he'd come by and say hello, but then he'd keep it moving."

Perhaps that's because that is how Bryant decided he wanted it. From the time he was an 8-year-old competing against players three years older than him, Bryant wasn't satisfied with winning — he was gunning for total domination. He attacked the game with a fierceness that was both admirable and, at times, unsettling to his peers. Like his idol Jordan, who famously reduced teammate Steve Kerr to tears, Bryant once felled teammate Sasha Vujacic with an elbow in practice that left him weeping.

"I could never understand," Bryant once told me, "why winning wasn't the most important thing to everyone. Why are you here then?"