LeBron Wins Title with Third Team
Give him his damn respect.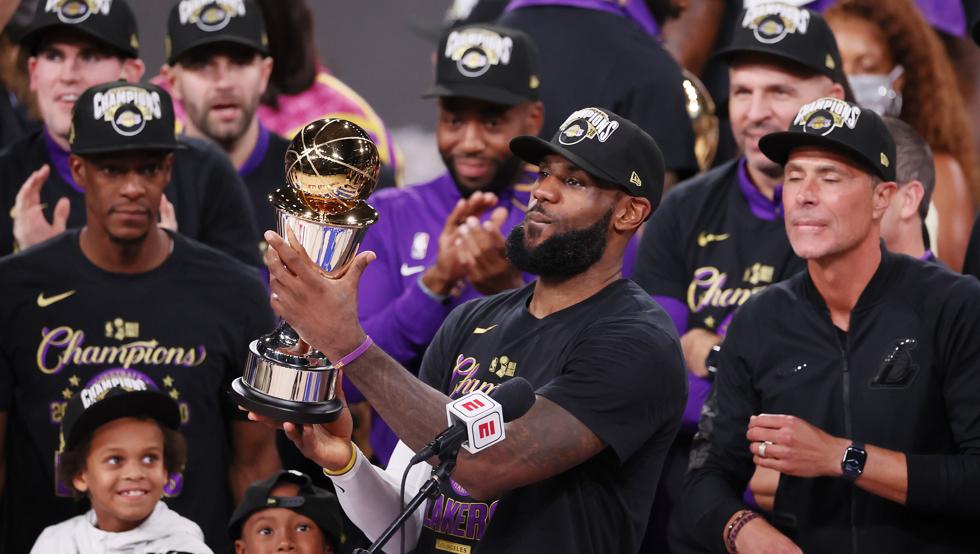 LeBron James won his fourth NBA title and his fourth NBA Finals Most Valuable Player trophy last night, to go along with four regular-season Most Valuable Player awards. He still feels disrespected.
ESPN's Tim Bontemps:
LeBron James has made it clear that his goal is to surpass Michael Jordan as the greatest player in basketball history.

Sunday night, James took a step closer to doing so.

James was named the 2020 NBA Finals MVP for leading the Los Angeles Lakers to their first championship in a decade and winning the fourth title of his career with a 106-93 victory over the Miami Heat in Game 6. James, who previously won Finals MVP in 2012 and '13 with the Heat and in 2016 with the Cleveland Cavaliers, is the first player in NBA history to win the award with three different franchises.

Winning his fourth Finals MVP moves him out of a tie with Magic Johnson, Tim Duncan and Shaquille O'Neal and into second all time — trailing only Jordan, who won the award six times.

James capped his 17th season in the league with a virtuoso run through the postseason, shooting well over 50% from the field while also running the Lakers' offense virtually every possession he was on the court. He also displayed a commitment on the other end of the court, playing a key role in a suffocating defensive unit. Most importantly, James outdueled Jimmy Butler in what was an all-time classic matchup throughout the Finals, including the Lakers' star going off for 40 points, 13 rebounds and 7 assists in Game 5, and 28 points, 14 rebounds and 10 assists in Game 6.

"This was very challenging, and very difficult," James said afterward. "It played with your mind, and it played with your body. You're away from some of the things you're so accustomed to [that] make you the professional you are.

"This is right up there with one of the greatest accomplishments I have."

[…]

"I think, personally, thinking I have something to prove fuels me," James said. "And it fueled me over this last year and a half since my injury.

"It fueled me because no matter what I've done in my career up until this point, there's still rumblings of doubt, or comparing me to the history of the game, and, 'Has he done this? Has he done that?'

"So, having that in my head, having that in my mind, saying to myself, 'Why not still have something to prove?' I think it fuels me."

[…]

James' fourth championship gives him more rings than any other active player, and it moves him to within one title of a group of 13 players who have won five, including Johnson, Duncan and the late Kobe Bryant. With Davis all but certain to remain in Los Angeles for the foreseeable future, the 35-year-old James should have an opportunity to add more. For now, though, he and the Lakers will be quite content to celebrate this one.
If he wins two more titles, and especially if he remains the dominant player on his team while doing so, it's hard to argue that he won't have surpassed Jordan as the greatest player in the game's history. He has already taken his teams—including some not-very-good ones—to an astounding ten NBA finals appearances.
As with the Federer-Nadal-Djokovic-Laver debate in tennis, it's rather pointless. Parsing out which of the all-time players is the best tends to highlight the flaws of superstars rather than exalting their accomplishments. Basketball is even harder than tennis, though, is that it's a team sport that depends very much on one's supporting cast and how much the game has changed over time.*
Still, The Athletic's John Hollinger argues, LeBron might already be the GOAT.
While Jordan and James are pretty clearly the two best players of their respective generations, where do they rank in the overall historical hierarchy?

I think we can start by carving out an ironclad case for them to be the two best players from the post-merger era. Using statistical methods such as my own Player Efficiency Rating (PER) or the more directly winning-correlated Box Plus-Minus (BPM), no other players have the career peaks that Jordan and James had. (While we have a few other advanced stats we can use for more recent years, historical comparisons pre-2000 are impossible.)

The post-merger era is a useful data point because it also marks when we have legitimately useful statistical data – the league began tracking individual turnovers in 1977-78.

Since that time, Jordan and James are in a league of their own. They rank first and second respectively in career Player Efficiency Rating and career BPM, and while a few current players theoretically are nipping at their heels at the moment – most notably James's phenomenal teammate Davis – none of these players have played a minute in his 30s (when the numbers will presumably decline and lower the career average).

[…]

By these metrics, the average season of Jordan's and James's prime years was better than any individual season by Tim Duncan, Kobe Bryant, Larry Bird or Magic Johnson. In terms of great individual seasons, only a few other players ever scaled the heights that Jordan and James hit routinely, and even they could only stay in those clouds for a year or two before sinking earthward.

Between the in-season production, the longevity, and the rings and NBA Finals appearances, I don't think any serious analyst could put another player from the post-merger era ahead of LeBron and Jordan. 
Hollinger has a long and convincing discourse examining the two obvious candidates who played entirely or partly before the 1977 NBA-ABA merger, Bill Russell and Kareem Abjul-Jabbar, and why Jordan and James are even better.
The really amazing thing about both careers is that they've been even better in the playoffs. Not just as good - better. Most players in most seasons are worse in the postseason than the regular season, and it's not a big secret why: Without any Wizards or Knicks to kick around, the level of competition is significantly more difficult. The deeper a team advances, the harder it gets. Just ask the Heat.

As a result, if you just scan a list of the top statistical regular seasons, it might take you a while to figure out how far ahead of everyone else James and Jordan have been. Comparing postseason stats makes it forehead-slap obvious.

[…]

Make a list of the top postseasons and it quickly becomes apparent that James and Jordan occupy a completely different stratosphere than any other player of the past 50 years.

By BPM, James has eight of the top 20 postseasons, Jordan has seven, and the entire rest of humanity has five. The top 11 postseasons all belong to Jordan and James.

By PER, it's almost as stark. Jordan and James have the top five seasons and 13 of the top 20. Eight of those seasons belong to James. It's slightly more generous to the "everybody else who played in the last 50 years" category because four Shaquille O'Neal seasons crash the party.
What distinguishes James from Jordan is how long he has dominated.
What's so amazing about that 2019-20 listing from James is how much older he is than everyone else on the list. Jordan had his last season of this caliber at age 34, and it's 19th on the list. All the others were well within the prime of their careers. But here's LeBron, with his age-32, -33 and -35 seasons making the list.

Even in 2019-20, James is the last name on the list … having a postseason equaled by only five other players in post-merger history (by BPM, per the chart above) … but one that he himself has eclipsed seven other times.

Look at the two names on that chart again. Jordan and James are the top 10 entries and 15 of the top 22. When it comes to playoff dominance, they're truly in a league of their own.
This was all written last week, before James' dominant performance last night. Still, Hollinger is inclined to give the nod to Jordan for now—precisely because the game is so different now.
Jordan played in an era where it was much harder for a perimeter player to dominate and most of the top players were centers. James's era, by contrast, is one where perimeter players are ascendant.

In the current era, nobody has matched James's numbers, but players like Antetokounmpo, Steph Curry, James Harden and Kevin Durant haven't been too far away.

Meanwhile, Jordan was the best perimeter player of the '90s. And the second-best was … John Stockton? Clyde Drexler? Grant Hill for that one year? Especially after Magic Johnson retired in 1991, nobody came anywhere close.

Instead, Jordan's era was one where Hakeem Olajuwon, David Robinson, Karl Malone, Charles Barkley, Patrick Ewing and a young Shaquille O'Neal were the dominant forces. Malone and Barkley were the players who beat him out for MVP awards, while Olajuwon pushed Jordan down to third in 1993 and Robinson finished second, third and third at various points. No sane person considered another perimeter player ahead of Jordan on their MVP ballot from 1991 to 1998.

In the two years Jordan (mostly) sat out, 193 of the 202 first-place MVP votes went to the bigs I listed above. Just nine went to perimeter players of any stripe. The six bigs I named above were the top six players in the 1995 MVP vote; only then did other perimeter players become a topic.

Meanwhile, the gap between Jordan and every other perimeter player in basketball was simply massive. I'm not going to slow your roll with a giant chart here, but the top 60 seasons in BPM from 1988-89 to 1997-98 include 37 by power forwards and centers. Eight of the others are by Jordan. Just 15 are from other perimeter players.

In other words, Jordan was so good that he was the best player even though the league at that time was set up for bigs to be the best players. He was so good that he overcame the gravitational forces yanking on every other perimeter player.

By contrast, in the peak 10 seasons of the LeBron Era – from 2008-19 to 2017-18 – every one of the top 19 seasons is by a perimeter player. (In addition to James's five entries, we have Curry, Durant, Harden, Kawhi Leonard, Chris Paul, Russell Westbrook, and Dwyane Wade campaigns.). Only six of the top 60 seasons were by a big … 90% of them came from perimeter players.

Once one accounts for the wind at James's back and the headwind Jordan played against, it's pretty easy to say Jordan's relative value to his peers during his peak seasons was still greater than that of James. My three-decade-old eye test isn't deceiving me.
But, of course, James is not done.
What's making this debate more interesting, however, is that James is still racking up accomplishments. Statistically, James has already rivaled Jordan's peak seasons – something no other player in history can say. Now he's on a trajectory to potentially punctuate that with a massive advantage in longevity.

He's not there yet, in this columnist's estimation, but he's not far away either. James has turned the previous non-debate about the greatest player ever into a legitimate conversation. With a win on Friday, and one or two rings on top of it, he has a chance to surpass even Jordan.
Adding complexity to the debate is that, in Jordan's era, superstars tended to stay with one team throughout their prime. While some of the greats, notably Charles Barkley and Shaquille O'Neal, forced trades to other teams, there was markedly less fluidity than in today's game, where many superstars are essentially free agents every single year.
Now, that cuts both ways. While Jordan's supporting cast changed over the years but he had Scotty Pippen is his sidekick for all six of his titles. But his opponents couldn't put together a superteam to beat him, either.
LeBron ushered in a new concept of play by taking his talents to South Beach, joining forces with Dwayne Wade and Chris Bosh, to build a true superteam forged by the players.** He both benefitted from that in winning all four of his titles but lost three Finals against the Golden State Warriors' version in a span of four years.
I still tend to side with Jordan in this debate and, like Hollinger, that's partly driven by having been mesmerized by Jordan in his prime. I've simply had less time to devote to watching sports during the LeBron era. But he's arguably been dominant for a far longer stretch than Jordan.
---
*Yes, tennis has changed substantially even in the time I've paid attention to it, in terms especially of equipment but also training regimens, personal assistants, and the like. Still, everyone at any given time is playing the same game so it's easier to count Slam wins as relatively equal.
**The Celtics had put together a short-lived one by trading for an aging Kevin Durant and Ray Allen to join forces with Paul Pierce in 2008 but that was team-driven.