Nadal's 20th Grand Slam
The Spaniard continues his quest to be the Greatest of All Time.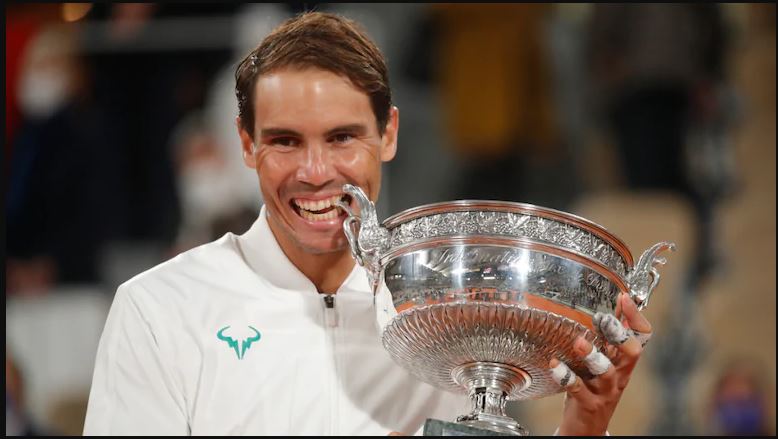 Rafael Nadal won the French Open for the 13th time yesterday. In so doing, he tied Roger Federer for the most men's singles grand slam titles in the open era.
ESPN:
Nadal equaled long-time rival Federer for the most major singles tennis championships won by a man and added to his own record at Roland Garros with No. 13 on the red clay, courtesy of a surprisingly dominant 6-0, 6-2, 7-5 victory over the No. 1-ranked Djokovic.

"What you are doing in this court is unbelievable. Not just this court — throughout your entire career, you've been a great champion," Djokovic told Nadal during the trophy presentation. "Today you showed why you are King of the Clay."

When Nadal ended it with an ace, he dropped to his knees, smiled widely and pumped his arms. It's the fourth time he has won his favorite tournament without ceding a set.

"The love story that I have with this city, and with this court, is unforgettable," Nadal said.

He deflected a question during the on-court postmatch interview about catching Federer, saying his focus remained squarely on the French Open.

"[To] win here means everything to me, no? It's not the moment, honestly … [to] think today about the 20th," Nadal said. "Roland Garros means everything to me. I spent, here, the most important moments — or most of the most important moments — in my tennis career, no doubt about that."

Nadal, No. 2 in the rankings, improved to 100-2 at the French Open, including a combined 26-0 in semifinals and finals, and picked up his fourth consecutive title in Paris. The 34-year-old left-hander from Spain previously put together streaks of four French Open championships from 2005 to '08, then five in a row from 2010 to '14, to go alongside his four trophies at the US Open, two at Wimbledon and one at the Australian Open.
Nadal's dominance at Roland Garros is otherworldly. Not only is his 13 wins more than twice the number of the Open-era runner up (Bjorn Borg had 6) but it's more than five more than Max Decugis amassed when the tournament was an all-amateur event played mostly by rich Frenchmen.
Still, as Peter Bodo reminds us, "Rafael Nadal deserves all the accolades of his 2020 French Open victory."
Trying to understand how he's accomplished all this can strain the mind, and focusing on his fitness, his lefty juju, or the RPMs he generates with that ferocious forehand isn't the best place to start. Instead, turn to the first words Nadal spoke after deconstructing Djokovic, who carried a 37-1 record for 2020 into the match but succumbed to Nadal in a two-hour, 41-minute blowout, 6-0, 6-2, 7-5.

"First of all congrats to Novak for another great tournament," Nadal told an audience limited due to the coronavirus pandemic to 1,000 spectators. The record Nadal now shares with Federer seemed far from his mind as he continued with a reference to the last time he and Djokovic squared up in the 2019 Australian Open final. "Sorry for today, you know. But in Australian [Open] he killed me a couple of times ago. Today was for me. That's part of the game."

Nadal wasn't gloating, he isn't the vengeful type. But getting "killed" in the final in Melbourne in 2019 shook him deeply.

At the time, Nadal was coming off yet another lengthy (five-month) break due to injury. He advanced to the final without losing a set, but Djokovic played at a different level, handing Nadal his first straight-sets loss in a Grand Slam championship match. Nadal did not know what his future held.

[…]

Nadal was forced to endure a lot of stress and doubt on the way to finding his mental comfort and "A" game again. As 2019 went on, Nadal found himself struggling, unable to break through to a final for three months.

"Mentally I was not enjoying [tennis]," he later said of that period. "[I was] too much worried about [my] health and, being honest, too negative."

After taking a semifinal loss to Dominic Thiem in late April in Barcelona, Nadal locked himself into his hotel room to decide whether he should step away from the game for some time to rediscover his enthusiasm or "change drastically" his attitude.

Nadal chose that latter option and went 35-2 in matches until the final regular-season tournament of 2019, with wins at the French and US Opens. Djokovic wasn't resting on his laurels either. He won another Wimbledon title and finished the year 57-11 with two major titles just like Nadal.

[…]

Nadal's activities and concerns during the pandemic, including his disinterest in playing tournaments without spectators, led him to take a hard pass on the "double-in-the-bubble" tournaments culminating with the US Open in New York. He played just three matches in preparation for Roland Garros, taking an unexpected quarterfinal loss in the Italian Open to Diego Schwartzman.

Djokovic, by contrast, was among the more active players during the pandemic. Although his exhibition Adria Tour turned into a disaster, with some players, including Djokovic and his wife, testing positive for the coronavirus, the Serbian national hero resumed play in grand style. His only loss in three tournaments leading to the French Open was an unexpected default in the fourth round of the US Open.

Many pundits argued that the chilly autumnal conditions and a change to balls that absorbed more moisture and clay than the ones used in previous years — a development criticized by many including Nadal — tilted the French Open playing field in Djokovic's favor.

"I was also thinking that these conditions are more favorable to me," Djokovic admitted in his postmatch news conference. "I was feeling great throughout the tournament, playing great tennis, winning in Rome, being very confident about my game. But yeah, Rafa has proven everybody wrong. He just played a fantastic match today."

The keys for Nadal were relatively simple. As ESPN analyst Patrick McEnroe said the other day, "I don't care about the conditions, Rafael Nadal is the best clay-court player in the world."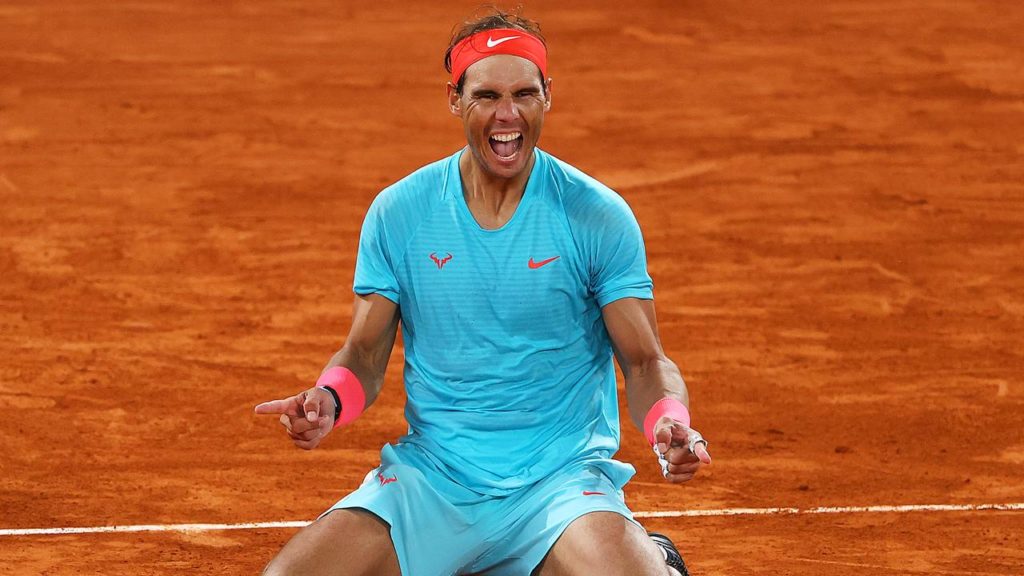 Nadal's victory will add more fuel to the silly but inevitable debate as to who is the greatest player of all time (which, coincidentally, LeBron James' win in the NBA Finals on the same day did in that sport). When we last visited that topic, fifteen months ago, the Grand Slam totals stood: Federer 20, Nadal 18, Djokovic 16. Now, it's 20-20-17.
I won't rehash much of that post here but my contention remains that those three, along with Rod Laver, almost certainly constitute the list. That is, as great as Pete Sampras, Jimmy Connors, Bjorn Borg, Ivan Lendl, John McEnroe, Rene Lacoste, and so many others were, the achievements of those four simply outdistance the others. Further, as great as Laver was, his era of dominance (the years in which he won at list a single major tournament) only spanned nine years.
Nor do I think it's interesting to debate whether Serena Williams, Steffi Graf, Margaret Court, Martina Navratilova or other greats of the women's game belong in the conversation. It's about as productive as debating whether Tom Brady or Babe Ruth was the better player.
At 39, Federer is unlikely to add to his total of 20. He wasn't won a slam since the 2018 Australian Open and only made one Slam final since, Wimbledon in 2019. Still, he was the first to 20, has an additional 11 runner-up finishes, plus another 6 wins in the ATP Finals and 4 runner-up finishes there. He spent 310 weeks as the No. 1 ranked player in the world (ranked No. 1 for 237 consecutive weeks), the most of any men's tennis player in the Open Era. He won 103 tournaments overall, second only to Jimmy Connors' 109.
At 34, Nadal has already tied Federer and has an outstanding shot at putting the record out of reach. His 20 titles tied Federer and his 8 runner-ups are just behind. He's never won the ATP Finals and has only 2 runner-up finishes. And he has only 86 tournament wins, good for fourth of the Open Era but well behind his rival. Further, his dominance on the clay courts of Roland Garros, while epic, is also a knock against him in my book. It's the only major tournament played on clay and few players have much experience on that surface. Also, he has held the No. 1 ranking for "only" 209 weeks, a distant third in this group.
At 33, Djokovic is the youngest of the group. His 17 titles and 10 runner-up finishes very much put him in the conversation. He also has 5 ATP Finals titles and 2 runner-up finishes there. He's been world No. 1 for a total of 290 weeks, second of all time to Federer, and could conceivably pass him given his youth.
At this point, I'm still inclined to give Federer the edge but his rivals are both likely to pass him given their relative youth. Despite three fewer Slam titles, I'd actually rank Djokovic slightly ahead of Nadal at this point given the diversity of his victories, the finals appearances, and overall dominance (the top ranking).